In the East Regional Final, #2 Michigan State battles Zion Williamson and #1 Duke for the fourth and final spot in the NCAA Final Four.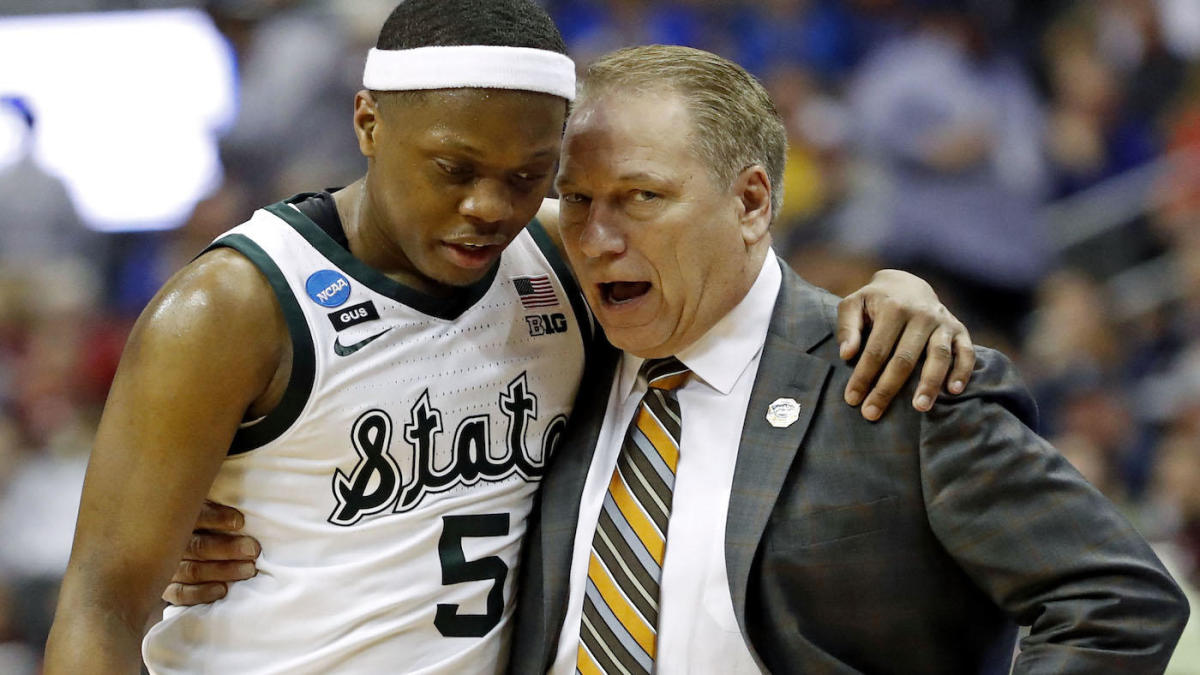 Michigan State is riding high off an eight-game winning streak, while Duke rolled off six-straight wins including the ACC Tournament title.
Duke is playing in their fifth Elite 8 since 2010. Under Coach K, Duke won titles in 2010 and 2015, which also marked the last two times they went to the Final Four.
Michigan State won March Madness in 1979 and 2000. They were runner ups in 2009, with seven Final Four appearances since 1999. Tom Izzo is seeking his eighth Final Four in the last twenty seasons. Only Duke stands in his way.
#2 Michigan State (31-6) vs. #1 Duke (32-5)
Tip-Off: 2:06pm PT
Location: Capital One Arena, Washington, DC
Point Spread: Duke -2
Over/Under: 148.5
Michigan State won eight straight games including three wins in three days against Ohio State, Wisconsin, and Michigan to win the Big Ten Conference title. The Spartans won 13 out of their last 14 games.
Michigan State is 6-2 against the spread during their 8-game winning streak. They are 10-4 ATS over their last 14 games.
MSU's margin of victory in March Madness is 16 points. Their toughest game was a 11-point win against #15 Bradley. They crushed Big Ten foe #10 Minnesota by 20 points and easily slipped by #3 LSU by 17 points.
Close Shaves for the Blue Devils
Duke survived back-to-back squeakers to advance to the Elite 8. They beat Virginia Tech by two points in the Sweet 16. In the Round of 64, Duke defeated Tacko Fall and UCF by one point. Duke got lucky twice in games where both teams missed layups as time expired. Yet, they are still alive with a chance to play in the Final Four.
Duke played their Sweet 16 game without the team's third-leading scorer Cam Reddish. He was a last-minute scratch after he was spotted limping during warmups. The 6-foot-8 freshman forward is expected to go somewhere in the Top 6 in the upcoming NBA Draft. Reddish averages 13.6 points per game and brings intensity on both ends of the court. Duke played several games without a full line up this season, so they quickly adapted.
Against VaTech, Zion Williamson scored 23 points on an efficient 11-for-14 shooting. Tre Jones snapped out of his shooting slump with 22 points on 5-for-7 from downtown. RJ Barrett dished out 11 assists and added 18 points.
Coach K has not said much about the Reddish injury. However, he's expected to play against Michigan State.
Izzo Time
This Elite 8 game is not just a battle of the Big Ten versus the ACC. It also marks a classic matchup between two elite coaches: Tom Izzo and Coach K. Izzo won his only title in 2000, while Coach K and Duke won three since then.
Michigan State's only other NCAA title occurred in 1979 when Magic Johnson led the Spartans to victory over Larry Bird's Indiana State squad.
Izzo relies on a quick backcourt comprised of junior Cassius Winston. Winston leads the team in scoring with 18.8 points per game. He stepped up after Josh Langford went down with a knee injury. Langford was scoring 15 points per game when he went down in December.
"Cassius is my Tom Brady in a way because they keep changing receivers running backs and this and that, and he still just keeps winning," said Izzo. "Cassius has done this all year. He's the straw that stirs the drink."
MSU's freshman have been getting more attention, especially after a strong performance in the Sweet 16. Freshman forward Aaron Henry scored a career-high 20 points against LSU. He also pulled down 8 rebounds and dished out 6 assists. Gabe Brown, 6-foot-7 swingman, also posted a career night with 15 points. The freshman averages on 2.4 points per game but he came off the bench to score 15 points in 16 minutes of action.
Sophomore Xavier Tillman stepped up in March Madness for MSU. He's averaging 14 points per game, on 65.2 percent shooting.
According to the South Point Casino and Sports Book in Las Vegas, Michigan State is 4/1 odds to win March Madness. Duke is the favorite to win the title this year at 2/1 odds.