Last year, the Los Angeles Dodgers had to come back from a 3-1 deficit in the NLCS to overcome the Atlanta Braves on their way to winning a World Series title. Both teams are eager to improve on that performance as they hook up again for the 2021 NLCS.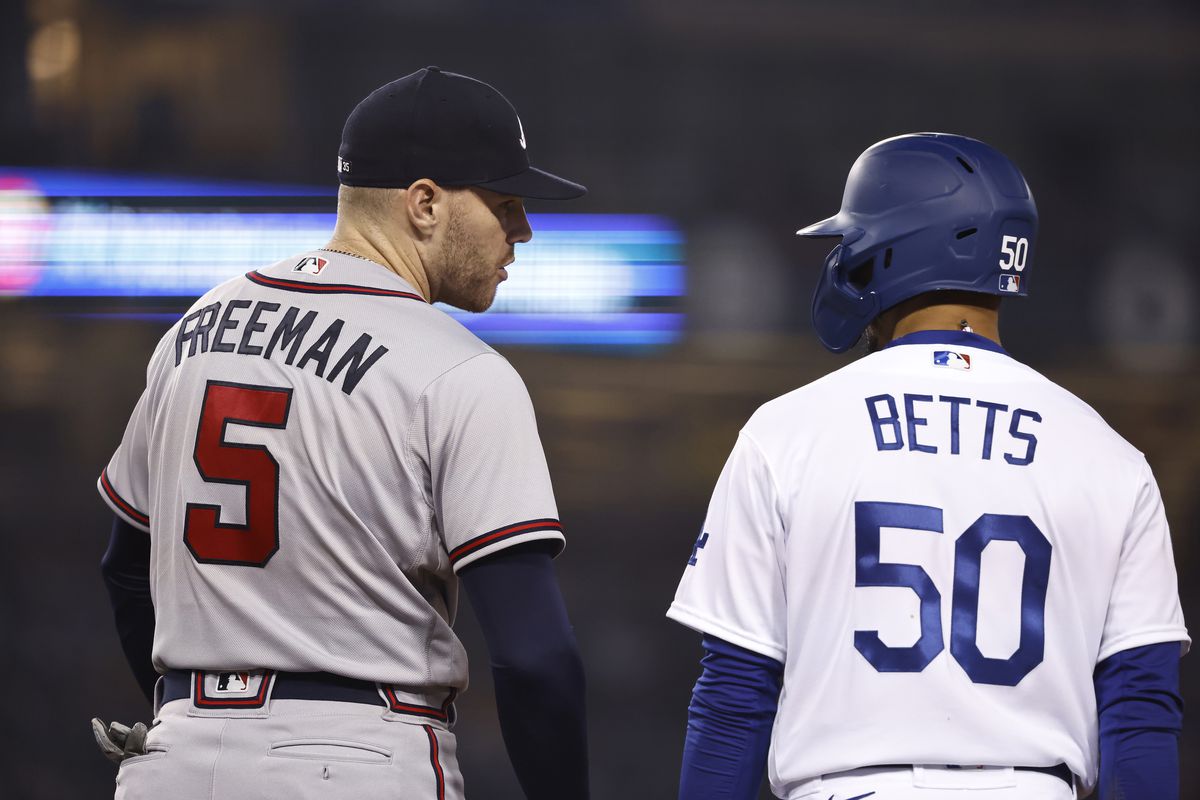 The Dodgers come in as the clear -235 favorite to win the series over Atlanta (+196), according to FanDuel Sportsbook.
Experienced Dodgers won't face letdown in NLCS
Los Angeles has already survived a couple of scares in the postseason. The Dodgers beat the St. Louis Cardinals in walk-off fashion in the Wild Card Game, then outlasted the San Francisco Giants to win their NLDS matchup in five games.
Now, the World Series favorites and defending champions stand just one series away from reaching the Fall Classic for the fourth time in five years. And while some may speculate on the Dodgers suffering a letdown against a team they should beat, manager Dave Roberts isn't among them.
"That's like the X-factor," Roberts said, via The Los Angeles Times. "Because I think with baseball, you just don't know who is going to be the better team that day. But I think the variable of a letdown emotionally, the moment getting too big for a player, I do believe, and I have all the confidence we wouldn't be victim of that."
The Braves won the NL West with a modest 88 wins, 18 fewer than the Dodgers. But Atlanta sees a path to victory behind its starting pitching. Max Fried (14-7, 3.04 ERA) will start Game 1 for the Braves, and anchors a strong rotation that includes Charlie Morton and Ian Anderson.
"I think we're in a better position this year," Braves manager Brian Snitker said of the rematch with the Dodgers. "We were kind of piecing that starting thing together all last year, and now, we've got three guys that are pretty good and are battle-tested and have been through the wars."
Knebel opening second consecutive playoff game
Los Angeles boasts plenty of starting pitching talent as well. But it won't be Max Scherzer, Julio Urias, or Walker Buehler starting Game 1. Instead, the Dodgers will once against start with reliever Corey Knebel (4-0, 2.45 ERA), who also served as the opener for Game 5 of the NLDS. That was the fifth time Knebel opened a game for LA this year. He has given up just one run over 6.2 innings in those games.
That decision likely pushed Scherzer into a Game 2 start, with Buehler pitching Game 3 and Urias taking Game 4. But it also means the Dodgers could have a rocky start to the series if things go wrong and they must use several relievers to get through Saturday's game.
With that in mind, FanDuel sees Game 1 as a virtual coin toss. Knebel and the Dodgers are a -112 pick, with Fried and the Braves coming in as a -104 home underdog.
Image: