Novak Djokovic handed Rafael Nadal only his third career loss at Roland Garros on Friday to reach the French Open final and end the Spaniard's bid for a 21st Grand Slam title.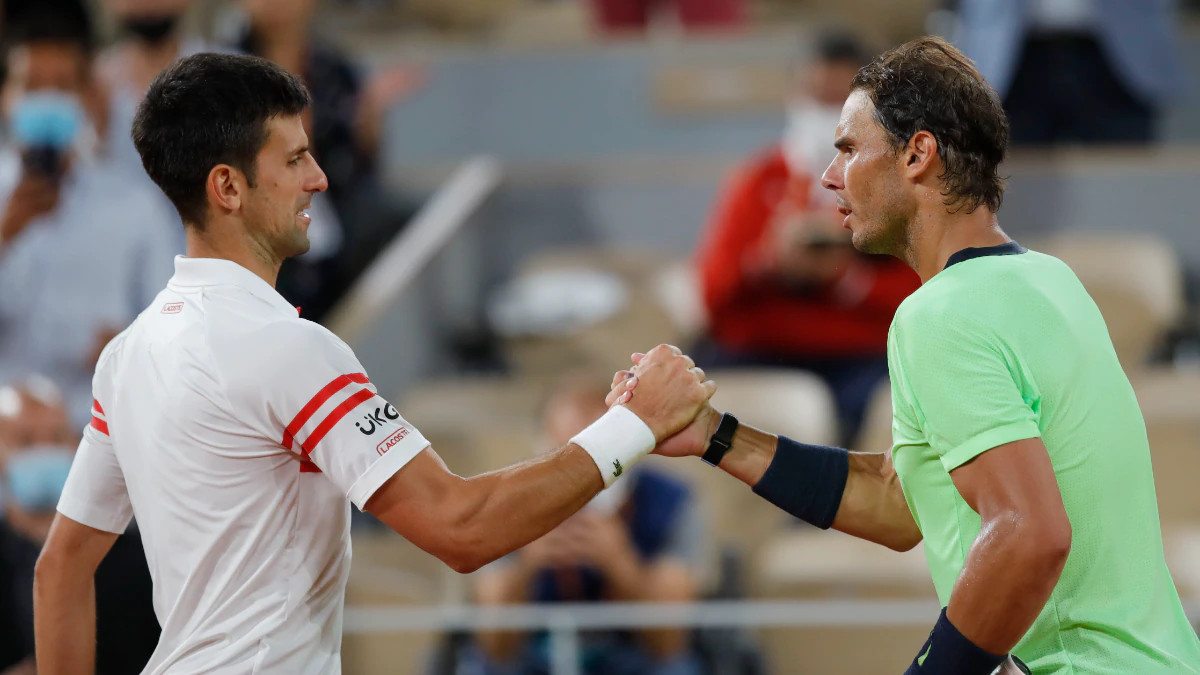 Djokovic overcame losing the first set to beat Nadal 3-6, 6-3, 7-6 (7-4), 6-2 in front of a raucous crowd.
Officials Lift Curfew for 'Exceptional' Match
French Open officials expected to clear out Court Philippe Chatrier to comply with the nationwide 11 pm curfew. Fans had missed the end of several other night matches, including Djokovic's quarterfinal victory over Matteo Berrettini, due to the regulation.
But just after Djokovic won the third-set tiebreaker, and minutes before the curfew would go into effect, officials announced that fans could stay until the end of the match due to the "completely exceptional nature of the circumstances."
Djokovic's win was exception. Even with the loss, Nadal now has a 105-3 record in the French Open. He has famously won the tournament 13 times, and had never before lost a semifinals or finals match in the event.
Djokovic is now the only man to defeat Nadal twice in the French Open. Robin Soderling scored the other win over Nadal in 2009.
"Just one of these nights and matches that you will remember forever," Djokovic said after his win. "Definitely the best match that I was part of ever in Roland Garros, for me, and top three matches that I ever played in my entire career, considering quality of tennis, playing my biggest rival on the court where he has had so much success and has been the dominant force in the last 15-plus years. And the atmosphere, which was completely electric."
Nadal noted that the cooler nighttime conditions favored Djokovic, as balls bounced lower, but wasn't using that as an excuse.
"In our sport, you must admit both victory and defeat. I do know that I can't win the tournament 15, 18, 20 times. It's not a disaster at all."#RolandGarros

— Roland-Garros (@rolandgarros) June 12, 2021
"By the way, doesn't matter," Nadal said. "That's tennis. The player who gets used to the conditions better is the player who deserves to win. So no doubt, he deserved to win."
Tsitsipas Survives Five-Setter to Reach French Open Final
Djokovic moves on to face Stefanos Tsitsipas in the French Open final. Tsitsipas reached his first Grand Slam final by beating Alexander Zverev in a five-set classic in Friday.
Tsitsipas jumped out to a two-set lead, then held on to win 6-3, 6-3, 4-6, 4-6, 6-3.
"It was a match full of emotions, full of so many different phases that I went through," Tsitsipas said afterwards. "So at the end, it was just such a big relief I was able to close it in such a good way. It was just exhausting."
Djokovic will now play for his 19th Grand Slam title and second French Open championship on Sunday, while Tsitsipas looks for his first major trophy.
FanDuel Sportsbook sees Djokovic as a clear favorite in the matchup. The 34-year-old comes in as a -345 pick to beat Tsitsipas (+265) on Sunday.