Stefanos Tsitsipas defeated Dominic Thiem in an epic three-set match to capture his first Nitto ATP Finals championship in London on Sunday.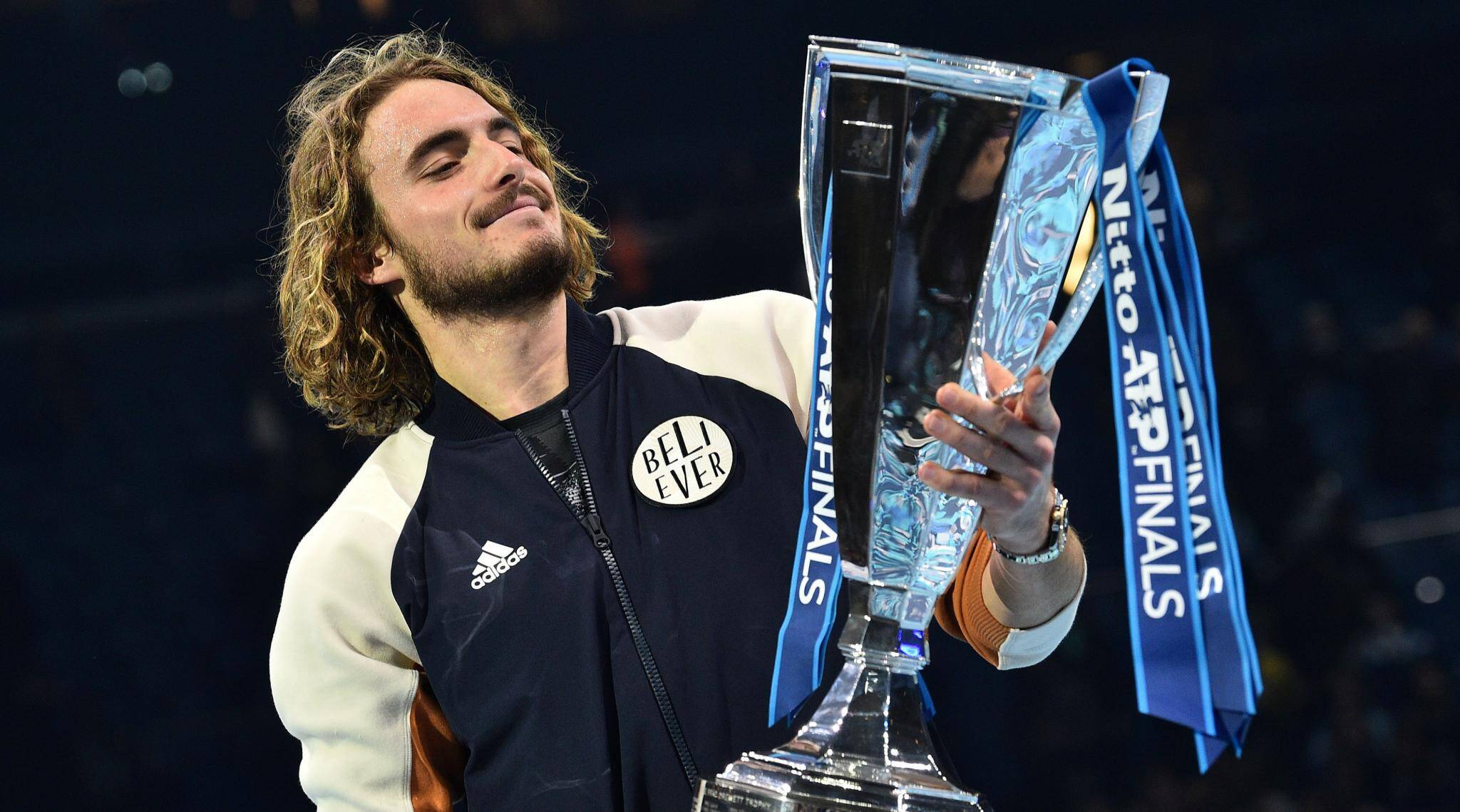 Tsitsipas came from behind to win 6-7 (8-6), 6-2, 7-6 (7-4) and claim the prestigious, year-end title.
Tsitsipas Youngest ATP Finals Winner Since Hewitt
The win made the 21-year-old Greek sensation the youngest winner of the ATP Finals in 18 years. Lleyton Hewitt is still the youngest ATP Finals champion, pulling off the feat at the age of 20 back in 2001.
The victory has special meaning for Tsitsipas, who met Thiem at the O2 in London back in 2016. Back then, Tsitsipas was the world's top-ranked junior, and he was invited to the ATP Finals to hit with the participants.
"That is unbelievable. I just remembered," Tsitsipas said when asked about the 2016 meeting in a post-match press conference. "I think my first hit was with Dominic. It's unbelievable, isn't it? We are now facing each other in the final. It's great. It's fantastic."
The match, which took two hours and 35 minutes to complete, was finely balanced throughout, with one exception. Tsitsipas played his best tennis in the second set, when he dominated his Austrian opponent to level the contest at one set apiece.
"I have no clue how I played so well in the second set," Tsitsipas said afterwards. "I think my mind was at ease and I wasn't really thinking of much, which led to such a great performance in the second set, breaking him twice. I didn't give him much options to play with in the second set. It was pretty much an excellent set for me."
Tsitsipas continued his strong play early in the third set, getting an early break and jumping out to a 3-1 lead. But Thiem broke back, setting up an exciting tiebreak finish. Once again, Tsitsipas managed to grab an early lead with two mini-breaks, but Thiem was able to get both points right back to get back on serve.
Finally, however, it was Tsitsipas who would get the best of the match, as Thiem pushed one last return wide to give the Greek youngster the championship point.
"I missed some very close balls in the tiebreak," Thiem told reporters. "But I cannot do anything now about it. It was a great match from both of us."
Young Stars Closing in on Big Three
The ATP Finals victory cemented a breakout year for Tsitsipas, who won a total of three titles on the year, including the Open 13 in Marseille and the Millennium Estoril Open in Portugal. He also recorded his best-ever Grand Slam result, reaching the semifinals at the Australian Open in January.
Tsitsipas ends the year ranked sixth in the world, while Thiem's run at the ATP Finals moved him up one spot to fourth, surpassing Daniil Medvedev. While none of tennis' young stars has yet to knock any of the Big Three from the top positions in the year-end ranking, the gap is closing: Thiem finished just 765 points behind Roger Federer for third place, though he was still more than 4,000 points behind Rafael Nadal for the world No. 1 ranking.