As is generally the case with DFS picks, some go boom and some are total busts. My Week 1 was no different. Wisconsin running back Jonathan Taylor ran wild, while Alabama true freshman RB Keilan Robinson barely played. These two were just some of the players who made a difference for those of us playing DFS college football.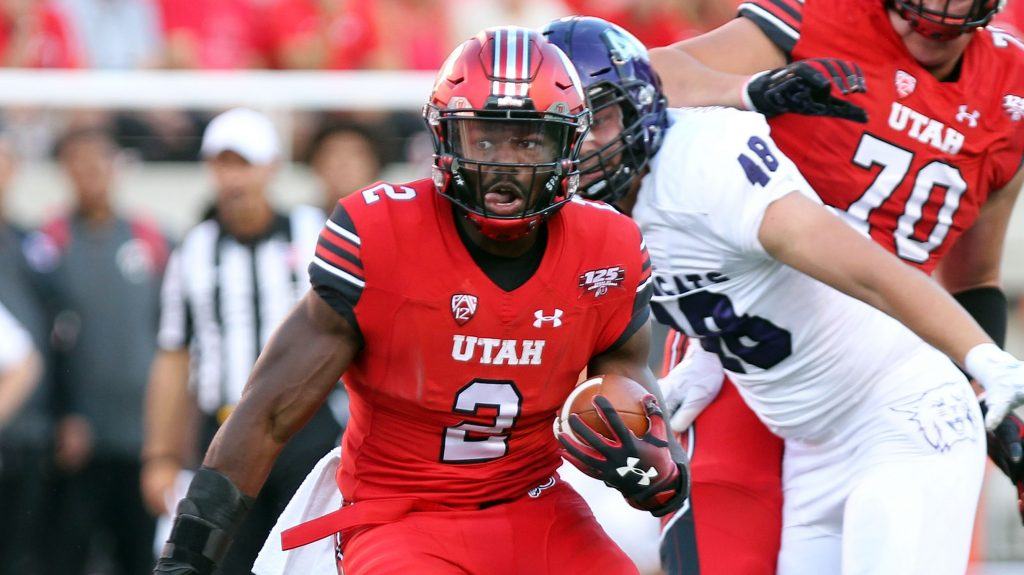 Let's take a look at the winners and losers from this past weekend.
Cheers
Utah running back Zach Moss proved to be a good choice on the Thursday slate, running for 181 yards and a touchdown while also catching a couple of passes.
Tulane quarterback Justin McMillan didn't put up big numbers in terms of yards – with 199 passing and 51 rushing – but he got what counted the most: two passing TDs and one running TD. I said getting 4x value on DK, or 22 points, would be a cinch on the FIU defense and that panned out, as he scored 27.06.
Utah State QB Jordan Love was a bomber, throwing for 416 yards, with three TDs. As an example of why a running quarterback is so valuable, he barely outscored McMillan by amassing 28.84 points on DK even with a three-point bonus for throwing for more than 300 yards.
Meanwhile, Oregon State QB Jake Luton threw for 251 yards and three TDs in a game with Oklahoma State that lived up to its billing as a shootout, with the Cowboys winning 52-36.
As expected, Rutgers RB Raheem Blackshear got big points, but not on the ground – he caught nine passes for 126 yards and a TD.
Jonathan Taylor of Wisconsin pounded on South Florida by ground and air – with two receiving TDs and two rushing TDs, amassing more than 45 points on both DK and FD.
I said a one-two combo of mid-tier QBs on Saturday, Matthew McKay of NC State and Michael Penix, Jr., of Indiana, could prove profitable and I was proven correct, as the two combined for nearly 60 DFS points on a total of $13,300 in DK salary. On a generally low-scoring Saturday slate, that value of more than 4x was very helpful in cashing in tournaments.
Memphis RB Patrick Taylor, Jr, didn't quite hit value on his $8,500 DK and $10,000 FD salaries, getting 28.3 and 23.3 points, respectively, but it was satisfactory on that Saturday slate, especially given the low-scoring game in which he played, a 15-10 Memphis victory over Ole Miss.
Jeers
Florida International QB James Morgan had potential in what was expected to be a high-scoring game against Tulane on Thursday night, but the Green Wave did almost all of the scoring. FIU managed just 14 points and Morgan threw one TD pass while also throwing an interception and fumbling once.
Clemson wide receiver Diondre Overton was higher owned in DK tournaments than the Tigers' top-two WRs, Tee Higgins and Justyn Ross, because he was so cheap at $3,400 (less so on FanDuel at $7,800) and starting in the slot. But he only caught one pass for three yards, proving to be one of Week 1's biggest busts.
DFS points proved elusive in that Ole Miss-Memphis game, with the top two receivers – Elijah Moore of Ole Miss and Damonte Coxie of Memphis — combining for 10 receptions for 104 yards and no touchdowns.
The biggest bust of the weekend was Keilan Robinson. I was big on the Alabama true freshman RB, and was far from the only one. Bama's top two running backs, Najee Harris and Brian Robinson, Jr., were suspended for much of the first half, and presumed No. 3 man Jerome Ford was recovering from a knee injury. But Ford suited up and got the bulk of the carries in the first quarter. Robinson only got in for mop-up time in the second half, gaining just five rushing yards.
Mehs
Arizona State running back Eno Benjamin didn't have a bad game, but he proved not worth his $8,800 DraftKings salary, only scoring 24.4 points, with 102 rushing yards and only one TD.
My play of Thursday was Cincinnati WR Alec Pierce, who was supposed to be the Bearcats' top outside threat and was also cheap ($3,500 on DK, $5,600 on FD), and he did start out great by catching a 55-yard-bomb early in the first quarter. But Pierce aggravated an existing injury and missed much of the game. He finished the contest with two catches for 59 yards.
Another player who appeared to be a good value, on Friday, was Purdue RB Zander Horvath. Priced at $4,200 on DK and $7,700 on FD, he figured to be a big part of Purdue's scoring total at the No. 1 running back. While Purdue put up 31 points in a losing effort against Nevada, Horvath mustered just 66 rushing yards and 21 receiving yards.
You might not expect a player who scored two receiving TDs to earn a "meh," but Oklahoma State WR Tylan Wallace's tally of 26.2 DK points still didn't justify his $8,800 salary. The results bore that out – my best Friday night lineup featuring Wallace scored 200 points on DK and still didn't cash in a slate full of shootouts.