The Santa Anita Derby did what the West Coast's premier Kentucky Derby prep always does – put another quality front-runner in the front row of Derby hopefuls for the Sept. 5 Run for the Roses. At the same time, it provided a good time to see where the top 3-year-olds are as late spring turns into summer.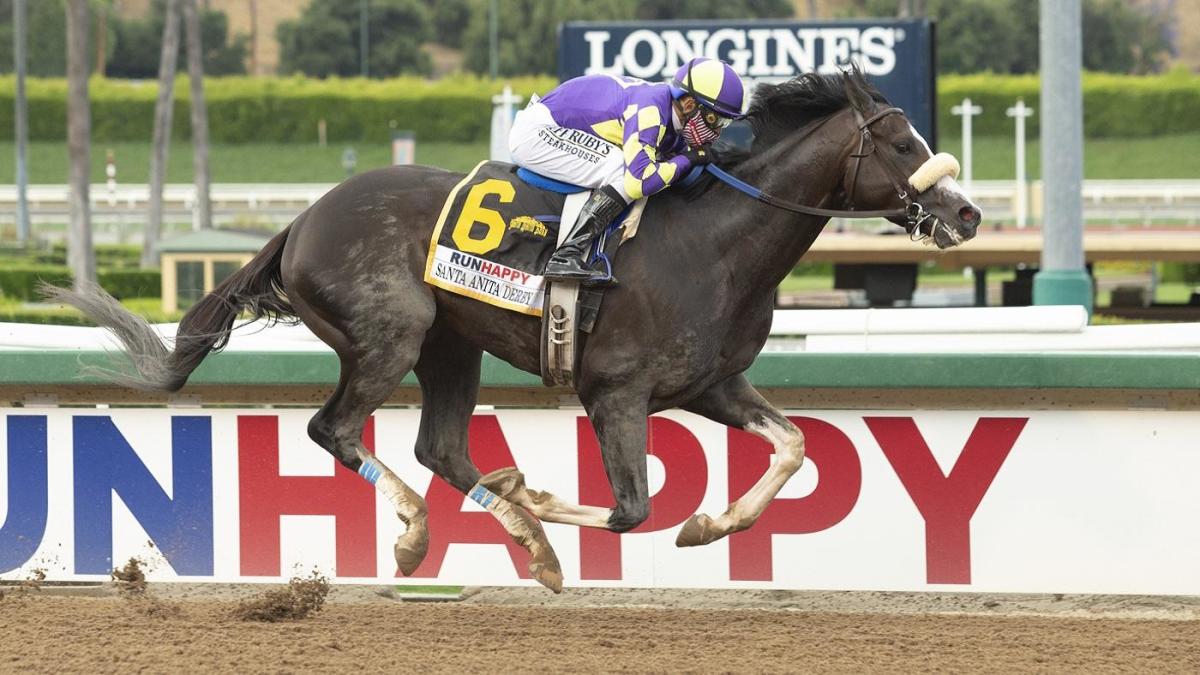 What did we learn from the Santa Anita Derby and what lies ahead on an increasingly crowded Derby Trail?
We learned Honor A.P. is more than a blue-blooded pedigree sleeper. He's a blue-blooded pedigree with a punched ticket to Churchill Downs. This, after his impressive 2 ¼-length victory over his West Coast rival, the previously unbeaten Authentic.
We learned Authentic will once again be waiting for him. The lone remaining member of Hall of Fame trainer Bob Baffert's Big Three, Authentic garnered enough points for a rubber match against Honor A.P. at Churchill Downs.
And we learned that Baffert's Big Three, which turned the Big One, could turn into the Big Two. Cezanne, the much-heralded $3.65 million colt, debuted Saturday with a maiden-breaking win in a maiden special weight race.
Derby Hopefuls Find Several Interesting Detours Ahead
The Derby Trail will become busier over the next seven weeks, and seeing how the country's top 3-year-olds handle the long and winding summer road will be a fascinating endeavor. OG breaks down what we learned about several Derby contenders heading out of Santa Anita Park.
Honor A.P (120 points): He woke up in his Santa Anita barn on Saturday morning as a potential force, emphasis on "potential." By Saturday evening, Honor A.P. was a 4/1 co-favorite with Tiz the Law on William Hill's Kentucky Derby Futures Board. He is the co-second favorite with Maxfield and Authentic on Circa Spots' Futures Board at +600.
Honor A.P.'s victory came as advertised. His long, powerful stride at the top of the stretch reeled in and overtook Authentic. The 1 1/8-mile distance wasn't a problem, and jockey Mike Smith said he had to pull up Honor A.P. on the gallop-out. This, after registering a 102 Beyer Speed Figure, the highest figure by an active Derby contender.
"It seems the further you go with him, the better," Smith said after the race. "He's just got that big, long, beautiful, powerful stride."
Honor A.P. Checks Some Important Boxes
Jennie Rees, the former turf writer with The Louisville Courier-Journal and a current racing publicist in Kentucky, unveiled research she shared on the Ron Flatter Racing Podcast. Her work shows that 27 of the last 30 Kentucky Derby winners finished their final furlong in 13 seconds or less, or their last three furlongs in 38 seconds or less, in their final Derby prep.
Honor A.P.'s time? 12.9 seconds on his final furlong and 37.6 seconds over his last three. Granted, this is early in the game and there are plenty of preps to come, but nobody's sleeping on Honor A.P. anymore. His likely next stop is the Aug. 1 Shared Belief Stakes at Del Mar, another stop on the Derby Trail.
Authentic (100 points): Nobody outside of, perhaps, his owner consortium and Baffert are weeping any tears for the 1/2 Santa Anita Derby favorite Authentic. His 40 runner-up points secured a starting spot in the Derby and he sits as the 6/1 second favorite on both Circa's and William Hill's Derby Futures. But the ease in which Honor A.P. punctured Authentic's aura of invincibility means Baffert's drawing board is about to see some action.
Authentic couldn't set the pace for the first time, which is concerning as Baffert ponders his next race. That could be the Haskell Invitational at Monmouth Park in mid-July, a race Baffert won eight times.
This $3.65 Million Artist Painted a Victorious Debut
Cezanne (0 points): Just as we bid farewell to one Baffert wonder horse in the injured Charlatan, we say hello to another. Going off as the 2/5 favorite in a 6 ½-furlong maiden special weight race at Santa Anita, Cezanne surprised nobody with his 2 ¼-length victory.
Along with Maxfield (see below), the Curlin colt is one of the prime beneficiaries of a fall Derby, and his connections have ensured he's on the trail by registering him for the Triple Crown. Circa has him at +1,500, the lowest price since he opened at 55/1.
Maxfield (60 points): Like Cezanne, he's sitting at +1,500 on Circa's Futures Board. But those angling for a Maxfield vs. Tiz the Law showdown in the June 20 Belmont Stakes will have to wait until the Derby. Maxfield's trainer, Brendan Walsh, said on Monday he's bypassing the Belmont in favor of the July 11 Blue Grass Stakes at Keeneland. Not only does that allow him to run at two turns, but it keeps Maxfield in his home stall in Lexington.
One-Time Derby Hopeful Shows How Elusive 3-Year-Old Form Can Be
Anneau d'Or (22 points): The only positive thing you can say about the son of Medaglia d'Oro is that he's currently in the Derby – although that's not going to last once the Derby Trail heats up. His well-beaten fourth in the Santa Anita Derby brought 10 points and represents his best 3-year-old finish, meaning his connections have plenty of work ahead righting the ship.
Nadal (150 points)/Charlatan (100 points): The two Baffert charges, a combined 7-for-7 with four graded stakes victories, both left the trail in the last 10 days with physical issues. Nadal went into retirement after fracturing a bone in his upper leg, and Charlatan's ankle chips will keep him out of the Belmont and the Derby.
Road to the Kentucky Derby points leader board https://t.co/Gx4SXWCdmC

— Courier Journal (@courierjournal) April 17, 2016