Two weeks ago, King Fury needed a miracle of falling Kentucky Derby dominoes to get him into the 2021 Kentucky Derby field. On Friday, the Lexington Stakes champion got that miracle.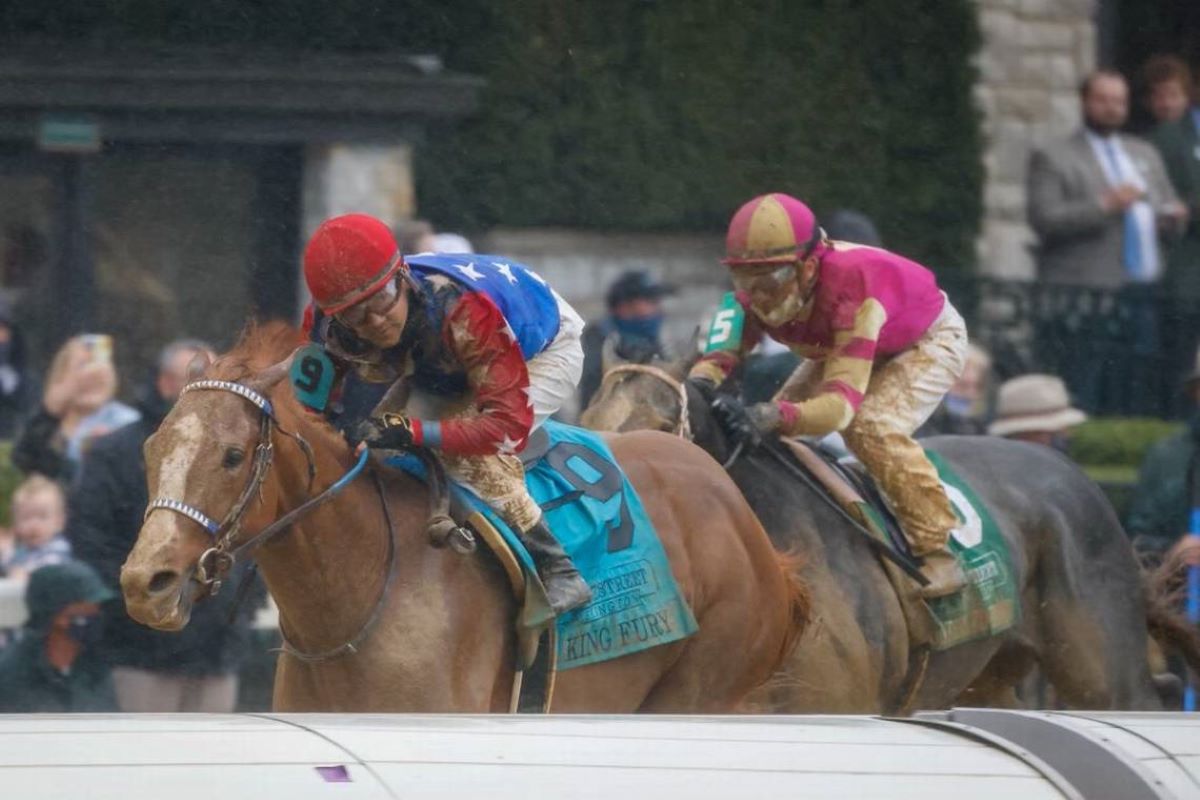 After the defections of Dream Shake and Hozier Friday and Get Her Number's Saturday defection, King Fury sits comfortably in 19th.
Get Her Number previous held that spot. But after Saturday's five-furlong workout in 1:02 at San Luis Rey Downs in Southern California, trainer Peter Miller told Churchill Downs Get Her Number is out of the Derby. That takes Keepmeinmind off the bubble and puts Brooklyn Strong and his 10 points on the bubble.
Brooklyn Strong and his 10 points were well out of the Derby picture. But owner Mark Schwartz told Churchill Downs Saturday morning that the Remsen Stakes winner was back in the picture.
Schwartz's about-face came after he looked at the falling Derby dominoes. Even with that, he needs one more defection between now and Tuesday's 11 a.m. ET entries deadline to escape the bubble.
King Fury got the right Derby dominoes to fall
As for King Fury, his miracle came courtesy of two moves. The first: Dream Shake's defection in favor of the Pat Day Mile on the Derby undercard. That brings us to the second. Dream Shake's defection moved Hozier off the bubble. But after a slow Friday workout at Santa Anita Park, trainer Bob Baffert pulled Hozier off the bubble — and out of the Derby. He told Horse Racing Nation Hozier wasn't ready for the Derby.
Just like that, King Fury has his date for the Derby. It illustrates how fluid the Derby field can be even after the prep races go in the books that King Fury got in the Derby. After Brian Hernandez Jr.'s masterful ride captured Keeneland's Lexington Stakes at 18/1 April 10, he was sitting eight spots and 20 points out of the 20th and final spot.
But the dominoes started falling. And falling. Horses kept pulling out for various reasons and King Fury quietly moved up the ladder. Trainer Kenny McPeek said all along that he was going to work the Curlin progeny as if he had a Derby date. And Saturday, McPeek put King Fury through a five-furlong workout in 1:00.20. He reeled off splits of 12.8 seconds (furlong), 25.20 (quarter-mile), 36.8 (three furlongs) and 48.40 (half-mile).
McPeek serene, pleased with King Fury's progress
McPeek said he was happy with the work.
"We weren't fretting about it too much," McPeek told Churchill Downs about the possibility of missing the Derby. "It was all up to a higher power, if we didn't get in, then it was to go on to the Preakness. Those things are out of our control. What other people do with their horses, it's not something we spend a lot of energy on. We would have worked him the same today, if he was going to Baltimore or if he was staying here."
As for the two Derby dominoes defections, neither are surprising. Dream Shake was always a tepid maybe to run the Derby, largely because the promising Twirling Candy offspring brings limited experience. He has three races on the resume: a win and two thirds in graded stakes. The win came Feb. 7 in a maiden special weight at Santa Anita Park.
Watch Dream Shake going forward
The thirds came in the Grade 2 San Felipe Stakes to Life is Good and Medina Spirit and the Grade 1 Santa Anita Derby, to Rock Your World and Medina Spirit. For a colt with limited experience and loads of potential, the Pat Day Mile is probably a better option.
Hozier, meanwhile, disappointed his high-powered ownership consortium, which paid $625,000 for him. He finished a non-threatening sixth in the Arkansas Derby. That meant his 20 Derby points came from one race: his runner-up finish to Concert Tour in the Grade 2 Rebel Stakes in March. The Pioneerof the Nile progeny has one win and that second in four starts.
He worked six furlongs Friday at Santa Anita in 1:16.0. That was the slowest time of three working that distance Friday, leading Baffert back to the drawing board seeking better opportunities.