The Portland Trail Blazers signed All-Star guard Damian Lillard to a super-max contract extension worth $196 million over the next four seasons.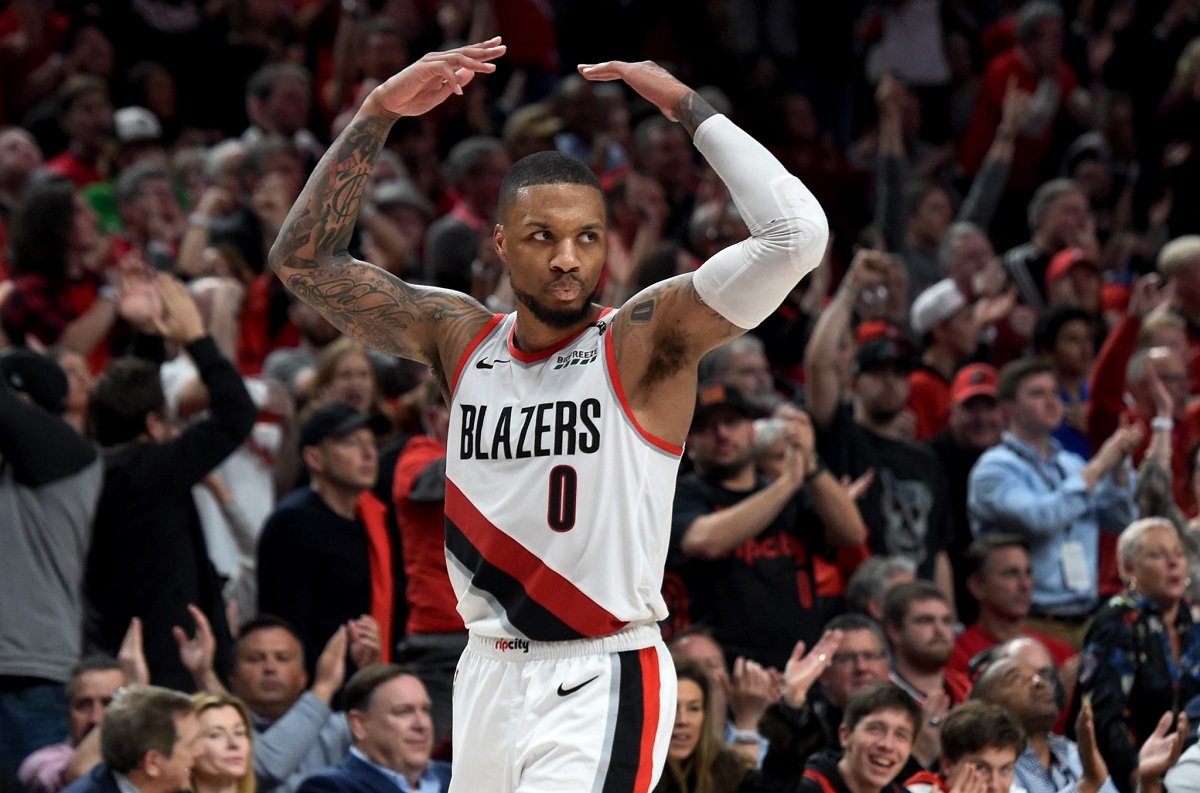 Lillard averaged 25.8 points and 6.9 assists per game last season for the Blazers (53-29), who posed the third-best record in the Western Conference.
The Blazers used a special "Designated Veteran Player Exception" to sign Lillard to the super-max. Lillard, 28, has a player option for his fourth season worth $54.3 million.
Both the Blazers and Lillard expressed their sincere interest in remaining together for the rest of his career.
WHO IS DAMIAN LILLARD?
Age: 28
Hometown: Oakland, CA
Height: 6-foot-3
Position: Point Guard
College: Webber State
Draft: 6th overall 2012 NBA Draft
2018-19 Stats: 25.8 points, 6.9 assists
Teams: Portland Trail Blazers
In 2015, Lillard signed a 5-year extension from his original rookie contract.
Lillard is a four-time NBA All-Star. He made the All-NBA Second Team in each of the last four seasons. He joined other legendary Blazers named to an All-NBA team such as Bill Walton, Mo Lucas, Jim Paxson, and Clyde Drexler. Drexler is the only other Blazer to be named to four or more All-NBA squads.
PDX Duo
If Damian Lillard played in the Eastern time zone or in a bigger city, he would garner more attention in the media. He's been flourishing in obscurity playing in the sleepy Pacific Northwest.
Riding the dynamic duo of Lillard and CJ McCollum, the Blazers advanced to the Western Conference Finals. However, they were swept by the Golden State Warriors in the Curry vs. Curry series that saw Steph Curry play against his younger brother Seth Curry.
The Blazers ran out of gas in the West Finals after an exhausting 7-game series against Nikola Jokic and the Denver Nuggets. The Blazers also knocked out Russell Westbrook and the Oklahoma City Thunder in the opening round.
"Each year we've come back with the right attitude," said Lillard. "We've been able to stick together through a lot of adversity and I think just what we've hung our hats on, what we've believed in, our culture, the togetherness, we've been able to truly build on that."
Lillard finished the postseason with a 26.9 points and 6.6 assists per game average. He lit up the Denver Nuggets for 39 points in Game 1 of the Western Conference Semifinals.
Backcourt mate, CJ McCollum, averaged 21 points in the regular season. McCollum averaged 24.7 points in the postseason and he unleashed a couple of monster games including a 37-point performance in Game 7 of the Western Semifinals against the Denver Nuggets. McCollum also dropped 41 points in Game 3's 4OT marathon in Portland.
According to the WestGate Super Book in Las Vegas, the Portland Blazers are 30/1 odds to win the 2020 NBA Championship.