ESPN took a major step towards cashing in on legalized sports betting on Monday, as the broadcaster premiered Daily Wager, a new show that features wall-to-wall talk about gambling.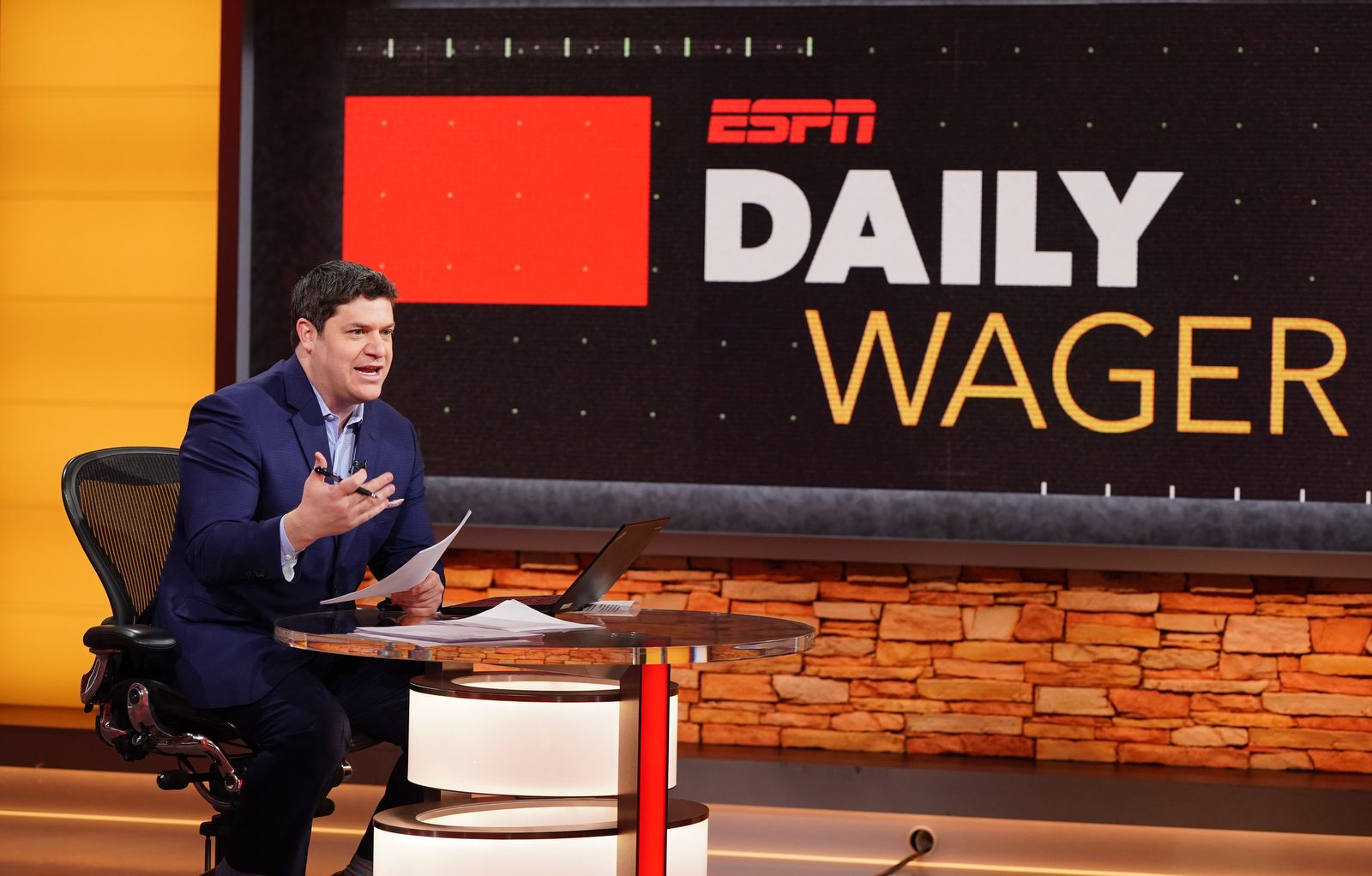 The show, which is hosted by Doug Kezirian, will air at 6 pm Eastern Monday through Friday on ESPNews, one of the company's secondary networks.
Guests, Data Create Busy Broadcast
The first episode of Daily Wager earned mostly positive reviews. The show features Kezirian with a number of guests talking about games, futures, and prop bets. There's still plenty of sports information that would be of interest to general fans, with on-site reporters generally straying away from making picks or talking about odds, while in-studio guests handle the gambling side of the equation.
If there was one complaint that many had about the first airing, it was that the show was simply too busy – though that could be a function of it being the premiere. Numerous guests appeared on the show to talk about topics, ranging from Barry Melrose analyzing NHL action to a baseball futures segment with Stanford Steve and SportsCenter anchor Scott Van Pelt. The show was visually busy as well, with lots of odds and data filling the bottom and left-hand side of the screen.
The show is not the first sports betting show to make it onto the airways in the United States. Fox Sports has been running its own show, "Lock It In," on FS1 for several months now, while other gambling-centric programming is available through various streaming channels.
Even ESPN has never ignored gambling in the past. Chris Berman has long made picks against the spread during the network's NFL coverage, and more recently, Van Pelt's late-night SportsCenter has featured a "Bad Beats" segment about the most heartbreaking finishes for gamblers.
Kezirian: Show is SportsCenter for Sports Betting
But a show that is entirely about sports betting is a much larger step, and ESPN providing such programming could be a watershed moment in exposing a mainstream audience to gambling content. With that in mind, ESPN is trying to craft a show that will appeal to both seasoned bettors and everyday sports fans.
"At the expense of oversimplification, it will feel like 'SportsCenter' through the lens of sports betting," Kezirian told the Las Vegas Review-Journal. "We'll present info, stats and opinion and hopefully have a lot of fun. We're going to try to find the perfect marriage of all that to serve the sports fan, which clearly has a bigger appetite for sports betting and content."
Kezirian brings plenty of knowledge about gambling to the new show: before becoming a SportsCenter anchor, he was one of the founders of "The Las Vegas Sportsline," a sports betting-themed radio show on ESPN's station in Las Vegas.
Back then, Kezirian laughed that a similar show could work on broadcast television – but times have clearly changed.
"I didn't think we'd get there as a society," Kezirian told the Review-Journal. "In Las Vegas, betting was destigmatized. But I had no idea our country would get to this point with the Supreme Court ruling."