The Cubs have gone from lovable losers to betting darlings as the defending champions, along with the Boston Red Sox, are favored to win the 2017 World Series with one online sports book.
Bovada.lv has the Cubbies as a 9/2 pick to repeat as champions, but also gives equal odds to the Sox. Two months ago, Chicago was the sole leader, but Boston recently moved up after picking up several offseason free agents.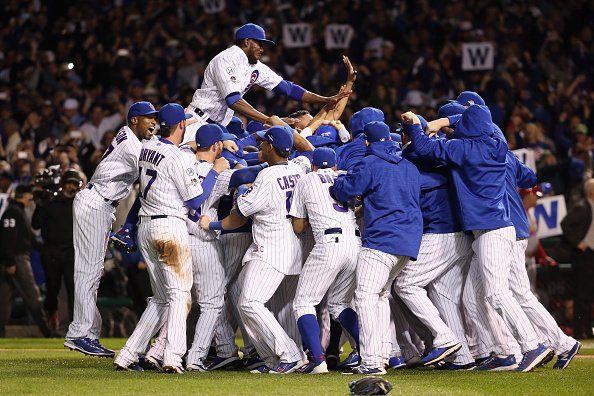 The Cleveland Indians are next at 8/1 followed by the Los Angeles Dodgers and Washington Nationals at 10/1. Six teams — San Diego Padres, Minnesota Twins, Philadelphia Phillies, Cincinnati Reds, Oakland Athletics and Milwaukee Brewers are last at 150/1.
Title Defense Difficult
Just because Chicago is the No. 1 pick doesn't mean they are going to accomplish the feat for a second consecutive year.
The last team to take two in a row was the 1999-2000 New York Yankees (who also won in 1998) and since 1979 the Toronto Blue Jays are the only other back-to-back winners.
The most glaring statistic is that since 2011 the World Champions have not only failed to repeat, five of the six didn't even make the playoffs. The sole exception, the 2012 St. Louis Cardinals, didn't make the final cut, losing in the National League Championship Series.
CSN Chicago talked with Theo Epstein, Cub's President of Baseball Operations, and he pointed out how difficult it is to accomplish the feat.
"The primary reason why it's hard to repeat is just because it's really difficult to win the World Series," Epstein said. "In any given year, if you're any old team, you have a 3-percent chance. If you're the best team, you might have, you know, a 10- or 12-percent chance. So it's just hard to do. But there are things that get in the way."
Favorite No Guarantee
Just as difficult as capturing two in a row is success as the betting favorite.
Last year the Cubs were 10/1 to win, behind the 8/1 Dodgers.
In 2015 the top pick was the Washington Nationals and in 2014 it was the St. Louis Cardinals. Neither team made the series.
The Red Sox in 2013 were the last preseason favorite to win the World Series, at 5/7.
Odds to win the 2017 World Series (Courtesy of Bovada.lv)
Chicago Cubs, Boston Red Sox: 9/2
Cleveland Indians: 8/1
LA Dodgers, Washington Nationals: 10/1 
San Francisco Giants: 12/1
Houston Astros: 14/1
New York Mets: 18/1
Toronto Blue Jays: 20/1 
St. Louis Cardinals: 22/1 
New York Yankees: 25/1 
Texas Rangers: 28/1
Baltimore Orioles, Detroit Tigers, Kansas City, Seattle Mariners: 33/1 
Pittsburgh Pirates, Colorado Rockies: 40/1
Chicago White Sox, Miami Marlins, Los Angeles Angels, Tampa Bay Rays: 75/1 
Arizona Diamondbacks, Atlanta Braves: 100/1
Milwaukee Brewers, Oakland Athletics, Cincinnati Reds: 150/1 
Minnesota Twins, Philadelphia Phillies, San Diego Padres: 150/1