On Monday, the list of college football COVID-19 casualties started taking shape and, with four days of testing and postponements remaining, it looks like Week 11 could be one of reckoning.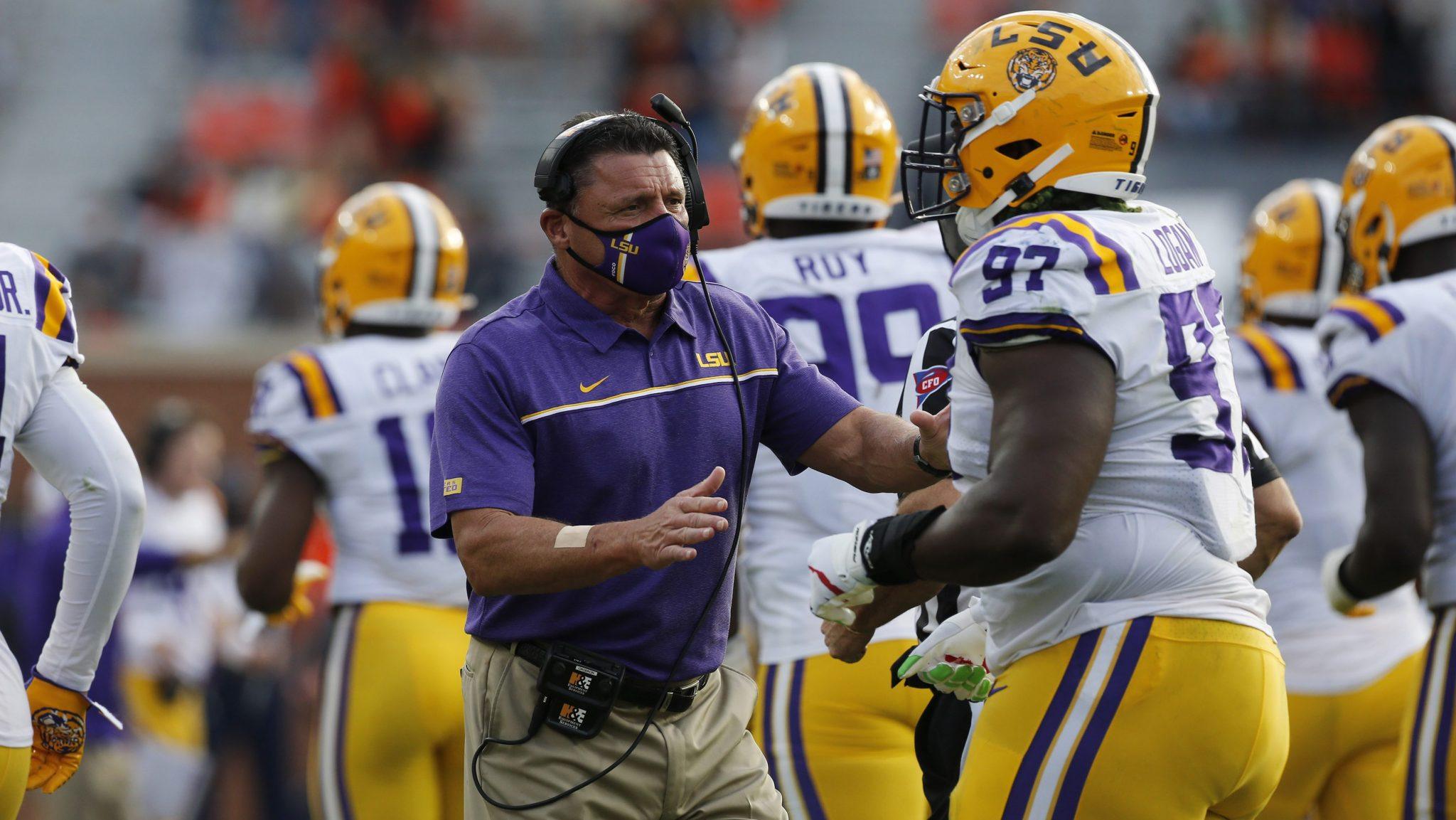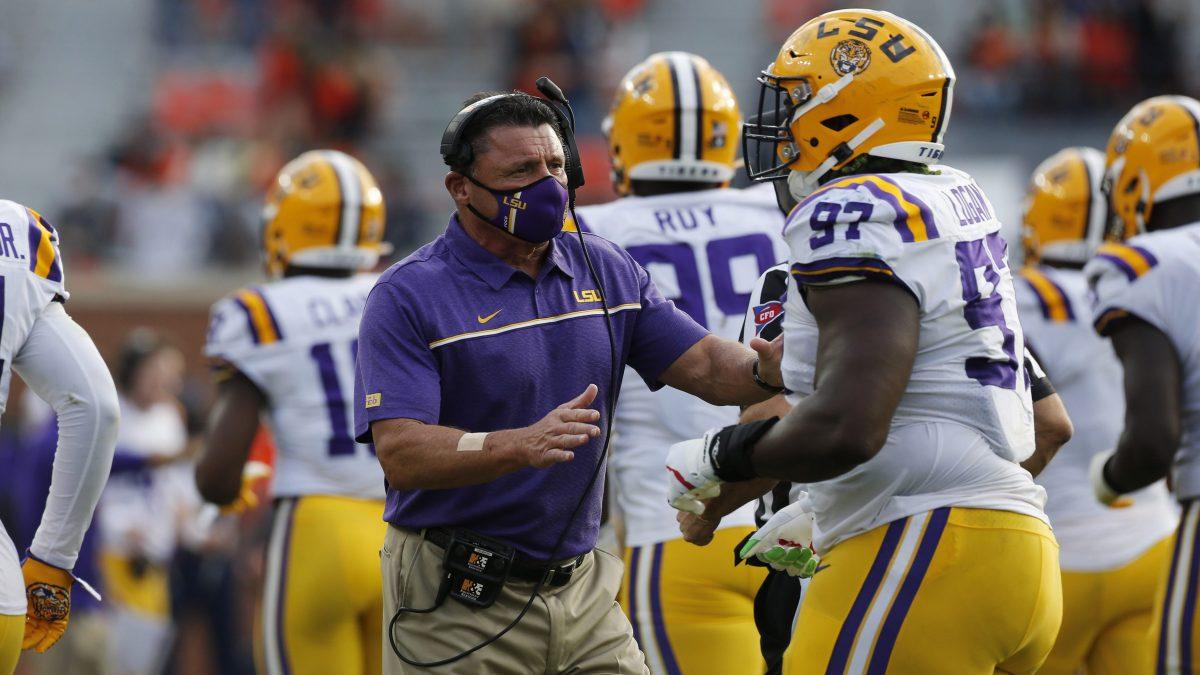 Momentum has been building in COVID's favor as national infection rates are reaching an all-time high. Last week, schools had to postpone 10 games — more than 17% of the weekend's schedule. This week, a handful of matchups are already canceled, and many more games are hinging on test results.  
Cancellations Began Monday, More to Come
Thus far, the cancellation of Air Force vs. Wyoming made it Air Force's second straight no-show. The school doesn't have enough healthy players to field a squad, and thus, their season may be over. 
According to team officials, No. 24 Auburn vs. Mississippi State has been taken off the board as Mississippi State, which barely had enough scholarship athletes to face Vanderbilt last week, now has more than 40 cases of COVID-19, school officials reported. The game has been tentatively rescheduled for the SEC's COVID make-up weekend (Dec. 12), but the Bulldogs may not have enough athletes to finish the season, leaving the first-year head coach Mike Leach in limbo. 
Pac-12 Programs Struggle to Get Off the Ground
Utah, which couldn't field enough players for its season kick-off at home vs. Arizona last week, still might not have enough scholarship players to face UCLA in Week two. The state's per capita infection rate is currently one of the highest in the nation. Head coach Kyle Whittingham said Monday the program "barely" has enough scholarship players eligible. He noted one team member had to be hospitalized.
"One student-athlete who has not been participating with the football program since August recently tested positive for COVID-19 and was hospitalized," Whittingham said in a statement. "He has since been released from the hospital, is at home, and is doing much better." 
California, which had to cancel its opener at home vs. Washington last week, might not have a program at all unless the team relocates. Berkeley's strict contact-tracing regulations would prohibit the team from congregating within the city, even with one reported positive case. 
LSU and Bama in Jeopardy of Breaking Streak
LSU vs. No. 1 Alabama is a big-name matchup that started in 1895, and which has seen the teams meet every year since 1964. This year's game is in jeopardy, however, due to the Tigers' COVID numbers, which puts a strange spin on head coach Ed Orgeron's September claim that most of his players had already gotten the virus.
"I think that hopefully, they won't catch it again, and hopefully they're not out for games," Orgeron said. He now refers to the team's status as "a very fluid situation."
As of Monday, the Tigers have one scholarship quarterback, no tight ends, and no long snappers available. LSU already has a postponement on the books when their COVID-19 case total precluded them from facing Florida in October. If the Tigers have to postpone this weekend's game, they likely won't face rival Alabama this season.
Wisconsin Out of Big 10 Contention with One More Miss
No. 13 Wisconsin is still clinging to its top-20 spot at 1-0 and, after missing the last two weeks, may surface to play Michigan if the Wolverines can stay healthy. After canceling games against Purdue and Nebraska, if Wisconsin doesn't play this weekend, the Badgers won't reach the minimum number of games to be eligible for the conference championship, 
No. 5 Texas A&M paused its football practices after both players and staffers tested positive following the Aggies' win against South Carolina. As of Monday, they're still scheduled to play at Tennessee on Saturday. 
Notre Dame's Field Storming Causes Concern
Perhaps the most stunning Week 10 outcome followed in the immediate wake of No. 2 Notre Dame's overtime stunner at home vs. then No. 1 Clemson.  The upset led to a massive, potential super spreader event that saw more than 11,000 students storm the field. (Conference standards for crowd size don't apply to independent Notre Dame.) No test results for Notre Dame are yet available following the celebration, but the chances of spread at the on-field gathering are high, epidemiologists said. 
"It's a numbers game," Emory University Zach Binney epidemiologist told the Associated Press. "The more cases we have in the country, the more likely anyone is to come into contact with somebody infected, and therefore, the more likely people are to come down with the virus."
As the coronavirus continues to spread, ongoing testing of players, coaches, and staff could result in top-tier programs falling out of contention. Still, others are confronted with the reality that their surrounding communities are stretched too thin to support sports at this juncture.