Paulo Costa and Marvin Vettori are both highly ranked contenders in the UFC middleweight division. But after a back-and-forth over weight issues, they'll be fighting as light heavyweights in their main event clash at UFC Fight Night 196 in Las Vegas on Saturday.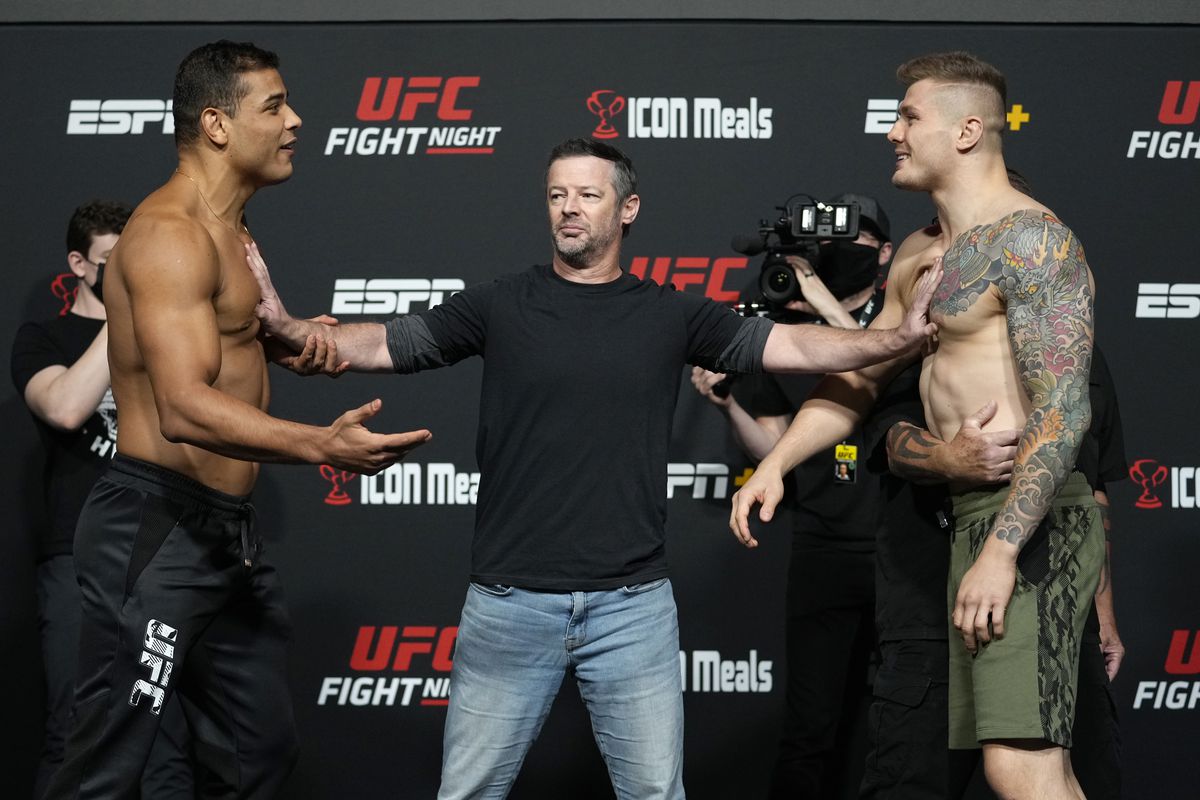 Costa made it clear that he had no chance of making the 186-pound non-title fight limit for the middleweight division earlier this week.
Costa elusive about weight issues
During media day on Wednesday, Costa (13-1) told reporters that he felt a catchweight fight would be more appropriate, without revealing any reason why he couldn't make the middleweight limit.
"It's not on the schedule to make 185 anymore," Costa told reporters, after saying he was at 96 kilograms – approximately 212 pounds – as of Wednesday. "It's another weight above that, but I'm not exactly sure what weight yet."
Initially, the two men agreed to fight at 195 pounds. Then, the UFC officially changed the fight to a light heavyweight bout, raising the limit again to 205 pounds. Costa weighed in at 204.5 pounds on Friday, while Vettori hit the scale at 204. Costa also forfeited 20 percent of his purse as a result of being unable to make the original weight.
Vettori (17-5-1) slammed Costa for being unable to come close to the middleweight limit, but said he would fight no matter what the weight.
"I'm making sure I'm gonna give a fight to all the fans Saturday night, and I won't let this guy get away with it," Vettori told reporters. "It's right for me to do it for all of us and for all the fighters who actually struggle to make weight. It was very disrespectful from his side to come in 30 pounds heavier and I'm ready, man. Let's go."
Both fighters look to rebound after losing title shots
Outside of the weight drama, this fight carries some important stakes. Costa ranks No. 2 in the middleweight division, with Vettori at No. 5. Both men are coming off losses to middleweight champion Israel Adesanya: Costa last fought in September 2020, while Adesanya beat Vettori by unanimous decision at UFC 263 in June.
---
Costa vs. Vettori Odds (via PointsBet)
Paulo Costa: +165
Marvin Vettori: -223
Method of Victory
Costa by KO/TKO: +310
Vettori by KO/TKO: +425
Costa by Submission: +2500
Vettori by Submission: +320
Costa by Decision: +520
Vettori by Decision: +230
Draw: +6600
---
Vettori comes into the fight as a -223 favorite over Costa (+165), according to PointsBet. Costa only has the one career loss to Adesanya, and has been the more explosive and more powerful fighter. On the other hand, Vettori is a talented fighter who applies pressure even without looking for knockouts in most cases, and has shown he can absorb plenty of punishment on his way to a win.
The change in weight could also benefit Costa, who knew he was overweight while Vettori prepared to fight at 185 pounds. But Vettori has been adamant in saying he will punish Costa for what he sees as unprofessionalism.
"We're gonna slap this motherf***er," Vettori told reporters. "We're gonna f***ing beat him."