Largent comes into today's Grade 3 Tropical Turf at Gulfstream Park with name recognition, not just from his namesake – Hall of Fame wide receiver Steve Largent – but from his track deeds. He comes in never having missed the exacta in 10 career races. And he comes in with 9/5 favorite status for the one-mile test.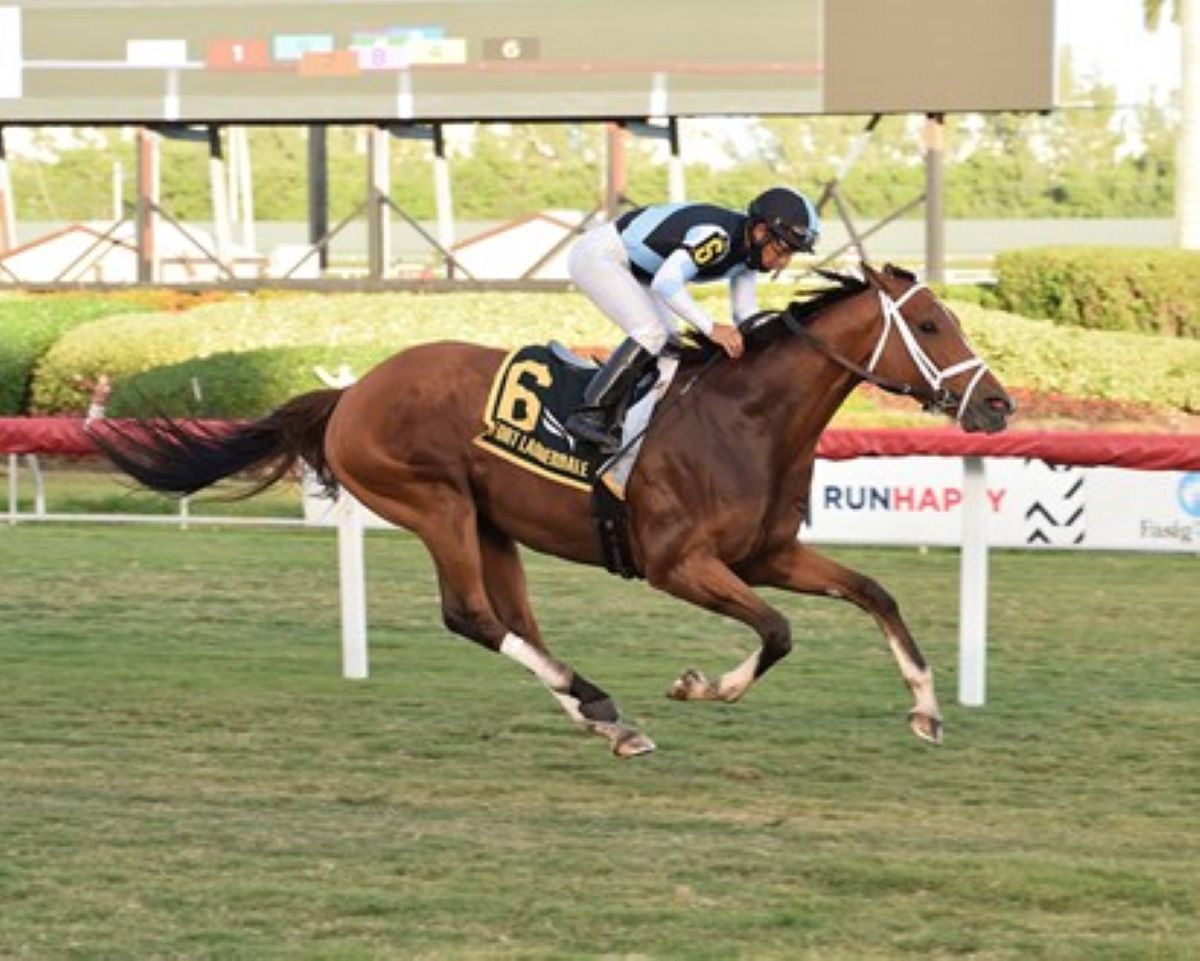 But the newly minted 6-year-old Into Mischief gelding comes in with one other key element – rust.
Largent hasn't raced since finishing second to Todd Pletcher stablemate Colonel Liam in last year's $1 million Grade 1 Pegasus World Cup Turf Invitational. That's 351 days and counting since Largent took the Pegasus World Cup Turf lead into Gulfstream Park's stretch, only to surrender it to Colonel Liam in deep stretch. He lost by a neck.
And now, Largent returns for the Tropical Turf, which could serve as a prep for this year's Jan. 29 Pegasus World Cup Turf. Eclipse Thoroughbred Partners managing partner Aron Wellman, who co-owns the gelding with Twin Creeks Farm, said the Tropical Turf serves that purpose well – should they take that path.
This is a warm-up in every sense of the word
"I'd be lying to you if I said we thought we had him 100 percent cranked up off such a long layoff," Wellman told Gulfstream Park. "But this race is coming in in such a way that the timing is right and the distance is probably right to get him going. While we're certainly not, by any means, trying to get too far ahead of ourselves, it's not out of the question that if he were to run very well and emerge from this race well, that in three weeks time, the Pegasus could come back into play. We're not going to call our shot by any stretch of the imagination. The main thing is that this is probably the most logical launching point for him, even though he's probably not entirely tight for this outing."
Consider Wellman's hedging fair warning about Largent's status at that price for the Tropical Turf. But at the same time, consider Largent's Gulfstream Park resume'. He's 6-for-10 on the Florida oval, with the marquee victory there being his two-length victory at 16/1 in the 2020 Grade 2 Fort Lauderdale Stakes.
The other four starts? Seconds, including that runner-up in last year's Pegasus World Cup Turf.
Largent as consistent as his namesake was
"He's an awesome horse who's a model of consistency at a very high level, and those are very hard to come by," Wellman said.
Since then, Largent had two workouts in Palm Beach Downs last February. He then went on the shelf until mid-November, when Pletcher sent him three furlongs at the WinStar Farm training center in Kentucky. Since then, Largent worked out six more times at Palm Beach Downs, with a bullet 1:02.31 five-furlong work on Dec. 31 being his last.
"He's been training well like he always does and he's always shown an affinity for the Gulfstream course," Pletcher said. "He's always seemed to do well over it. I think it's a good starting point. He's sown he's pretty versatile and can handle multiple distances."