Midway through the Ivy League season, Yale (15-4) is in first place and trying to win a bid to March Madness for the first time since 2016.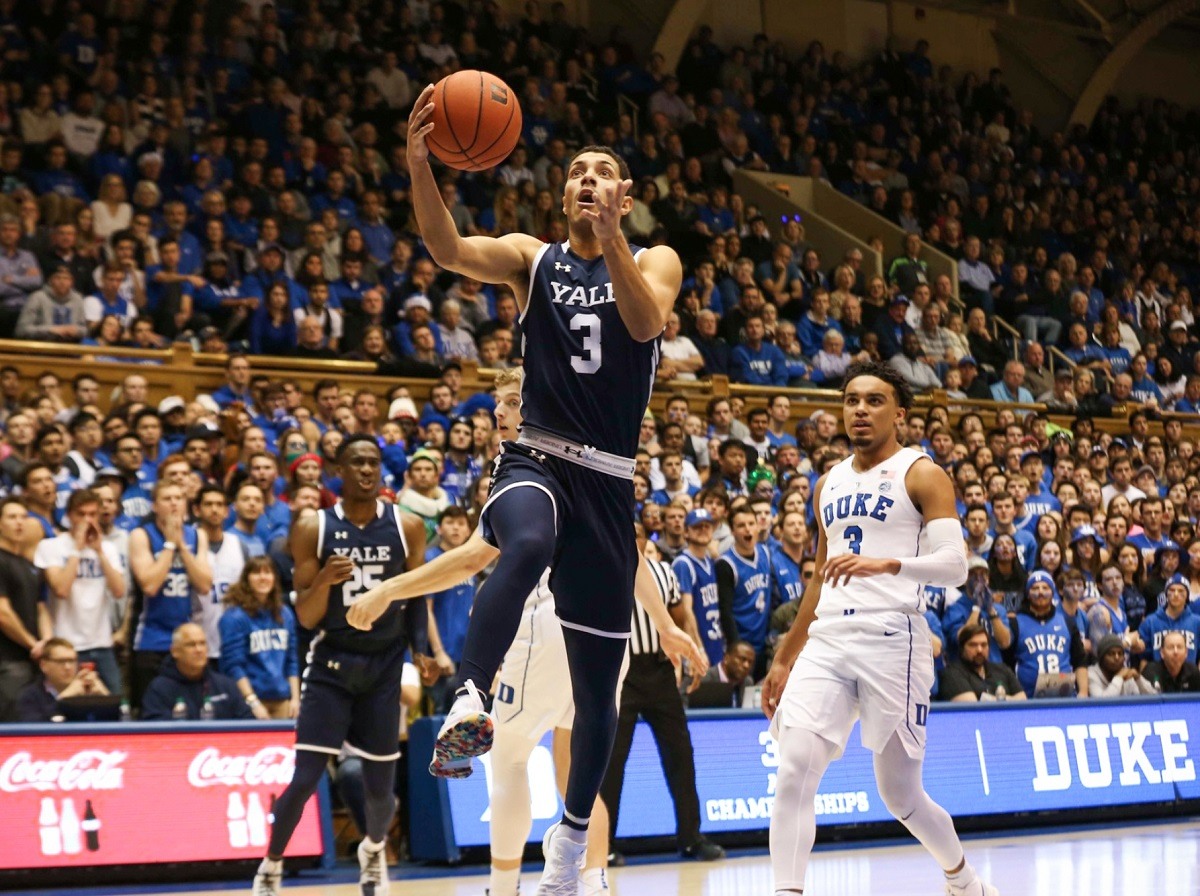 Yale has won eight games in a row at home and currently hold a 5-1 record in the Ivy League. Princeton, Harvard, and Cornell are in a three-way tie for second place with a 4-2 record.
Yale boasts a high-scoring offense that averages 80.6 points per game. They scored 89 or more points eight times in only 19 games this season.
Miye Oni, 6-foot-6 junior guard from Northridge, CA, leads Yale in scoring with 18.1 points per game.  Most recently, Oni lit up Dartmouth for a career-high 35 points and 14 rebounds.
New Ivy League Tournament
In the college football season, Princeton won the Ivy League title and pulled off an undefeated season. Of course, Ivy League football is overlooked by their more-lucrative and higher-profile Power Five conference.
With college basketball, at least one team from the Ivy League gets a shot at winning the college championship. The winner of the Ivy League earns an automatic bid into March Madness.
In 2017, the Ivy League introduced a conference tournament. The winner of the four-team postseason would earn an automatic bid to the NCAA college basketball championship. Prior to 2017, the team that finished in first place earned a bid to March Madness.
IVY LEAGUE CHAMPIONS:
2018: Penn 12-2
2017: Princeton 14-0
2016: Yale 13-1
2015: Harvard 11-3
2014: Harvard 13-1
2013: Harvard 11-3
2012: Harvard 12-2
2011: Princeton 12-2
2010: Cornell 13-1
2009: Cornell 11-3
2008: Cornell 14-0
In the inaugural Ivy League tournament, Princeton ran the table. They were undefeated in the Ivy that season and earned a bid to March Madness. Princeton held the #12 seed but lost to #5 Notre Dame by two points.
Last year, Penn and Harvard finished the regular season with a 12-2 record. Harvard had won the tie-breaker and earned the #1 seed in the four-team Ivy League conference tournament. With the #2 seed, Penn defeated Yale and Harvard to win the tournament. They clinched the Ivy League title and earned an automatic berth to March Madness. With the #16 seed, Penn lost to #1 Kansas by 16 points.
Almost Beating Penny
Yale lost only one game in the Ivy this season. Harvard beat Yale a couple of weeks ago 65-49 in Boston. Yale lost three other games against some tough competition: Duke, Vermont, and Memphis. The Bulldogs started the season 1-2 because of games against Vermont and Memphis. And they almost stole a win a Memphis against Penny Hardaway's Memphis Tigers.
Yale kept the high-octane game close, but lost 109-102 in a double-overtime thriller. Senior guard Alex Copeland led the team with 22 points. Yale hit 41.4 percent of their three-pointers. On defense, they held Memphis to only 6-for-23 for 26.1 percent. The out-of-town Yalies were on the short end of a home-job from the refs. They were whistled for 40 fouls compared to only 26 for Memphis. The Tigers shot 56 free throws compared to only 29 from Yale.
Yale played Duke when they were ranked #3 at the time. Duke blew them out by 33 points, but they got to see Zion Williamson's awesomeness up close and personal.
Against Vermont, Yale couldn't stop the barrage of three-pointers from the Catamounts. They were outgunned 13 to 6 from beyond the arc. Yale departed Burlington with a nine-point loss.
Since the back-to-back losses at the start of the season, Yale is now 14-2.
On Deck: Harlem and Ithaca
Yale last won the Ivy League in 2016 when they finished 13-1. That was the last season before the inception of the Ivy League conference tournament.
Yale has back-to-back road games at the end of the week. They make a quick trip to New York City to play Columbia (6-14). Columbia might be in last place in the Ivy League, but they are fun to watch.
Harvard's win over Columbia included all this 😳:
– Buzzer-beater 3 to force OT
– Buzzer-beater 3 to force 2OT
– Clutch 3 to force 3OT pic.twitter.com/CsGNolD5CU

— SportsCenter (@SportsCenter) February 9, 2019
On Friday evening, Yale heads to upstate New York to battle Cornell (12-7), who are in a three-way tie for second place. The rematch against Harvard is not for another two weeks, with the Bulldogs hosting the Crimson in New Haven. It's expected to be one of the biggest games of the year in Ivy League action.
Nevada, Houston, and Buffalo are other under-the-radar teams in the Top 25 to keep tabs on during the second half of the college basketball season.