NASCAR rookie Cole Custer took the lead on the final lap to win his first career Cup Series victory in the Quaker State 400 at Kentucky Speedway on Sunday.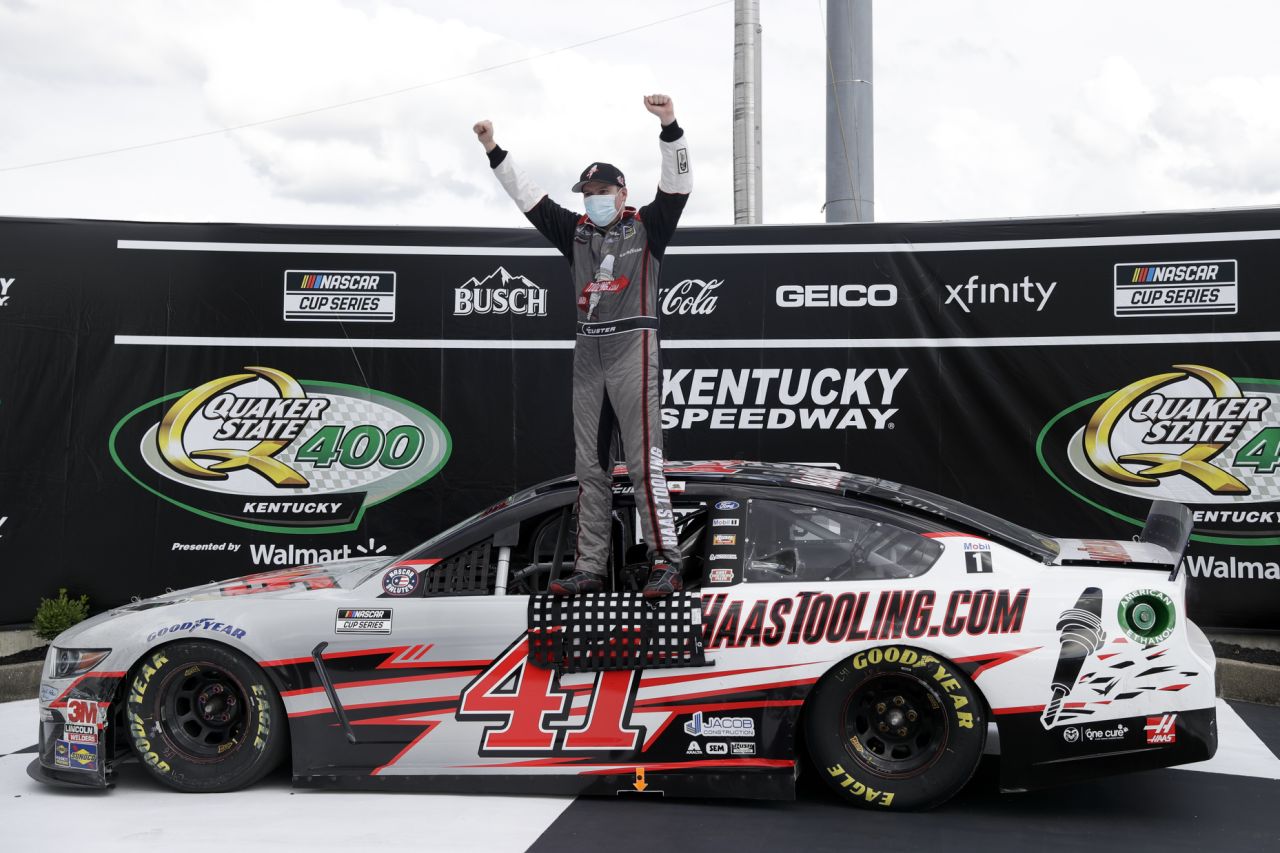 Custer started in fifth place on the final restart with two laps to go.
Four-Wide Pass Secures Victory
He found his opportunity to race for the win by going high on the track and creating a four-wide situation with Martin Truex Jr., Ryan Blaney, and Kevin Harvick. Custer came out in front, and beat Truex to the line by .271 seconds to win the race.
What a finish! Retweet to congratulate rookie @ColeCuster on his first NASCAR Cup Series victory. pic.twitter.com/7XJxR9pvlI

— FOX: NASCAR (@NASCARONFOX) July 12, 2020
"I knew I just had to get to the top," Custer said afterward. "The top rolled pretty good and once I got past and I was like in third I was like, 'I've just got to take a shot and do whatever I can here.' And it ended up the 4 [Harvick] and the 19 [Truex] got together a little bit and I was able to take advantage of it."
Custer is the first rookie to win a full-length race since Juan Pablo Montoya pulled off the feat in 2007. Three other drivers – Brad Keselowski in 2009, Trevor Bayne in 2011, and Justin Haley last season – posted wins before they started racing full seasons, meaning they weren't yet considered rookies. Chris Buescher won a rain-shortened race in 2016 as a rookie.
The victory came in only Custer's 20th career start. The 22-year-old led a total of five laps on the day, his first laps led in the NASCAR Cup Series. He started the race among the longest of longshots, with PointsBet offering him at +50000 to win.
"It's unbelievable," Custer said after the win. "We had a great car all day, one of the best cars I've ever driven in my life. It was hard to get to the front. Once we got there, we took advantage of it and I just can't thank everybody at the shop."
Custer Earns All-Star Race Berth
Custer benefitted from a push by Matt DiBenedetto, who was also part of the scramble at the finish.
"When he pulled to the top, I was like, 'Yeah, that was a good move right there,'" DiBenedetto said afterward. "And I just decided to shove him since I couldn't go around to the outside. It helped him to get to the win and I joked with him that he owes me $100. But he did a great job."
The win comes with several fringe benefits for Custer. He'll now get to participate in Wednesday's NASCAR All-Star Race. In addition, his win will all but certainly earn him a spot in the NASCAR Cup Series playoffs.
Truex finished in second place, ahead of DiBenedetto, Harvick, and Kurt Busch. Blaney slipped back to sixth place in the final standings. Aric Almirola picked up the Stage 1 win, while Brad Keselowski topped the second stage.
With the victory, Custer leaped into the NASCAR Cup Series Championship picture, though he's still a long shot. DraftKings Sportsbook lists the rookie as a +3300 pick to win the title this year, far behind favorites Kevin Harvick (+300), Denny Hamlin (+500), and Chase Elliott (+600).