Martin Truex Jr. pulled away late to win the Blue-Emu Maximum Pain Relief 500 at Martinsville Speedway on Wednesday, finishing more than four seconds ahead of Ryan Blaney to earn his first victory this season.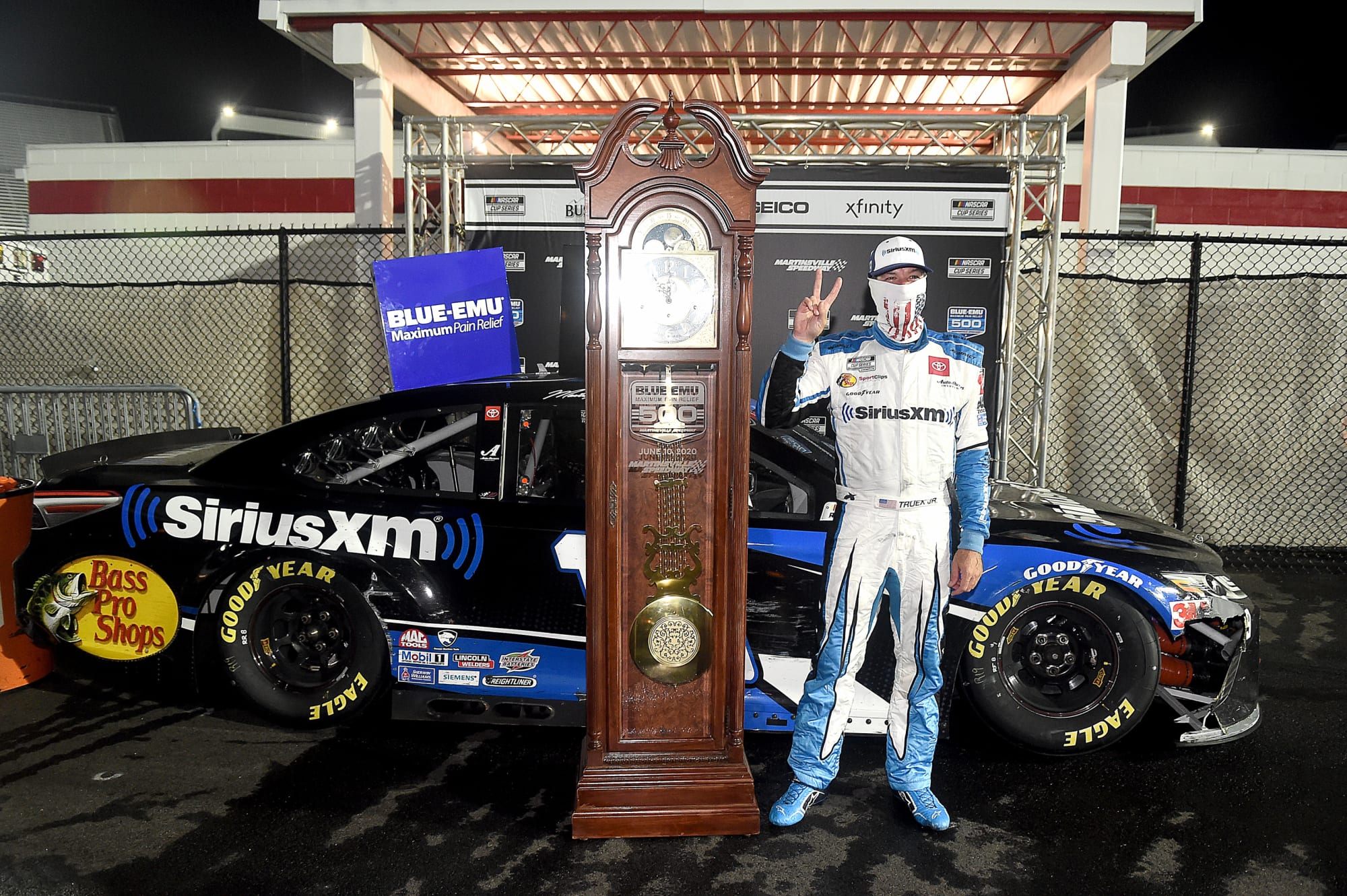 Truex also won the Xfinity 500 last October, the last race held at Martinsville.
Truex Breaks Early Season Slump
While Truex may have been in a bit of a drought, he said after the race that he knew his time was coming.
"I knew we were going to get one soon," Truex said. "Hopefully we can get on a roll."
Truex and his team do seem to be on a roll when it comes to the short track at Martinsville, though it wasn't always that way for the 2017 NASCAR Cup Series champion.
"We've been working a long time on trying to figure this place out and just been chipping way at it," Truex said. "The last couple years we've been really strong; 2018 was a heartbreaker at the end of the race there. Last year to get the win and this year, hats off to the guys."
Truex took the lead during the final stage of the race, then held off a trio of Team Penske drivers to get the win. Blaney, Brad Keselowski, and Joey Logano took second through fourth places and combined to lead 273 laps throughout the night. Logano picked up the first stage, while Jimmie Johnson won the second before Truex took over late.
NASCAR Bans Confederate Flag Before Martinsville
Martinsville was the first race after NASCAR's decision to ban the Confederate flag at its events, a ruling that came down earlier on Wednesday. Bubba Wallace – the only black driver on the NASCAR Cup Series – led calls to ban the Confederate flag, and sported a special paint scheme for the race.
.@bubbawallace will run a special paint scheme to honor #BlackLivesMatter for Wednesday night's race at @MartinsvilleSwy. pic.twitter.com/1axOlSsig7

— NASCAR (@NASCAR) June 10, 2020
"Our Black Live Matter Chevrolet – that's so good to say, right? – was so good on the long runs," Wallace said afterward. Wallace finished in 11th place and currently sits 20th in the NASCAR Cup Series driver standings.
Chase Elliott took fifth place, with Alex Bowman, Matt DiBenedetto, William Byron, Kurt Busch, and Jimmie Johnson rounding out the top 10.
NASCAR will next move to Homestead-Miami Speedway on Sunday for the Dixie Vodka 400. The race will set a new first for American sports, as a limited number of fans will attend in person. NASCAR will welcome a group of 1,000 service members from Florida as honorary guests in the grandstands. A week later, Talladega Superspeedway plans to let up to 5,000 fans sit around the track, provided they wear face masks and maintain social distancing.
Kevin Harvick enters the Dixie Vodka 400 as a +400 favorite, according to DraftKings Sportsbook, just ahead of Truex (+500) and Kyle Busch (+550). Harvick remains the +500 favorite to win the NASCAR Cup Series Championship, ahead of Elliott (+550), Busch (+650), Logano (+650), and Truex (+650).