Christopher Bell became the second consecutive first-time winner in the NASCAR Cup Series on Sunday, taking the O'Reilly Auto Parts 253 on the road course at Daytona.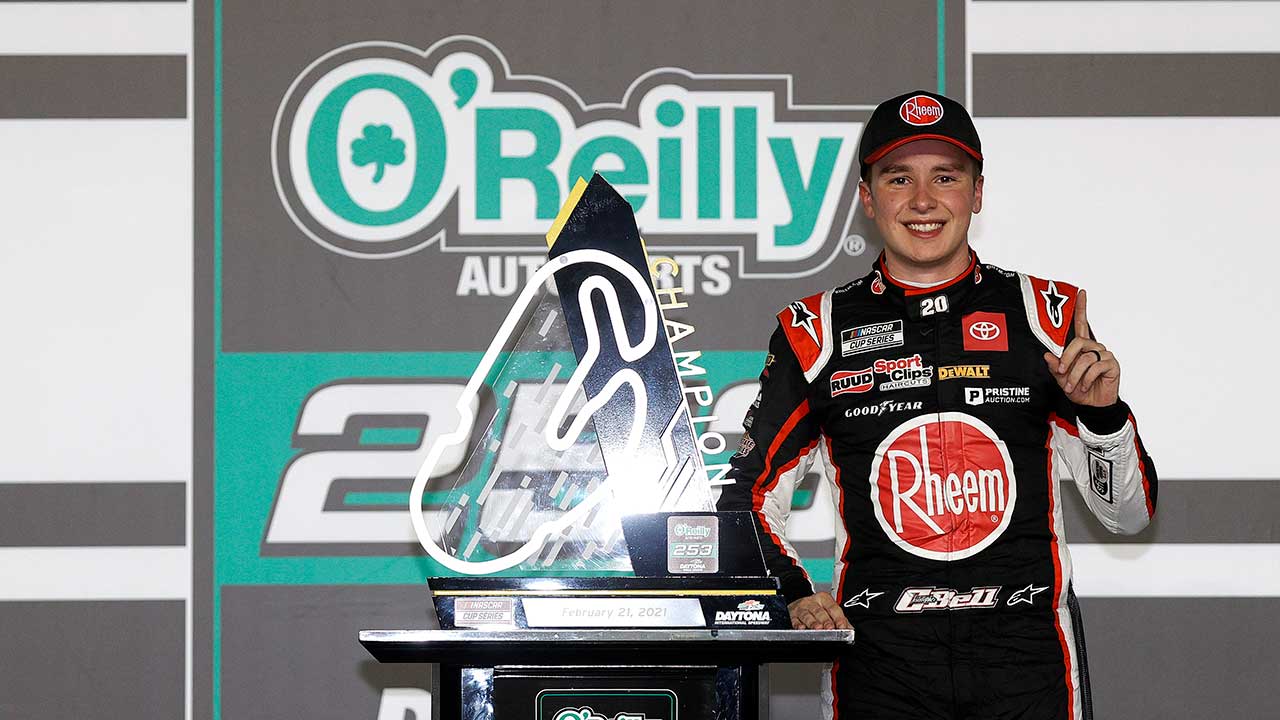 The victory comes a week after Michael McDowell earned his first win in the Daytona 500 to kick off the 2021 NASCAR Cup Series season.
Bell: Win is 'One of the Highlights of My Life'
Barring an unprecedented number of race winners this season, Bell and McDowell will both now get to participate in the 16-driver NASCAR postseason.
"This is one of the highlights of my life," Bell said after the race. "I've prepared my whole life for this moment to race in the Cup Series … last year was such a learning curve for me. I'm very grateful that I got the opportunity to run in Cup, and it definitely prepared me to go to Joe Gibbs Racing."
Joe Gibbs Racing loaned the 26-year-old Bell out to Leavine Family Racing last year as a rookie where he booked seven top-10 finishes, but failed to record a win. Bell does have previous NASCAR success, though, winning the 2017 NASCAR Camping World Truck Series championship in 2017.
Joey Logano held the lead with just two laps to go on Daytona's road course on Sunday. Bell passed Logano just before the white flag, then stretched his lead to 2.119 seconds over the final lap to pull away and claim a comfortable victory.
Bell came into the race as a +5000 long shot, according to FanDuel Sportsbook. That number placed him just inside the top half of the field, but far behind favorites Chase Elliott and Martin Truex Jr.
Pit Stop Traffic Stymies Elliott
Elliott led for 44 laps, the most of any driver, and won Stage 1 of the race. He found himself caught in traffic after his final pit stop, however. Elliott worked his way back to fifth place with just six laps to go, but spun out on the infield after running into the back of Kurt Busch. Elliott finished in 21st place.
"It's a bit of a gamble either way I felt like," Elliott said of his pit stop. "I think [pitting for] tires was the right move. Tires won the race, so it was the right move. You get back in traffic and it gets to be so chaotic. Who gets through and who doesn't just kinda determines how it's going to shake out."
Truex never factored in the race and finished 12th. Denny Hamlin, Kurt Busch, and Brad Keselowski rounded out the top five behind Bell and Logano.
Bell came into the race simply wanting to be a factor, so winning was a dream come true.
"I thought maybe I was going to run in the top seven, eight," Bell said afterward. "I completely surprised myself. In coming up to a bigger series like this, these are some of the guys I dreamed of racing. I'm a train wreck right now."
In the season's early running, Elliott (+600) stands as the favorite to win the NASCAR Cup Series title, just ahead of Hamlin (+650) and Kevin Harvick (+650).