Chase Elliott picked up his third straight NASCAR Cup Series road race win, beating Denny Hamlin to the line by .202 seconds to win the GoBowling 235 at the Daytona International Speedway Road Course.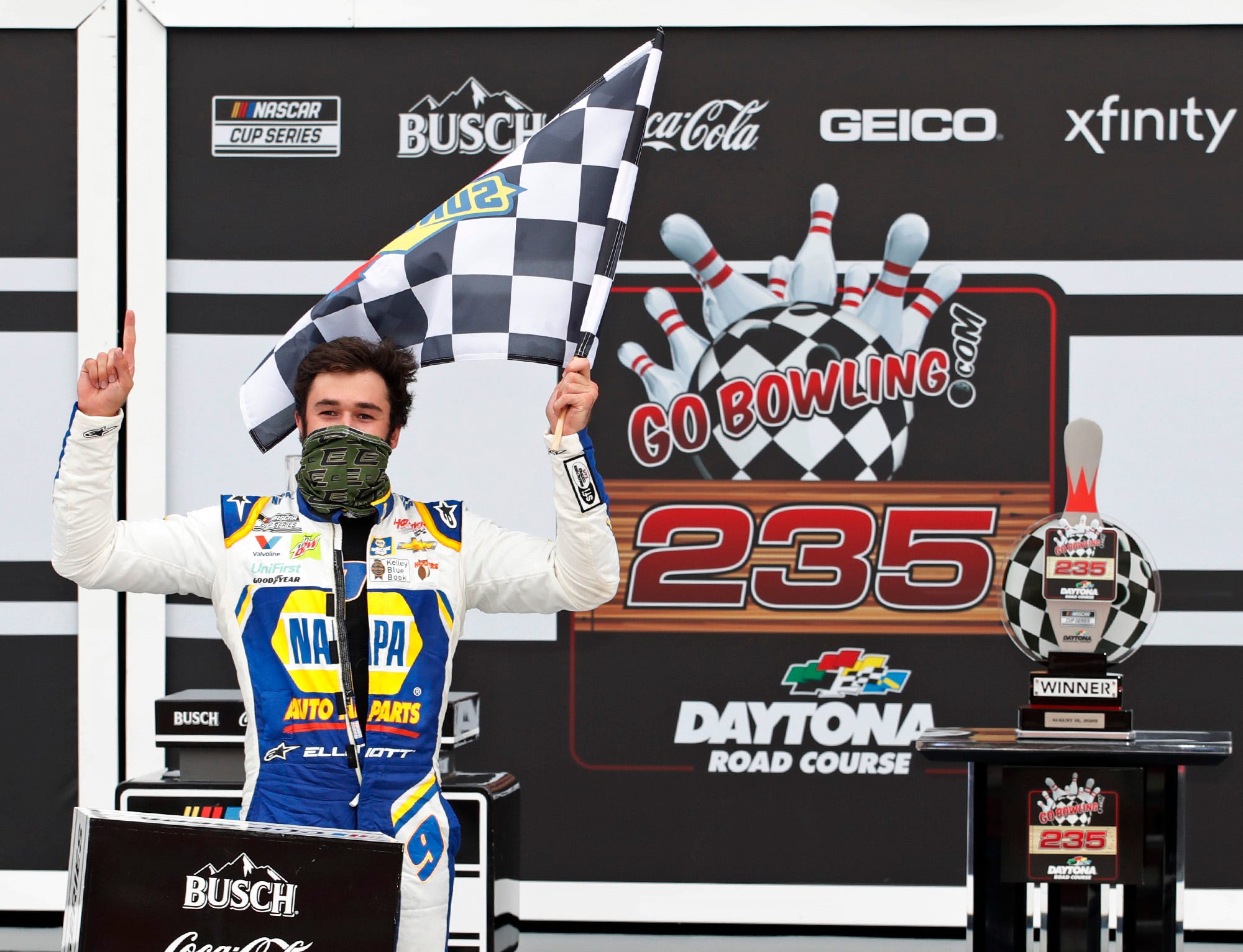 Elliott earned his second win of the season and continued a road course winning streak that dates back to last season.
Late Restart Erases Elliott's Lead
The final margin obscured Elliott's dominance throughout Sunday's race. Elliot built a 10-second lead over the field before a caution flag tightened things up with just five laps to go. Still, Elliott was able to put together a strong finish to hold off Hamlin and the rest of his competition down the stretch.
"Just had a really good car more than anything, not sure I did anything special today," Elliott said after the race. "Really fortunate from that standpoint. Had a good week of preparation and came out and really executed on the race."
That preparation didn't include practice or qualifying, meaning Elliott won the race virtually sight unseen on the new road course at Daytona. Instead, drivers tackled the difficult course in simulators to make sure they weren't completely clueless heading into Sunday's action.
"Myself and some friends were talking about that before the race today, and we were like, 'I wonder how many cautions there will be,'" Hamlin said afterward. "They found a way to adapt and they've got a lot of tools to help them prepare for these races. I mean, these are pros, and you see a clean race whenever you see the driver quality that we have in the Cup Series."
Drivers Coordinate to Avoid First Lap Embarrassment
The drivers also agreed to limit the amount of chaos early by discussing their Turn 1 plans before the race started.
"We just wanted to figure out how we were all going to approach Turn 1 so we didn't crash each other and look like idiots," Martin Truex Jr. told reporters after the race. "So really it was just about what kind of marker were you going to use for braking so we didn't run each other over, and obviously it went fine from there."
Truex finished the race in third place. He spent much of the day up front with Elliott and Hamlin, but moved to the back of the pack due to a speeding penalty on pit road near the end of the second stage.
Jimmie Johnson and Chris Buescher rounded out the top five. The result helped Johnson make up ground in the race for the final playoff spot, as he now sits 25 points back of William Byron on the postseason bubble. Byron finished eighth and, combined with the stage results, only gave up one point of his lead over Johnson.
While Elliott doesn't rank as the NASCAR Cup Series Championship favorite, he is among the top picks to win the title in 2020. William Hill lists Kevin Harvick (+225) as the first choice to win the championship, ahead of Hamlin (+300) and Elliott (+650).