Chase Elliott came back from crashing head-on into a tire barrier to win Sunday's NASCAR Cup Series playoff race on The Roval at Charlotte Motor Speedway.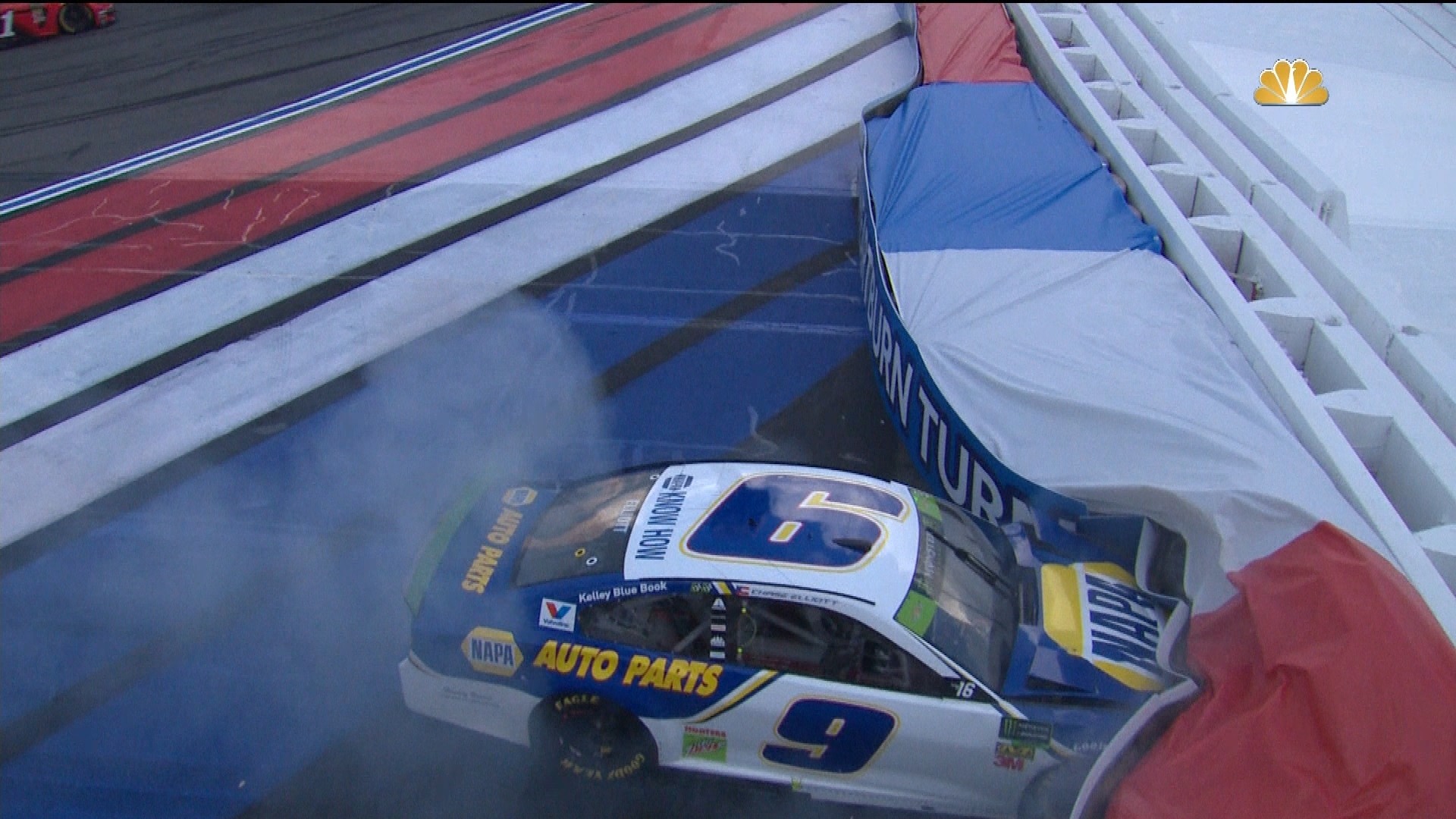 The race finished the first stage of the NASCAR playoff, with the field of 16 drivers now being cut to 12 contenders for the series championship.
Elliott Comes Back From "Stupid" Crash
Coming out of a restart on Lap 65 of a scheduled 109, Elliott headed straight into a tire barrier after locking up his brakes. He then had to pit in order to repair the damage to his car, which dropped him all the way back to 37th place.
Though down, the Hendrick Motorsports driver wasn't out. He spent time working his way forward and taking advantage of cautions that tightened up the field. By Lap 104, he was able to pass Martin Truex Jr. to get back into second place, then overtook Kevin Harvick for the lead.
"I couldn't believe I did that. That was just so stupid," Elliott told reporters after the race. "I don't know that you could have done anything more stupid leading this race than what I did right there. Luckily our car wasn't too bad…fast enough to drive up through there, got the cautions at the right time, and just didn't quit. If there's ever a lesson to not quit, today was the example."
Elliott's performance was impressive, and he knew he had moved on to the next round of the playoffs by the time he won Stage 2 of Sunday's race. The real drama, however, came in the battle between drivers that were on the bubble for advancement into the second round of the NASCAR postseason.
Bowman, Bowyer Climb Into Second Round
Alex Bowman and Clint Bowyer both came into the day just outside of playoff position. But Bowman rallied back from spinning on Lap 1 to end up finishing in second place, moving him up to ninth in the overall playoff standings. Bowyer, meanwhile, did just enough to grab the 12th and final spot with a fourth-place finish that allowed him to outpoint Aric Almirola and Ryan Newman.
Kurt Busch and Erik Jones were also eliminated from playoff contention following Sunday's race.
Bowman couldn't celebrate his comeback, however, as he needed medical attention immediately after the race due to dehydration. That didn't prevent words from being exchanged between him and Bubba Wallace, who was apparently upset at Bowman for spinning him during the race.
"I got flipped off for every single straightaway for three laps, flipped off by him for like three or four laps in a row at Richmond, so I'm just over it," Bowman explained to reporters. "I get it. I'd be mad, too, but he put himself in that spot."
The next cut will come after three more playoff races, when the field will be trimmed to just eight drivers. After an additional three contests, only four racers will remain in contention, with the one that finishes highest in the final race of the year being named NASCAR Cup Series champion.
At the moment, bookmakers think several drivers have a realistic chance to earn a title this year, though a few big names sit at the top of the list. Martin Truex Jr. (7/2) is the favorite according to Unibet, ahead of Kyle Busch (4/1), and Kevin Harvick (5/1). Joey Logan and Denny Hamlin are both 6/1, with Brad Keselowski (13/2), and Chase Elliott (7/1) close behind.