Joey Chestnut and Miki Sudo not only defended their Nathan's Hot Dog Eating Contest titles, but also broke world records in the process. The contest also had two firsts on Saturday.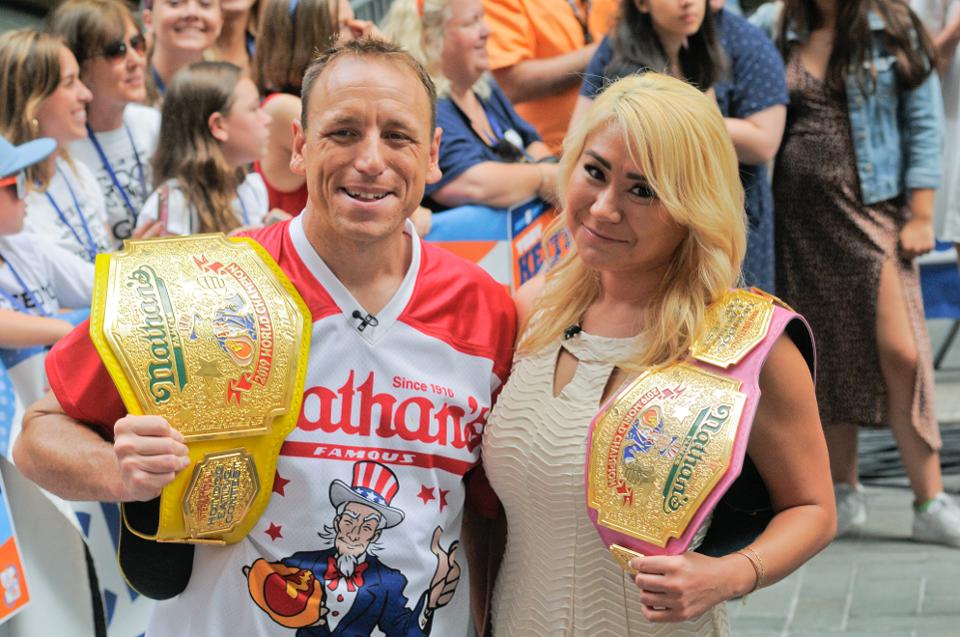 The location was different this year because of the COVID-19 global pandemic. The carnival atmosphere at Coney Island was replaced by an undisclosed indoor location with less competitors, and no crowds.
The other first was that three states, New Jersey, New Hampshire, and Colorado, allowed bets on the hot dog eating contest. Before this year, only offshore and international sportsbooks could take action on the competition.
Major League Eating President and co-founder Richard Shea had said earlier in the week that having legal sportsbetting on the hot dog eating contest further legitimized the event. Brother George Shea, who is a co-founder of Major League Eating, said Saturday that it was disappointing there were no crowds, but he was glad they were able to work with New York City officials to hold the contest.
"The tradition continues, and that was a monumental achievement in itself," George Shea said.
Chestnut Breaks Own Hot Dog Eating Record
On Saturday, Chestnut broke his own record he set in 2018 when he scarfed down 74 hot dogs. This year, Chestnut consumed 75 hot dogs in 10 minutes. Chestnut was a -1000 favorite to win at DraftKings. The sportsbook also had him at +140 to eat more than 74.5 hot dogs.
It was the 13th Mustard Yellow Belt for Chestnut in 14 years. The only time he didn't defend his title was in 2015, when he was upset by Matthew Stonie. Stonie was unable to attend this year's contest because of travel restrictions.
Chestnut had vowed before the event that he was going to break his record, but said it was much harder without the crowds cheering him on.
"Minute six I really missed the crowd," Chestnut said. "They're there pumped up, and I hit a wall and it took a little bit more work to get through it."
🌭 13-TIME CHAMPION 🌭@joeyjaws breaks his own world record by eating 75 hot dogs and wins his 13th title in 14 years 💪 pic.twitter.com/8euwBbK7qm

— ESPN (@espn) July 4, 2020
Chestnut downed an estimated 21,750 calories, and said afterward he felt remarkably well considering what he had just accomplished.
"I'm bloated, but I still feel very comfortable," Chestnut said.
BetOnline had anyone beating the men's record as the underdog at +200.
Sudo Shatters Women's Mark
Sudo whose personal best is 41 hot dogs was gunning for the women's record of 45, set by Sonya Thomas in 2012. She was a -835 favorite to win, and a +145 to break the record.
🌭 SEVEN STRAIGHT TITLES 🌭

Miki Sudo dominated the field, setting a women's record by eating 48.5 hot dogs and buns in 10 minutes 🤯 pic.twitter.com/dDdAnTJyla

— ESPN (@espn) July 4, 2020
When she downed 47.5 hot dogs after 10 minutes on Sunday she became a seven-time champion, and the new world record holder.
"I feel great," said Sudo, who finished 32.5 hot dogs and buns ahead of her closest competitor Saturday. "I'm sure the physical effects will kick in in a little bit. I think the condensed preparation period really lit a fire under me."