The annual Nathan's Hot Dog Eating Contest might not have fans, but gamblers in three US states will be able to legally bet on the action for the first time. New Jersey, Colorado, and New Hampshire sportsbooks will be taking wagers on the July 4th contest.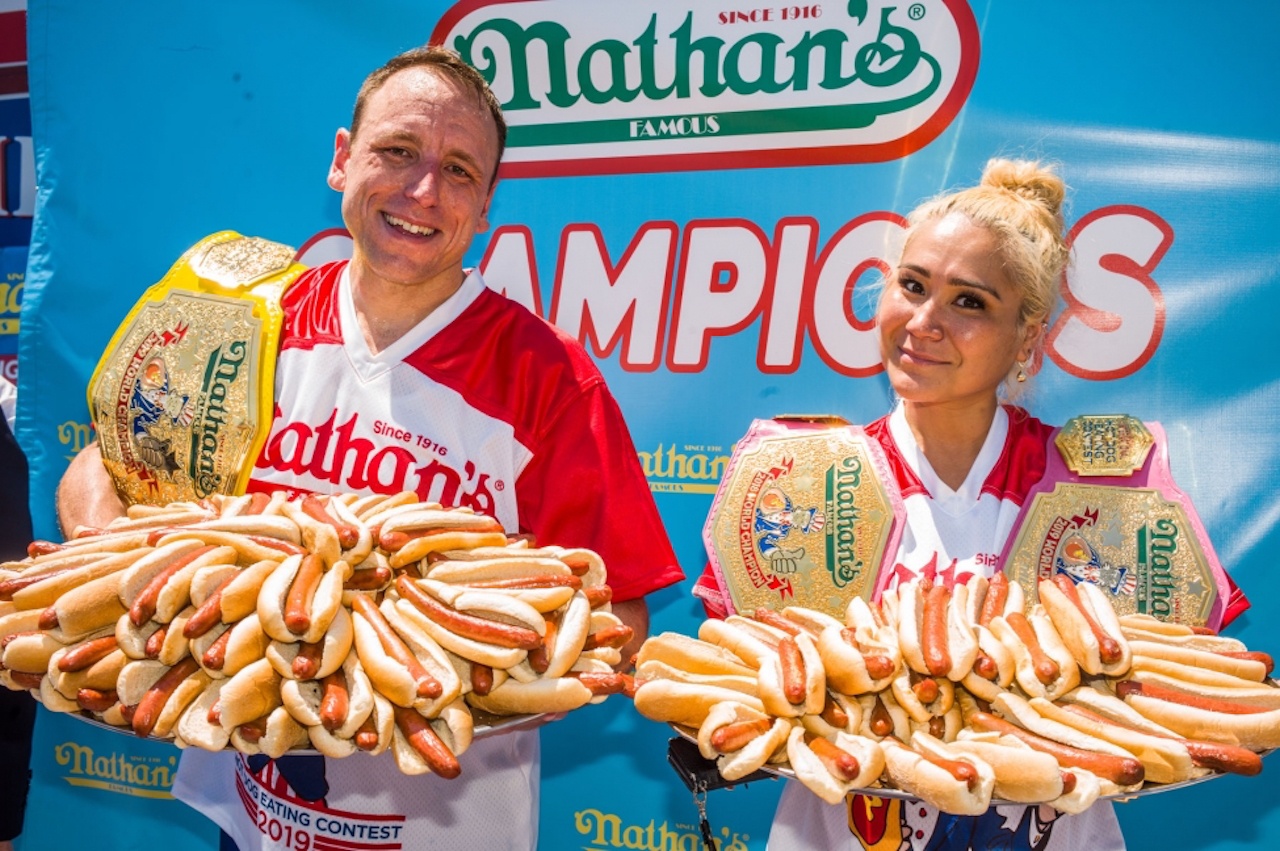 The hot dog eating contest is usually held on the corner of Surf and Stillwell avenues in Coney Island, New York, but because of the COVID-19 global pandemic, the competition will be held at an undisclosed indoor location without fans.
Richard Shea, president of Major League Eating, is also the emcee for the hot dog eating contest, and said in a statement that having three states able to take bets gives the event even more prestige.
"ESPN had already affirmed us as a sport in the early 2000s," Shea said. "But, with legal betting, we are really now as legitimate as the NFL and the NBA."
DraftKings will be taking the wagers in the three states, and Ezra Kucharz, chief of business for DraftKings, said in a statement they were excited to be part of contest.
"The Nathan's Famous Fourth of July International Hot Dog Eating Contest is an iconic U.S. tradition that personifies American competition," said Ezra Kucharz, DraftKings chief of business, in a statement. "We are proud to have partnered with Major League Eating to offer people everywhere the opportunity to engage with such a classic event.
Nathan's Hot Dog Eating Contest Wagers Limited
DraftKings has put out five proposition bets regarding the hot dog eating contest, three of which are associated with last year's champions. Twelve-time winner Joey Chestnut is -1000 favorite to win his 13th mustard belt title. Any other male winner is at +550.
Not only does Chestnut believe he will win, but that he'll break his own record of 74 hot dogs eaten in 2018. He told TMZ.com that the conditions might be conducive for a new record.
"There's a little bit of a bonus 'cause we're gonna be eating in air conditioning and they're less eaters, so they're making less hot dogs so they might taste better," Chestnut said. "There's a good chance that we might have better conditions for a world record and I'ma be pushing for it. I'm breaking the record this 4th of July. This is gonna be a weird 4th of July, but I'ma make it memorable. My record 74, 75 just sounds like a good number but we'll see," Chestnut tells us. If I'm feeling it, if I'm in the perfect rhythm, 77 is doable."
The women's champion, Miki Sudo, is vying for her seventh title. She is a -835 favorite to win. Any other winner is at +500.
The sportsbook is also offering three lines on how many hotdogs will be eaten.
How Many Hotdogs Eaten at 2020 Contest
| | | |
| --- | --- | --- |
| Joey Chestnut | Over 72.5 -162 | Under 72.5 +125 |
| Joey Chestnut | Over 74.5    +140 | Under 74.5 -182 |
| Miki Sudo | Over 40.5 -150 | Under 40.5 +115 |
International Sportsbooks Providing More Bets
Some more exotic prop bets for the hot dog eating contest are available at offshore or international sportsbooks. Bovada has a couple to choose from regarding the contest.
Will There be a Recount?
Yes  +600
No -1200
Will There be an Eat-Off?
Yes +1000
No -5000
BetOnline has some offerings different from Bovada. They have an over and under on Chestnut's competitors, Darron Breeden, Geoffrey Esper, Gideon Oji  and Erik Booker. Breeden finished second last year, and is favored to be the second-place finisher behind Chestnut.
Darron Breeden Over/Under Hot Dogs Eaten
Over 49½ hot dogs -140
Under 49½ hot dogs +100
Geoffrey Esper Over/Under Hot Dogs Eaten
Over 48½ hot dogs -120
Under 48½ hot dogs -120
Gideon Oji Over/Under Hot Dogs Eaten
Over 40½ hot dogs -130
Under 40½ hot dogs -110
Eric Booker Over/Under Hot Dogs Eaten
Over 22½ hot dogs -120
Under 22½ hot dogs -120
BetOnline also takes a stab at the records for most hot dogs eaten. The men's is held by Chestnut at 74. The women's record is held by Sonya Thomas at 45.
Will anyone break the men's record?
No -300
Yes +200
Will anyone break the women's record?
No -190
Yes +145