After a couple of tough NASCAR Cup Series races, Chase Elliott collected his first win of the season, taking the Alsco Uniforms 500 Thursday night at Charlotte Motor Speedway. It was his seventh career NASCAR Cup Series victory in 157 starts.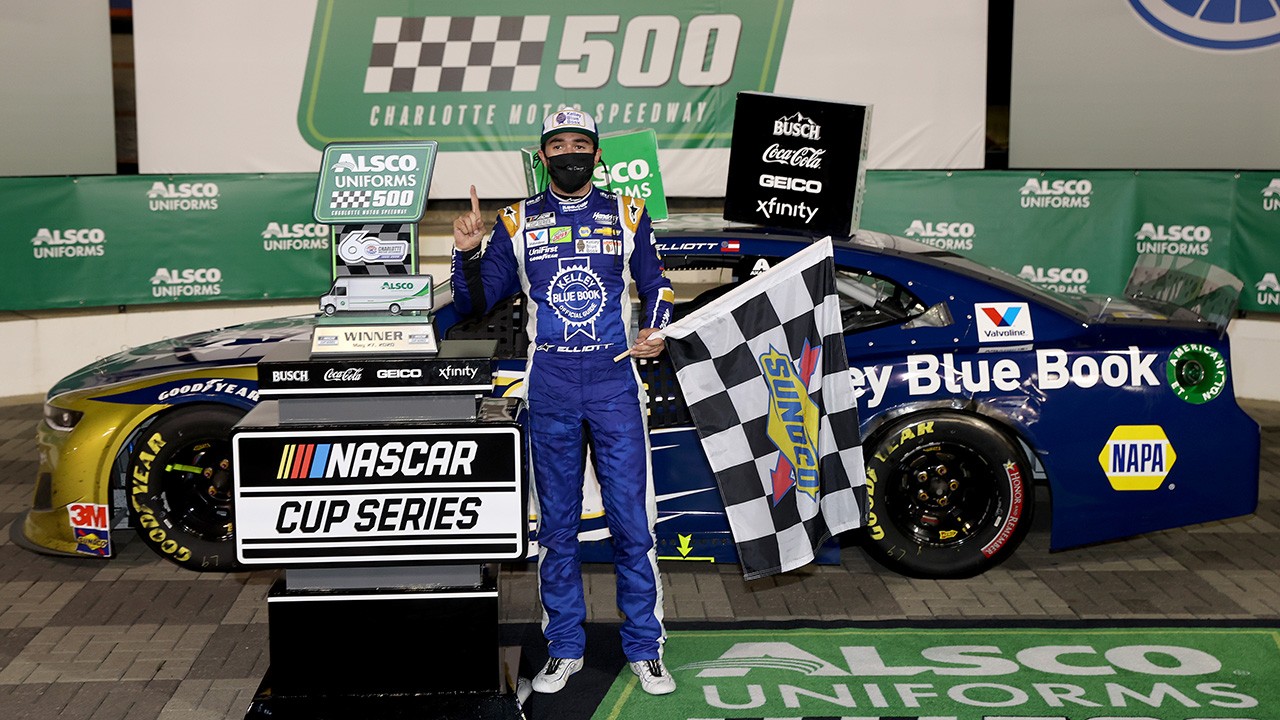 Elliott last won at the Bank of America Roval in September 2019 at the same track. Thursday's race came a day later than scheduled after rain forced its postponement.
Alsco Uniforms 500 Results, Odds
Chase Elliott 5/1
Denny Hamlin 12/1
Ryan Blaney 16/1
Ricky Stenhouse Jr. 150/1
Kurt Busch 17/1
Joey Logano 12/1
Brad Keselowski 10/1
Austin Dillon 60/1
Martin Truex Jr. 4/1
Kevin Harvick 11/1
Drivers have now competed in four races in 12 days. Elliott told reporters he believes conditioning is an important factor, and has definitely helped him in this stretch.
"I feel like I tried to stay biking and doing things throughout those two months off, and honestly coming back and going back to Darlington where it was hot and then coming into the (Coca-Cola) 600, it kind of just threw us back right to the wolves," Elliott said. "I think that was really a good thing just to really get some hot races and some long races in right off the bat and just jump right to it."
Bad Breaks Lead to Elliott's Victory
Two of the three previous NASCAR Cup Series races before the Alsco Uniforms 500 have been rough for Elliott. The 24-year-old was behind leader Denny Hamlin late at The Real Heroes 500 at Darlington Raceway when Kyle Busch made contact with Elliott's bumper, knocking him out of the race.
Elliott flipped off Busch after the incident, but later told reporters the two discussed what happened.
"Like I told him, I don't think he wrecked me on purpose," Elliott said. "I think that he was trying to make a spot that wasn't there. And, much like I told him, I get that mistakes happens, that's part of life and I get it. He's just not a guy that makes many mistakes, so for me to be on the poor end of a rare mistake on his end is, at the end of the day, unfortunate for me and my team."
The second bad break came at Sunday's Coca-Cola 600. Elliott was in the lead with a few laps remaining, but a caution flag came out. When he elected to change his tires, he lost the lead and never recovered. He told reporters at the Alsco Uniforms 500 it was one of his toughest losses.
"Man, it's been a tough week for sure," Elliott said. "We've had some tough losses, but that deal on Sunday night was a heartbreaker."
Fortunes Turn for Elliott
Elliott's luck started turning on Tuesday. He battled Busch in the Gander RV & Outdoors Truck Series North Carolina Education Lottery 200. Elliott outdueled the heavily favored Busch to win, snapping Busch's streak of seven victories in the Truck Series.
"I was glad I had a chance to race him for the win," Elliott said. "For us to go head-to-head for the win, and it felt good to come out on top. It doesn't make up for Sunday, but it was fun."
Thursday's victory might have given Elliott a small amount of solace after the results of the Coca Cola 600, and he hopes it's the turning point in his season.
"It's not the Coke 600, but any win in the Cup Series is really hard to get," Elliott said. "I just really appreciate everybody at Hendrick Motorsports across the street here. Everybody's been working really hard."