Channel Cat is by default, the class of the Grade 2 Red Smith Handicap field. This is a status that by no means, makes him a lock to win the $200,000 race over Aqueduct Racetrack's inner turf course.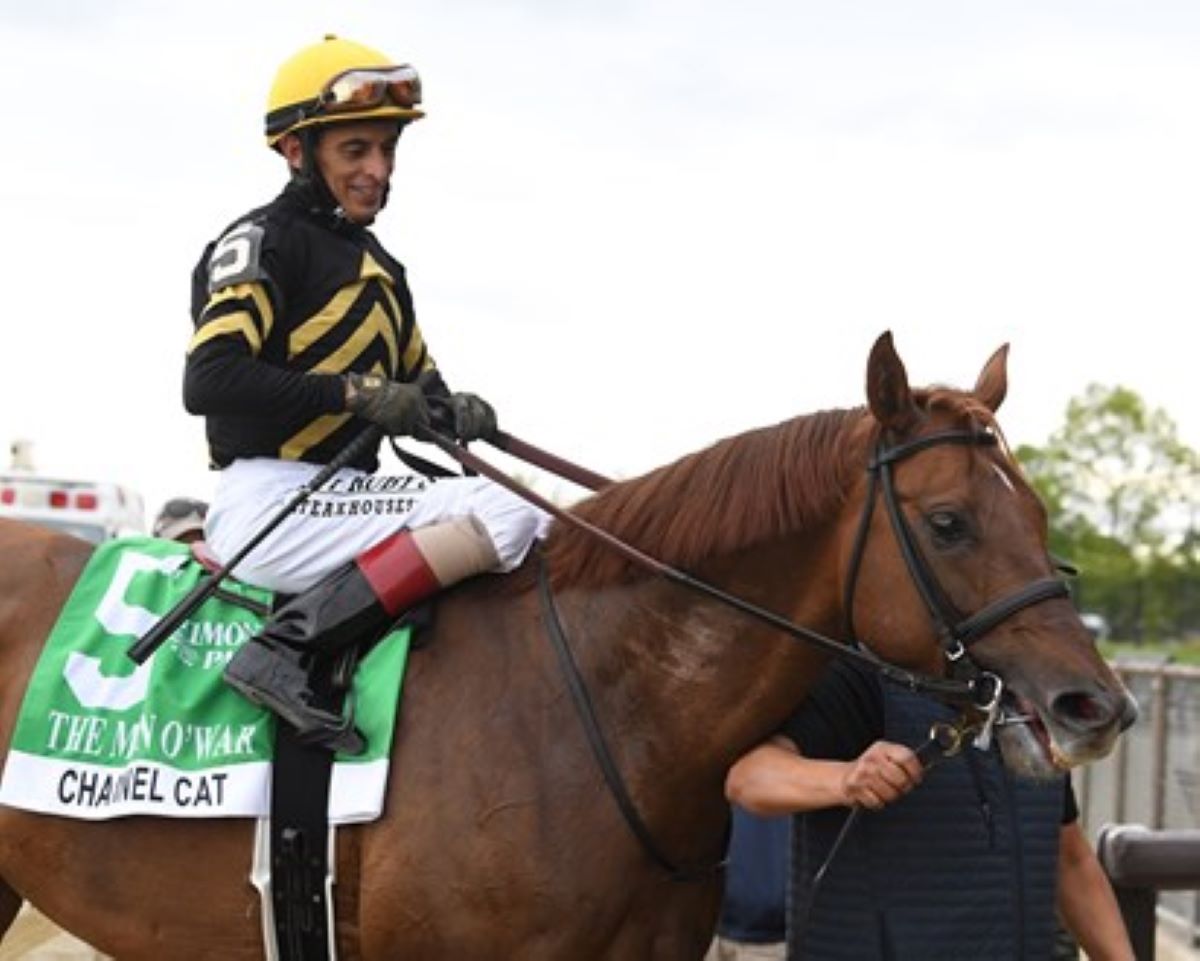 He may be the lone millionaire in the 10-horse field of 3-year-olds and up taking on Saturday's 1 3/8-mile headlining test at the Big A. And he may own a 2021 Grade 1 victory.
But Channel Cat has plenty to prove in this field. The son of the standout turf sire English Channel, who died last week, may have won the Grade 1 Man o' War at Belmont Park. And it did come at this 11-furlong distance, when he turned aside two-time Grade 1 winner Gufo in deep stretch for the nose victory.
That, however, seems like an eternity ago, considering what Channel Cat has done since. Or hasn't done since, as this case may be here.
Channel Cat hasn't sniffed a board since
Since taking the Man o' War, Channel Cat hasn't hit a board or finished higher than the bottom rung of the superfecta. He came out of that early May race a month later and finished a distant seventh by 8 ¼ lengths in a ridiculously deep Grade 1 Manhattan Stakes won by Domestic Spending. Channel Cat was second at the mile mark before fading in mid-stretch. John Velazquez asked him for that next gear and Channel Cat couldn't deliver it.
Next came a reasonably decent fourth in the Grade 2 Bowling Green at Saratoga. Again, mid-stretch proved to be Channel Cat's undoing. He led the first mile of the 1 3/16-mile trek, then yielded to three other horses – including winner Cross Border – over the last 1 ½ furlongs. This, as the 3.30/1 favorite.
What happened next lends credence to the idea that Channel Cat's 6-year-old age may be catching up with him when it comes to distance. Trainer Jack Sisterson took him to Kentucky Downs for the Grade 3 Calumet Turf Cup, a 1 ½-mile test against a Grade 1-level field.
Not justifying his low odds here either
Again, Channel Cat put himself in the mix early. As the 3.70-1 second favorite behind multiple Grade 1 winner Arklow, he led through the first 10 furlongs of the 12-furlong trek. Then, he just hit his stretch wall again, yielding to five other horses and finishing sixth to winner Imperador by nearly 10 lengths.
Perhaps this explains why Sisterson is putting blinkers on his $1.4 million horse. The blinkers go on for the first time in 17 races, since Channel Cat wore them for the Grade 3 Fort Marcy in May 2019. That came 17 races and 2 ½ years ago.
"He lacked that little bit of spark in his past couple of starts and the addition of blinkers will help him do that," Sisterson told the New York Racing Association. "In the race at Kentucky Downs, he didn't make the lead and didn't really finish up. I felt that there was something missing the last two races and I think blinkers will help."
Channel Cat comes into the Red Smith – named after the legendary sportswriter and horse racing aficionado – with a 6-3-5 mark in 29 career races. He certainly has the class and the graded-stakes experience to be the go-to choice here. But sporting a 1-1-0 mark in six 2021 races, Channel Cat and his 5/2 morning-line odds defines the term "lukewarm favorite."