Whether it was riding or betting, records fell in bunches during Kentucky Downs' recently completed six-day meet. The boutique, all-turf track located on the Kentucky-Tennessee border destroyed its previous handle record, both for a single day and for the overall meet.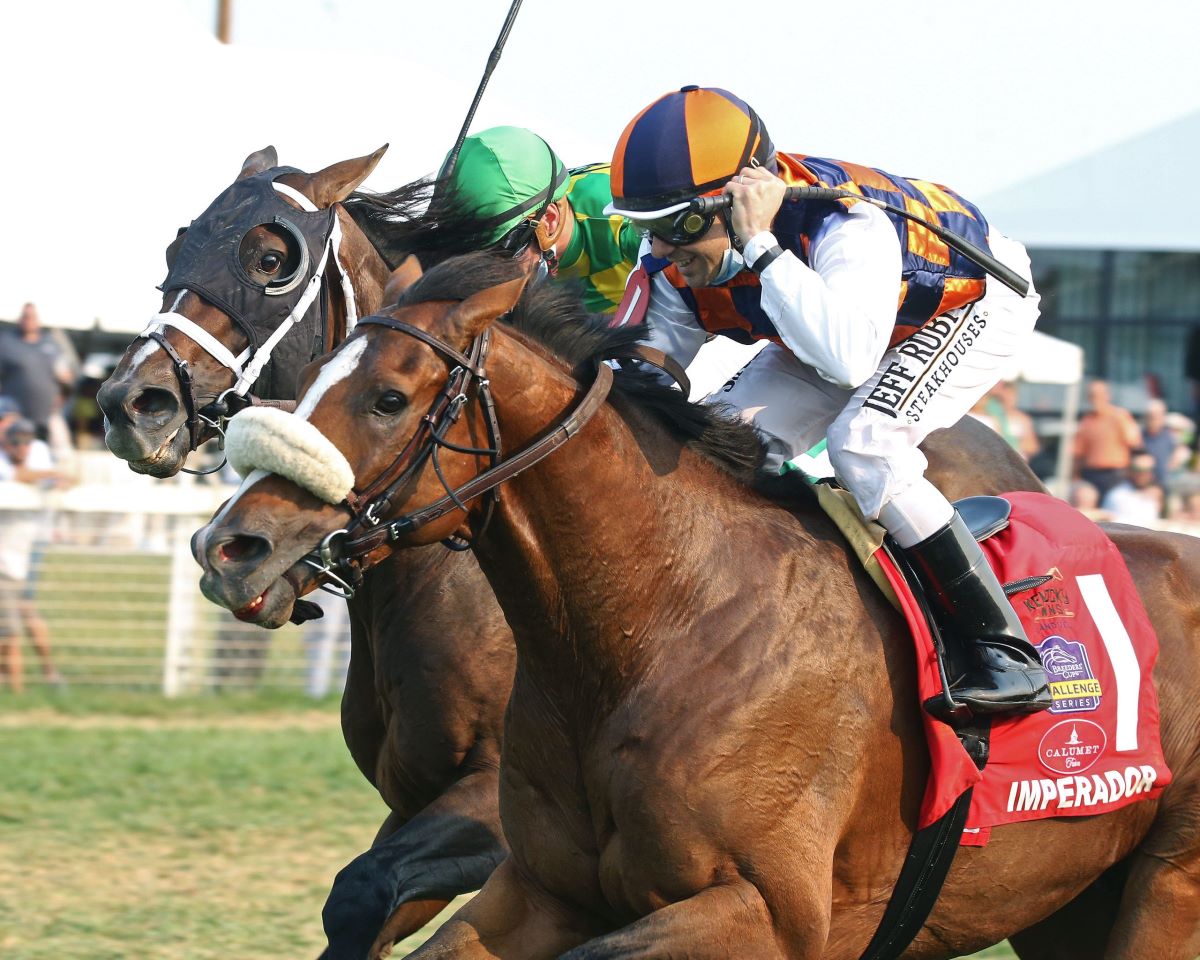 Kentucky Downs came in with a six-day, all-sources handle of $74,088,532. That shattered the previous record of $59,828,441 by 24%. That record, as well as the previous single-day handle mark of $17,437,731, came last year. This year, horseplayers threw $20,849,967 on Saturday's featured program – a 19.6% jump over last year's previous mark. That too, came on Kentucky Downs' Saturday program.
"Once again, the two groups that make horse racing possible – horse owners and horseplayers – responded enthusiastically to our meet and racing product," Ron Winchell, Kentucky Downs' co-owner and co-managing partner, said in a statement. "We are grateful for everyone's participation and pleased that Kentucky Downs is a much-anticipated and embraced spot on the racing calendar."
It pays to be a Kentucky-bred at Kentucky Downs
Purses jumped 37% over last year's record, with Kentucky Downs paying out nearly $16 million over the six-day meet. The Kentucky Thoroughbred Development Fund (KTDF) supplemented nearly $6 million of those purses for Kentucky-bred or horses sired by Kentucky-bred stallions. But even with Argentine-bred Imperador winning the meet's featured race, the Grade 3 $1 million Calumet Turf Cup, the base purse was $550,000. The Grade 2 Franklin Simpson, won by Irish-bred The Lir Jet, featured a $300,000 base purse out of a $600,000 total.
These are some of the biggest stakes purses this side of the Breeders' Cup or Triple Crown races. Notably, not one Kentucky Downs race was a Grade 1.
"Our goal is to serve as a mini, all-turf Breeders' Cup and to stamp ourselves as truly an international launching pad to the Breeders' Cup World Championships," Kentucky Downs Vice President for Racing Ted Nicholson said. "We took a big step in that direction this year."
NBC makes rare visit for Breeders' Cup Challenge races
Taking a big step toward the Breeders' Cup were Imperador and Gear Jockey. With NBC televising Kentucky Downs for the first time, those two earned "Win and You're In" spots to the Breeders' Cup Turf (Imperador) and Breeders' Cup Turf Sprint (Gear Jockey, who won the Turf Sprint).
Bettors weren't the only record-breakers. There was jockey Joel Rosario, who won 17 races, obliterating the previous meet win record of 12. That previously belonged to Rafael Bejarano (2004) and Florent Geroux (2015, 2016). Rosario tied that on the meet's fourth day.
So dialed in was Rosario, who won five races each of the first two days, that he racked up a 32% win race (17-for-53). A jockey or trainer calls it a good meet when they win 20% of their races. Tyler Gaffalione, the 2020 meet champion, was a distant second with eight wins.
Who saw Rosario outride his opponents this meet?
Rosario and agent Ron Anderson, who pulled his client out of Saratoga's final two days to ride at Kentucky Downs, had to be the only ones seeing this coming. Rosario went 0-for-his-first-19 at Kentucky Downs. That included going 0-for-14 in 2019. He broke the schneid last year, going 3-for-14.
"This was the first year we stayed here for the whole meet," said Rosario, whose horses earned a tick less than $3 million. "We really had a lot of chances with horses, and been lucky (to) win."
Three trainers, Mike Maker, Steve Asmussen, and Brendan Walsh, shared the training title. Each won four races, with Walsh's Family Way winning the $500,000 Kentucky Downs Ladies Marathon. That pulled Walsh into the tie with Maker – the track's all-time win and earnings leader – and Asmussen.
A surprised Walsh now remembers his first
"I didn't even know, so that's nice. I think that's the first time I've won any trainer's title," Walsh said.
En route to a piece of his sixth training title, Maker's mounts collected $1,065,892 to take the earnings title. Asmussen's four wins included Snapper Sinclair winning one division of the $400,000 TVG Stakes.