Manchester City won the first leg of their Champions League quarterfinal against Borussia Dortmund after a highly eventful game. It finished 2-1, with the referees taking center stage.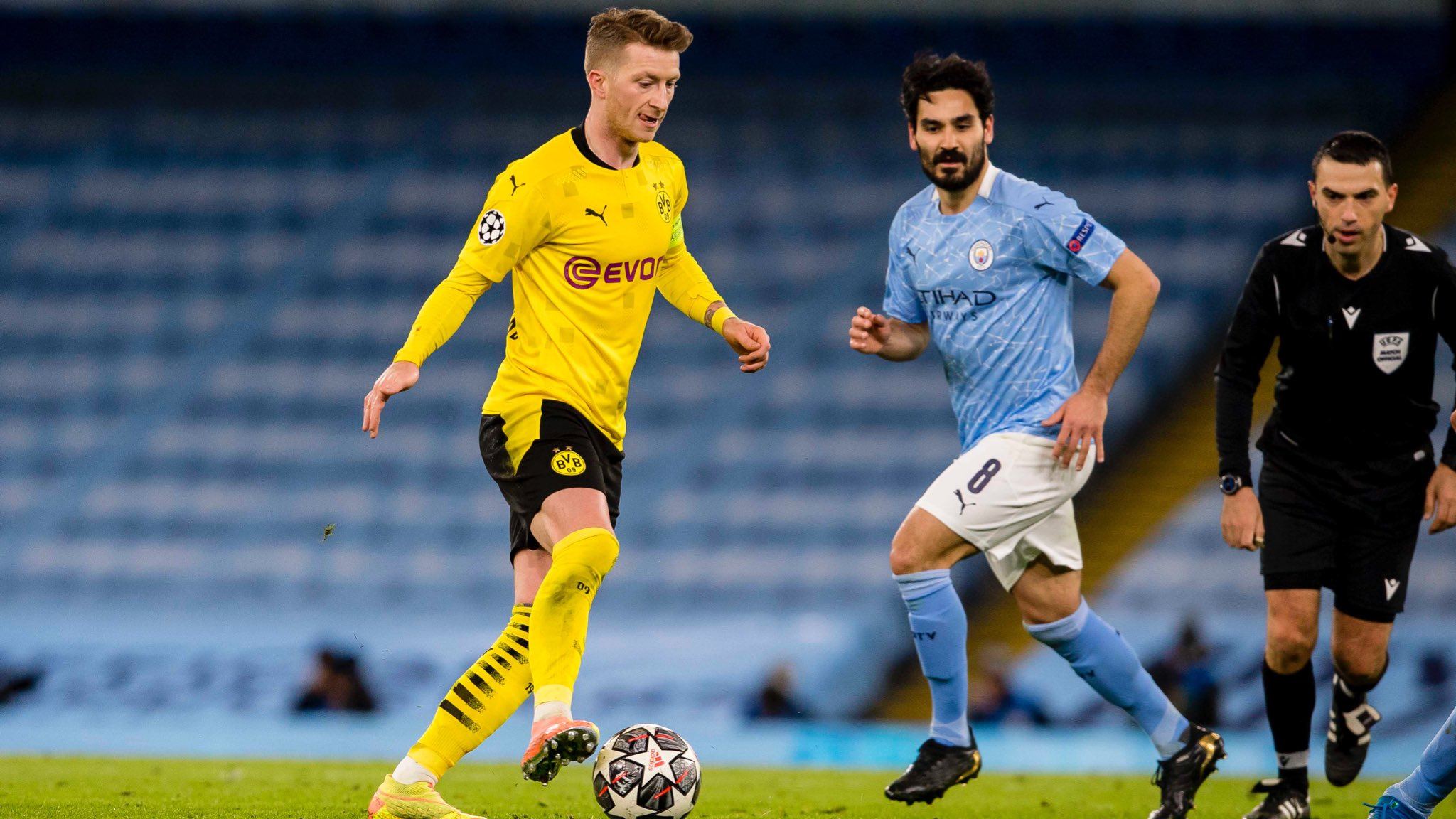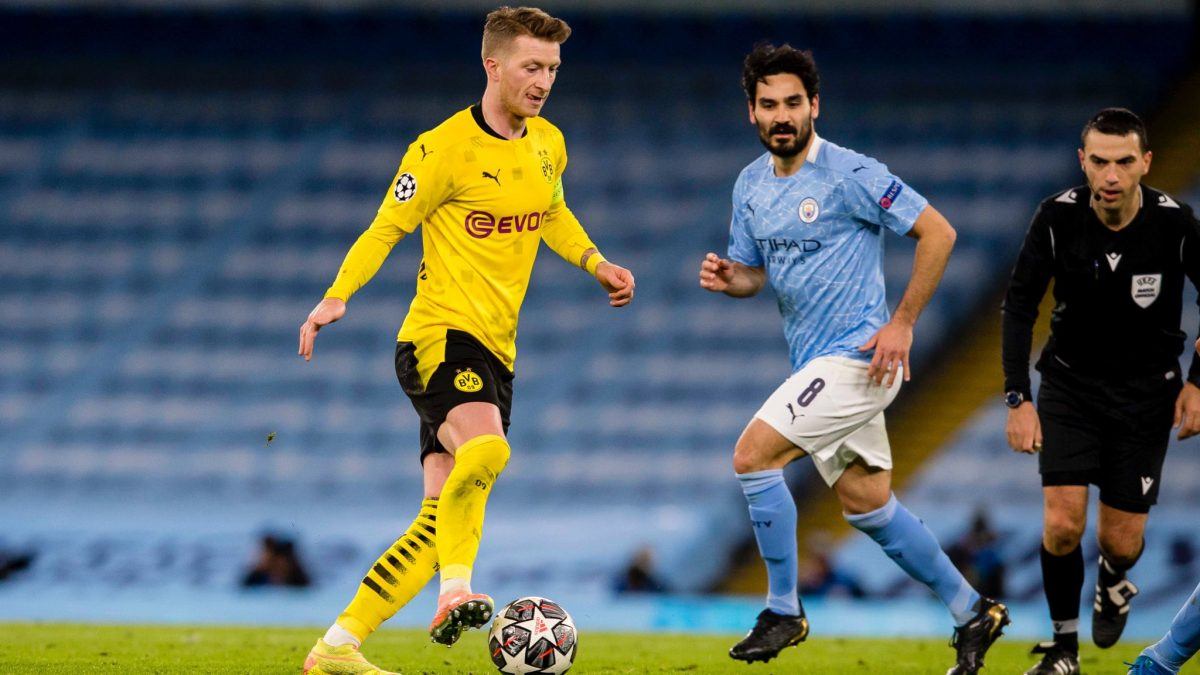 The game was supposed to be all about Manchester City manager Pep Guardiola's chase of the Quadruple (winning all available trophies during a club season) and Erling Haaland's visit to one of his possible transfer destinations next summer. Instead, the match became a massive source of frustration for fans watching around the world.
Refs at fault: What really happened?
Ovidiu Hategan from Romania was the referee in charge on Tuesday night in Manchester, assisted by compatriots Octavian Sovre and Sebastian Gheorghe. Among some controversial decisions Hategan made during the entire first half, two stand out.
First, after 29 minutes, Hategan awarded a penalty for a supposed foul on Spanish midfielder Rodri from Dortmund's Emre Can. Rodri fell to the ground with both hands on his face, suggesting he'd been touched by Can's foot. Hategan went to the sidelines to check the VAR (video assistant referee) replay and disallowed the penalty.
The penalty that wasn't a penalty. Correct decision? pic.twitter.com/A5F4j0uv5i

— City Xtra (@City_Xtra) April 6, 2021
Then, just seven minutes later, Hategan ruled against Dortmund once more. He blew his whistle for a phantom foul from Borussia's Jude Bellingham on City's Brazilian goalkeeper Ederson. Bellingham was about to score an open-net goal once he got past his opponent when Hategan decided to stop the play. This time, VAR couldn't do anything, as the game was put on hold before Bellingham took the ball past the goal line.
In the end, Belgian midfield maestro Kevin De Bruyne was the only one on the scoresheet in the first half, netting in the 19th minute to give City a 1-goal advantage.
— Jude Bellingham (@BellinghamJude) April 6, 2021
Hategan's below-par performance put the internet on fire, with fans, journalists, and even football players reacting to it. Dortmund's Jadon Sancho, who was unavailable in Manchester because of injury, tweeted "The ref needs checking!" while Henry Winter, The Times newspaper's chief football writer, described Hategan's display as 'bizarre."
This Ref needs checking! 🤦🏽‍♂️

— Jadon Sancho (@Sanchooo10) April 6, 2021
Very, very bizarre refereeing so far from Ovidiu Hategan. #MCIBVB

— Henry Winter (@henrywinter) April 6, 2021
Referee Hategan no stranger to Champions League controversy
On Tuesday evening, Hategan was in charge of his first Champions League game since the beginning of December. At that time, he was at the heart of an historic scandal during the PSG vs Basaksehir contest in the last round of the group stage. Just 10 minutes after the start of the encounter in Paris, play was stopped because of an incident regarded as racist by Basaksehir's players and staff.
Assistant manager Pierre Webo was referred to as "ala negru" (translated as "the black one") by the fourth referee, Romanian official Sebastian Coltescu. He was trying to identify Webo in a refs' communication system chat with Hategan, with the pair talking in their native language.
UEFA started an inquiry and found Coltescu not guilty on charges of racism. The incident ended with the ref being sanctioned for misconduct.
With both PSG and Basaksehir refusing to finish the game on the night of the incidents, play resumed the next day with different match officials. Hategan escaped punishment, but UEFA kept him away from Champions League duty.
A teacher of Anatomy at the University of Medicine in his hometown Arad, Romania, Hategan is likely not to take charge of any more Champions League games until the end of the current season. Hategan only benefits from the help of VAR in the European games and in those he's invited to officiate in Saudi Arabia. (The Romanian top tier doesn't have the virtual assistant system in place.)
This detail sparked heated debates on whether it's appropriate for referees coming from non-VAR countries to take charge of games in the knockout stages of the Champions and Europa Leagues.
Erling Haaland's autograph? Priceless!
It wasn't just Hategan who faced criticism after the game in Manchester, which City won 2-1. Assitant Octavian Sovre was caught by the cameras in the tunnel while asking Dortmund's Erling Haaland for an autograph. Sovre took out his yellow and red cards and offered Haaland a pen with which to sign them.
The linesman asked Erling Haaland for his autograph at the end of the match 😳 pic.twitter.com/sLy4quVILU

— Champions League on CBS Sports (@UCLonCBSSports) April 7, 2021
"They had a job to do, they had a really difficult first half," former City and Bayern midfielder Owen Hargreaves told English broadcaster BT Sport while images of the Haaland autograph moment were showing. "They got a lot of things wrong in that first half. Even the guys who do that job [of refereeing] can be fans, but you can't do that in front of the other players. It just doesn't look right."
Despite not scoring against City, which is expected to be one of his main suitors this summer, Haaland assisted Marco Reus's equalizer in the 84th minute. In the aftermath of the refereeing mistakes, football took center stage. In the dying moments in the game, 20-year-old Phil Foden fantastically scored in the 90th minute to confirm City's high chances of going through to the semifinals.
City is the favorite for winning the return leg as well. The bookies put the English Premier League leaders at -150 for a win in Dortmund. A draw is at +400, while a favorable result for Borussia at +500. Dortmund is at +600 for qualifying, with City at -800. City is also at -200 for scoring at least two goals at Borussia's ground.