The Boston Celtics went on the road and overcame a hostile crowd to stave off elimination with a huge 108-95 victory over the Milwaukee Bucks in Game 6 of the Eastern Conference Semifinals.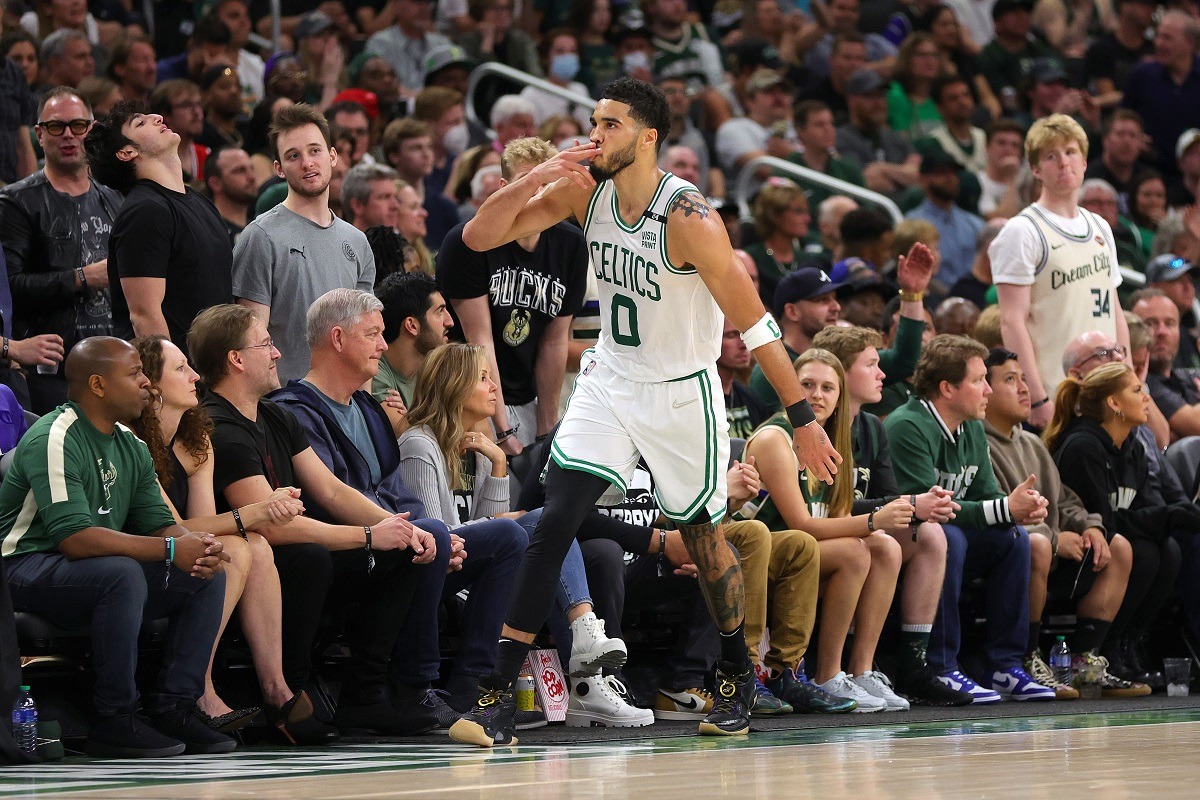 Thanks to 46 points from Jayson Tatum – the third-highest total in Celtics' playoff history for an elimination game – the Celtics locked up Game 6 and pulled even in the series 3-3 and forced a Game 7 back in Boston.
The winner of the #3 Bucks and #2 Celtics meets the #1 Miami Heat in the Eastern Conference Finals, after the Heat knocked out the Philadelphia 76ers in six games.
The Celtics opened as a -5 favorite in Game 7 at home at TD Garden.
The Celtics are -210 odds to win the series and lock up a spot in the East Finals. The Bucks are +175 odds to knock out the Celtics and win Game 7 to clinch the series.
According to DraftKings' future board, the Celtics are +400 odds to win the series, while the Bucks are +950 odds to win back-to-back championships.
Celtics: Clutch Road Victory
Sure, Tatum exploded for 46 points in Game 6, but Marcus Smart and Jaylen Brown combined for 45 points. The trio accounted for 91 of the Celtics' 108 points. No one else scored in double digits, but then again, the Celtics had all the scoring they needed from their Big 3.
The Celtics lost Game 5 in the closing minute due to a horrendous collapse and some huge plays from Milwaukee's Jure Holiday and Bobby Portis.
"Everyone was pissed about that outcome, but we knew how well we played throughout the series and let some things slip away," said head coach Ime Udoka. "But never any doubt or hangovers from that game. We put it to bed and look forward to getting back to the Garden."
"This was a big moment for all of us," said Tatum. "For myself and the team just how we would respond. Losing Game 5 was going to make us or break us. We showed a lot of toughness and growth coming out here and getting a win on the road and just giving ourselves a chance."
The Celtics won two out of three road games against the Bucks this series, and they didn't sweat the fact they faced a do-or-die elimination game in Milwaukee.
"I don't know if it affects us playing on the road as much as some other teams," added Udoka. "We've been pretty good there and I think our guys embrace that."
Tatum went nuclear with 46 points, including seven 3-pointers. Smart added five treys, and Brown knocked down four. The trio shot 16-for-31 from beyond the arc. The Bucks made just seven 3-pointers in Game 6, which Tatum equaled.
Bucks: Cold, Cold, Cold
Giannis 'Greek Freak' Antetokounmpo put on a dazzling performance in the loss. He scored 44 points and hauled don 20 rebounds, yet it wasn't close enough to lift the Bucks to a series-clinching victory.
Once again, the Bucks were outgunned from 3-point range by 30 points. The Celtics shot 17-for-43 for 39.5%, while the Bucks were only 7-for-29 for 24.1%. Aside from sharp hooting from Pat Connaughton (2-for-3) and Greek Freak (2-for-3) from downtown, the rest of the Bucks were a miserable 3-for-23 from 3-point land for a paltry 13%. Jrue Holiday shot 3-for-10 from 3-point range, while Grayson Allen (0-for-4), Bobby Portis (0-for3), and Brook Lopez (0-for-2) all shot blanks.
"We have to find a way to get up more 3s and make more 3s," said Holiday. "They're a switching team. They switch everything and they try to make you play one-on-one. That makes it a little tougher for 3s. The paint's crowded, and it's hard to see those kickout 3s. It just makes it tougher. "
After the Bucks stole a win in the closing minute of Game 5, they had a chance to close out the series in front of their home fans in Game 6. The Bucks know they squandered a huge opportunity, because going on the road to win a Game 7 is an arduous task. Despite the boisterous crowd in Boston, the Bucks are ready for the challenge.
"Good old Game 7… beautiful," said Antetokounmpo. "Hopefully, we can put ourselves in a position to win. If we do, great. If we don't, our effort is gonna always be there."
The defending champs are still the champs until the Celtics wrestle it away from them in Game 7.
Check out more coverage of the 2022 NBA Playoffs.