In one of the most outstanding performances in the 2022 NBA Playoffs, Jayson Tatum from the Boston Celtics erupted for 46 points in Game 6 of the Eastern Conference Semifinals to stave off elimination and force a Game 7, but Giannis 'Greek Freak' Antetokounmpo also had a sensational game with 44 points and 20 rebounds in a losing effort.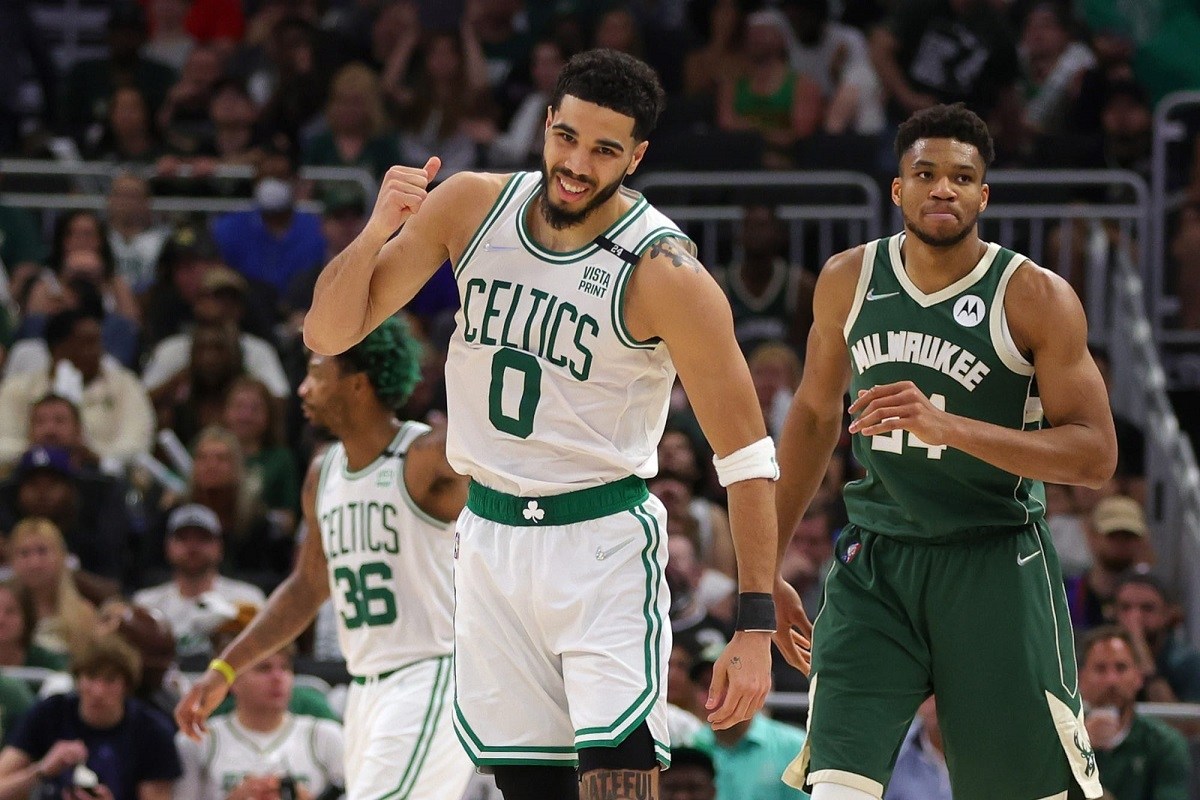 The Celtics and Bucks are headed to a Game 7 to determine which of those two teams will advance to the Eastern Conference Finals to play the awaiting Miami Heat.
In Game 6, Celtics went on the road to win 108-95 after falling behind 3-2 in the series with a heartbreaking loss in Game 5.
Tatum: 46 Points
Tatum fell short of his career-playoff high of 50 points last postseason against the Brooklyn Nets. Even though Tatum only scored 46 points, it was a do-or-die elimination game which resonates more with fans and historians.
"That's why he gets paid the big bucks," said teammate Marcus Smart said. "That's it right there. For moments like that. I was telling him the whole game, just be you man. He was. That's what he gets paid to do. That's what we that's what we lean on him to do."
Tatum shot 17-for-32 from the floor, including 7-for-15 from 3-point range. He came into Game 6 struggling from downtown, but he got his shooting groove going early.
"It was a big-time performance," sad Jaylen Brown. "Our backs are against the wall, too. You love to see JT come out aggressive and carry us offensively like he did forcing Game 7. Definitely a signature game for the Celtics and for Jayson."
Tatum also finished the game with nine rebounds, four assists, and one blocked shot in 43 minutes.
"He was unbelievable," said Antetokounmpo. "He was knocking down shots, tough shots, getting to his spots. You gotta give him credit. He played unbelievable. He led his team to a win."
With 46 points, Tatum scored the third-highest total for the Celtics in an elimination. Sam Jones set the record with 47 points, followed by Paul Pierce with 46.
Greek Freak: 44 Points
Game 6 between the Celtics and Bucks will go down in history because of the insane performances from both Tatum and the Greek Freak. The Bucks scored only 95 points in the Game 6 loss, but the Greek Freak scored 44 points, while his teammates combined for 51 total.
With 44 points in Game 6, the Greek Freak scored 40 points for the third time this series. It marked the third time in his last four games with back-to-back 40-plus games. Prior to Game 6, the Bucks were 2-0 against the Celtics this series when the Greek Freak scored 40 or more points.
"Gutsy performance from Giannis," said head coach Mike Budenholzer. "I know he'll be the first to say it, but he wanted this win. Badly. We just have to do a better job supporting him."
The Freak joined exclusive company as only the third player in NBA history — along with Wilt Chamberlain and Shaquille O'Neal — with at least 40 points, 20 rebounds, and five assists in a playoff game.
Greek Freak averages 35.3 points, 13.8 rebounds, and 6.8 assists per game against the Celtics this series.
Check out more video highlights and installments of NBA High Guys. Also, check out OG's extensive coverage of the 2022 NBA Playoffs.