Thanks to quick-thinking University of Miami football fans, one lucky cat didn't have to use one of its nine lives to survive a potentially disastrous fall after dangling from the upper deck at Hard Rock Stadium. The stray cat plummeted to the lower deck, but Miami fans cushioned the feline's fall with a stretched-out American flag. The video of the cat catch during a college football game instantly went viral.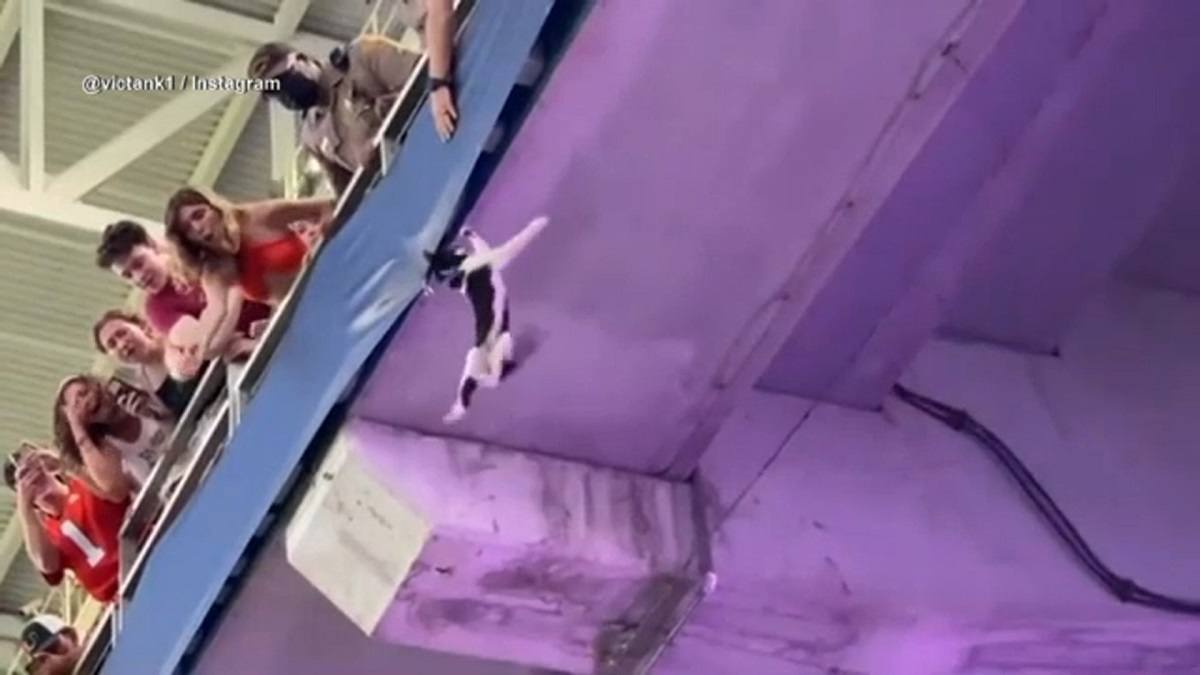 In case you were wondering, the Miami Hurricanes edged out the Appalachian State Mountaineers 25-23.
"The cat was the highlight of the game," said U of Miami season ticket holder Jerry Engel. "We saw all the commotion off to our left in the end zone. About 20% of the fans were engrossed in the cat."
PURR-FECT CATCH: In a daring save, fans at a University of Miami football game catch a falling cat from a balcony using a U.S. flag pic.twitter.com/YCdtQTcBEZ

— CBS News (@CBSNews) September 12, 2021
Craig Cromer, who is also a U of Miami employee and season ticket holder, sat directly below the cat as it dangled from the upper deck with two paws.
"They were trying to grab it from above and they couldn't reach it, but they were scaring it downward," said Cromer. "It hung there for a little while with its two front paws, then one paw, then I was like, 'Oh my goodness, it's coming soon.'"
Cromer and his wife hang up an American flag on the railing in front of their section. The Cromers grabbed the flag and asked other fans to stretch it out to potentially catch the cat if it fell.
When the cat ran out of strength, it quickly plummeted below. The fans were able to catch the cat, who bounced on the unfurled flag and into another fan's hands. The fan thrust the fortuitous cat in the air like Simba from The Lion King, as the stadium erupted in applause. Video of the cat catch went viral across multiple social media platforms.
CATCH OF THE NIGHT- Canes fans catch a falling cat from high above @HardRockStadium during UM-Appalachian State game. Cat lands in American flag then is held up like Simba!. #9lives #HardRockCat
Read more: https://t.co/O2YuONE0FY
Video Credit: Racey Brandrich pic.twitter.com/gan2iERG9M

— CBS4 Miami (@CBSMiami) September 12, 2021
"I don't know anything about that or what was going on, but I'll tell you, if the cat can help our red-zone offense, I'll see if we can get it a scholarship," said Miami head coach Manny Diaz. The cat was unavailable for comment.
Well this may be the craziest thing I've seen at a college football game #HardRockCat pic.twitter.com/qfQgma23Xm

— Hollywood (@DannyWQAM) September 11, 2021
This isn't the first time a cat stole the spotlight during a football game. In 2019, a black cat scampered onto the field of MetLife Stadium to interrupt a New York Giants game on Monday Night Football.