Carmelo Anthony looks likely to part ways with the Oklahoma City Thunder this summer, and while there are several teams who might want to acquire his services, the Houston Rockets appear to be the frontrunners to land the 10-time NBA All-Star.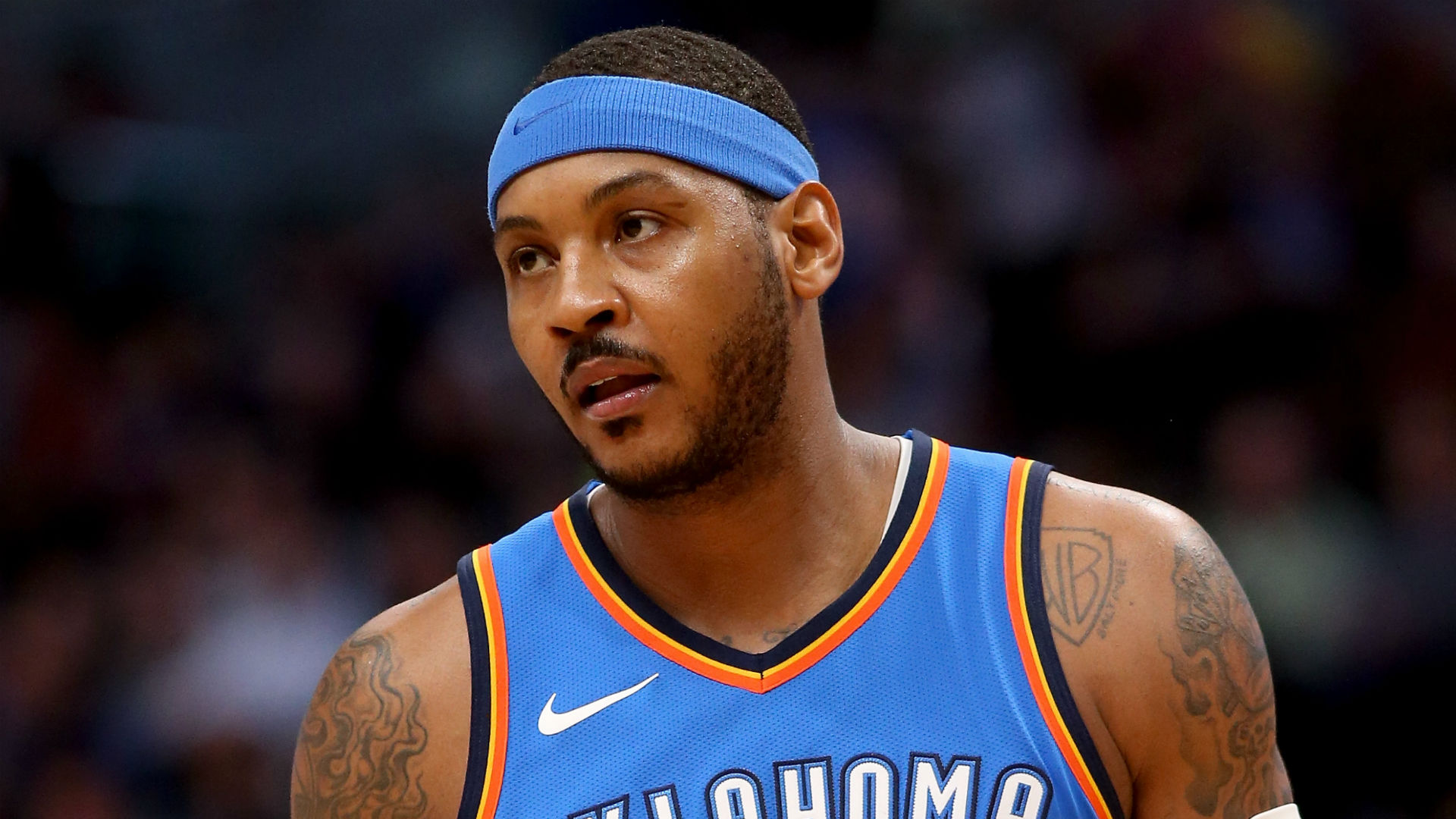 Oklahoma City is currently dealing with a bloated payroll and associated luxury tax that could cost the franchise $310 million. Getting Anthony off the books could save the team over $100 million in the 2018-19 season.
Reduced Role + High Costs = Poor Fit
Anthony chose to opt into his $27.9 million contract for the upcoming season. But an ESPN report citing league sources says that the financial implications of that move, combined with Anthony's lack of interest in playing a smaller role with the Thunder in the coming year, have both sides ready to part ways.
"I don't think I can be effective as that type of player," Anthony said after the end of last season. "I think I was willing to accept that challenge in that role, but I think I bring a little bit more to the game as far as being more knowledgeable and what I still can do as a basketball player."
A move could happen under a number of different scenarios, including the use of the NBA's stretch provision to waive Anthony and allow the Thunder to pay out his remaining contract in smaller increments, perhaps combined with a reduced buyout. Such a move could reduce the Thunder's luxury tax hit by as much as $90 million.
Oklahoma City is likely to first look to trade Anthony, however. The 34-year-old would be attractive not only because of his talent, but also because of his expiring contract, which could open up significant cap space for the 2019 offseason.
Forward Thinking
Regardless of how the Thunder get rid of Anthony, it appears that Houston is the team most interested in picking him up. The Rockets have lost Trevor Ariza and Luc Mbah a Moute in the offseason, and Anthony could play a role in replacing the two forwards, who both played an important role in the Houston rotation.
But it's not easy to see how exactly Anthony would fit into the Rockets' plans. Anthony is coming off of his worst year statistically as a professional player, scoring just 16.2 points per game – the first time he has averaged less than 20 points per game in any season. Part of that was due to a reduced role he took on in Oklahoma City, but he also posted a career low .404 shooting percentage.
There's also the question of how Anthony would help Houston in their most important matchup: that with the defending champion Golden State Warriors. Mbah a Moute was an excellent defender, something that has never been said of Anthony. The former Knick also has a history of clashing with Rockets coach Mike D'Antoni from when they were both in New York.
If Houston doesn't decide to acquire Anthony, there ae a couple other likely landing spots for the former Syracuse standout. Philadelphia has been floated as a possibility, as he would give the 76ers a player who can create his own shot. However, it's uncertain how he would fit in with the current lineup, and he could slow down the young, dynamic squad.
The Miami Heat have also been rumored to be a potential fit for Anthony, where he might be able to get more playing time than with a more realistic championship contender. On the other hand, there's also the possibility he could move to the Lakers now that Los Angeles has signed LeBron James, a longtime friend of Anthony's.