Carmelo Anthony cleared waivers on Wednesday evening, allowing him to complete his circuitous journey to the Houston Rockets.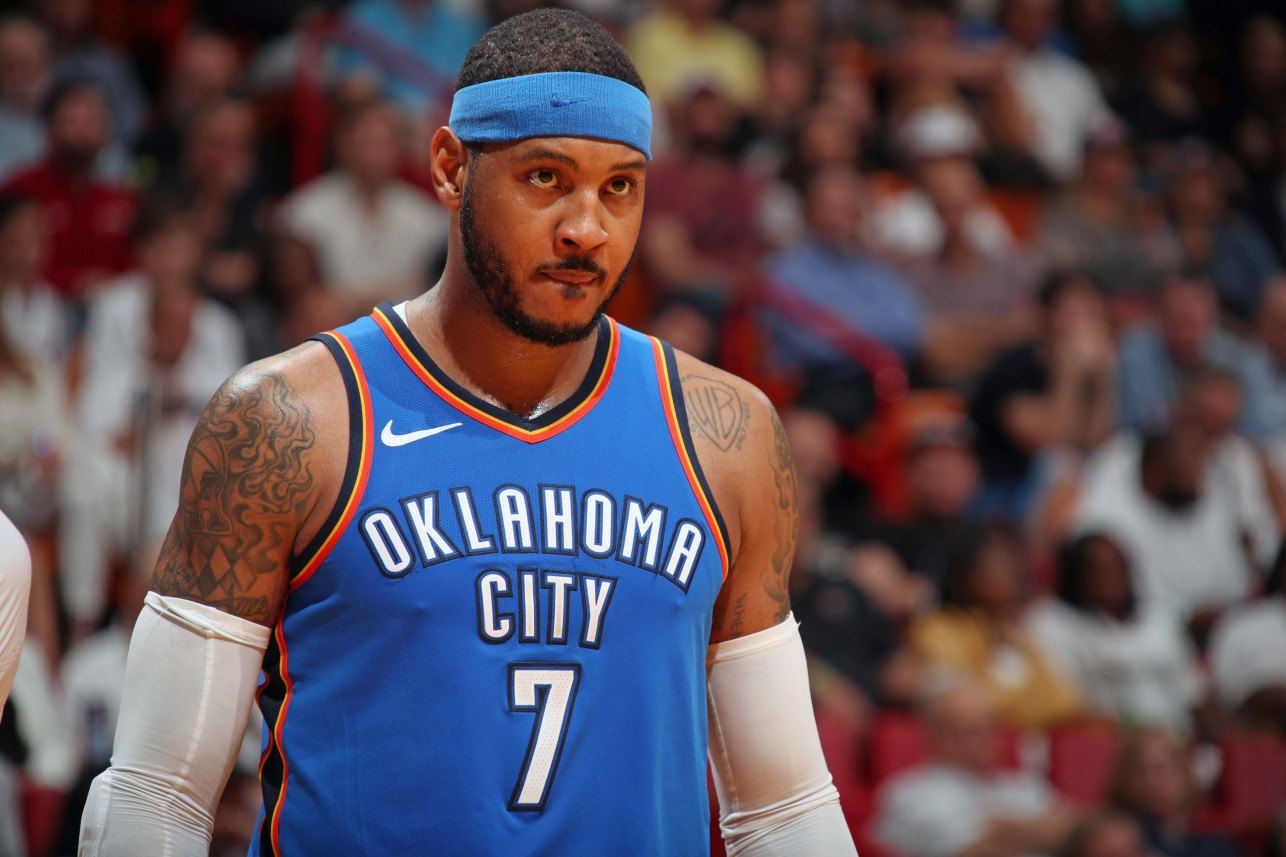 According to ESPN's Adrian Wojnarowski, Anthony will now sign a one-year deal with the Rockets for $2.4 million, the NBA minimum salary for a veteran.
Long Journey to Houston
While it has long been suspected that Anthony would eventually end up in Houston, it took a few steps for the 10-time All-Star to join the Rockets.
The journey started after a less than stellar 2017-18 campaign for the forward with the Oklahoma City Thunder. Taking on a reduced role in OKC, Anthony put up career lows in both scoring (16.2 points per game) and shooting percentage (.404) while trying to fit a catch-and-shoot role that wasn't a perfect fit for a player who usually excelled in isolation sets.
That situation left both Anthony and the Thunder ready to part ways. Anthony appeared unhappy in his role in Oklahoma City, while the team had no desire to pay his $27.9 million salary if they weren't going to get a level of productivity to match that cost.
That led the Thunder to trade Anthony as part of a three-team deal with the Philadelphia 76ers and Atlanta Hawks. By shipping Anthony to Atlanta, Oklahoma City not only saved the remaining money on Anthony's contract, but also significantly reduced their luxury tax burden.
From the moment the trade was made, however, it was expected that Anthony would be waived by the Hawks. Atlanta is buying out Anthony's contract, paying $25.5 million – the full amount, minus a reduction equal to the salary he will be receiving in Houston.
Questionable Fit for Rockets
For the Rockets, the hope is that Anthony will be able to the hole that was left behind when forwards Trevor Ariza and Luc Mbah a Moute left during free agency during the offseason. Anthony will join Chris Paul and James Harden in a star-studded lineup that came within a single game of beating the Golden State Warriors in the Western Conference Finals last season.
There are plenty of questions as to just how much Anthony can help Houston get past the Warriors, though. The Rockets succeeded last season for two reasons: an ability to shoot frequently and successfully from three-point range, and a solid defense that kept Houston in games until their offense would almost inevitably get hot.
Anthony has never been regarded as a quality defender, a deficiency that could be even more apparent considering Ariza and Mbah a Moute were both good on the defensive end. And while Anthony can shoot the ball from deep, the 34-year-old is in the twilight of his career, and his scoring ability had been steadily diminishing even before his poor year in Oklahoma City.
Given that the Rockets are paying relatively little for a player who was still recently an All-Star, Houston may see this signing as one with nothing but upside should Anthony exceed expectations. But many analysts feel that the former New York Knick simply doesn't fit well with how the top teams in the NBA play today.
"The game has changed and left Carmelo behind, as we just witnessed last year," ESPN's Max Kellerman said on Wednesday's episode of First Take. "It's not that he once wasn't great, it's that he is no longer a great player."
William Hill has the Rockets and the Boston Celtics as the joint second-choice to win the NBA Championship at 6/1 odds, well behind the defending champion Warriors (8/15).