Middleweight champion Canelo Alvarez called out Floyd Mayweather while promoting his Saturday fight against Rocky Fielding, saying that Mayweather has been diminishing the credibility of boxing with his recent antics.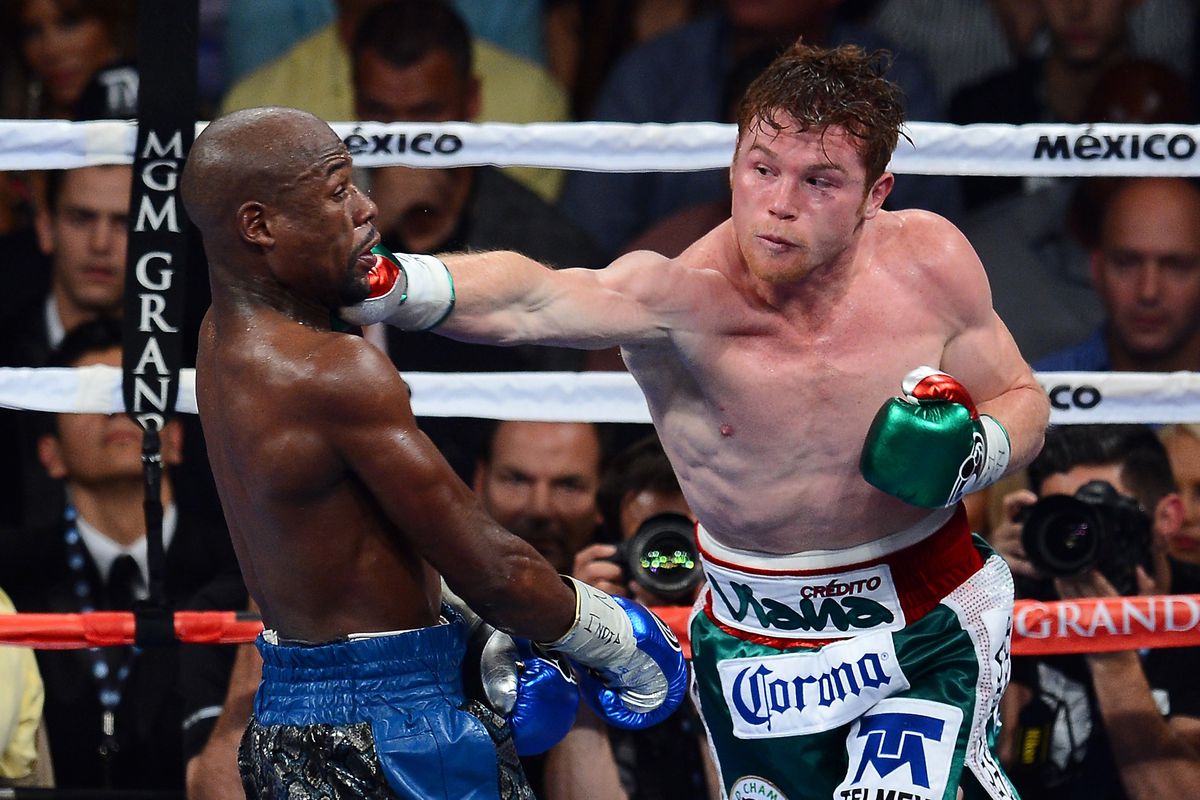 Alvarez referenced events like Mayweather's boxing match last year with UFC superstar Conor McGregor, and his upcoming exhibition with Japanese kickboxing prodigy Tenshin Nasukawa on New Year's Eve.
Alvarez Would Welcome Chance for Revenge
While speaking with ESPN, Alvarez (50-1-2, 34 KOs) suggested that he would love to have a chance to get revenge for his loss to Mayweather (50-0, 27 KOs), one that came by majority decision back in 2013. To this day, it stands as the only loss of Canelo's career.
"I would love [another fight with Mayweather], but he is a retired boxer who comes and goes," Alvarez told ESPN. "For boxing, it would be great, and he would give boxing something worth watching. Lately the only thing he has done in boxing is lower the credibility of the sport with the fights he has fought. It would be good to have a rematch with him."
The comments come after Mayweather has spent months taking pot shots at Alvarez. The attacks began soon after Alvarez signed an 11-fight, $365 million contract with streaming service DAZN. The deal was advertised as the largest single contract in sports history, though Mayweather has disputed this since then.
"I think he got a big deal," Mayweather said during a media day in Las Vegas meant to promote his exhibition match with Nasukawa. "I know in my deal that I have with Showtime I think in just three fights I made $750 million. So to me that sounds like the biggest deal."
Alvarez made it clear that he was aware of the comments, but said he didn't want to comment on the merits of their respective contracts.
"Obviously it hurt him for a reason because he's the one who started talking," Alvarez told CBS Sports earlier this week. "He's a superficial person. The money is the only thing that interests him….that's his problem."
Canelo Heavily Favored Over Confident Fielding
While Alvarez is certainly open to fighting the 41-year-old Mayweather, he says that there's been no progress towards making a rematch happen.
"No, we do not really have any talks or approaches. They're rumors," Alvarez told ESPN. "Personally, I have not had talks or talked about it. I like to respect what I have in front of me."
The next challenge in front of Alvarez is the fight with Fielding (27-1, 15 KOs) for the WBA super middleweight championship.
Fielding is one of the top fighters in his division, with BoxRec ranking him as the sixth-best super middleweight in the world. Still, Alvarez is a massive favorite in the bout, with Bovada listing Canelo as a -1600 favorite and offering +800 odds on Fielding to pull the upset.
Despite those odds, Fielding thinks he has a puncher's chance fighting in a weight class he's more comfortable at.
"I wouldn't take the fight if he asked me to go down to middleweight, obviously it would then be a different story," Fielding told ESPN. "But it's my weight. I'm big, I'm strong and I'm confident I can go in there, upset everyone and shock the world."