Ian Nepomniachtchi scored back-to-back wins in Rounds 5 and 6 of the FIDE Candidates Tournament to push his score to 4.5/6, giving him a 1-point lead as the event reaches its halfway mark.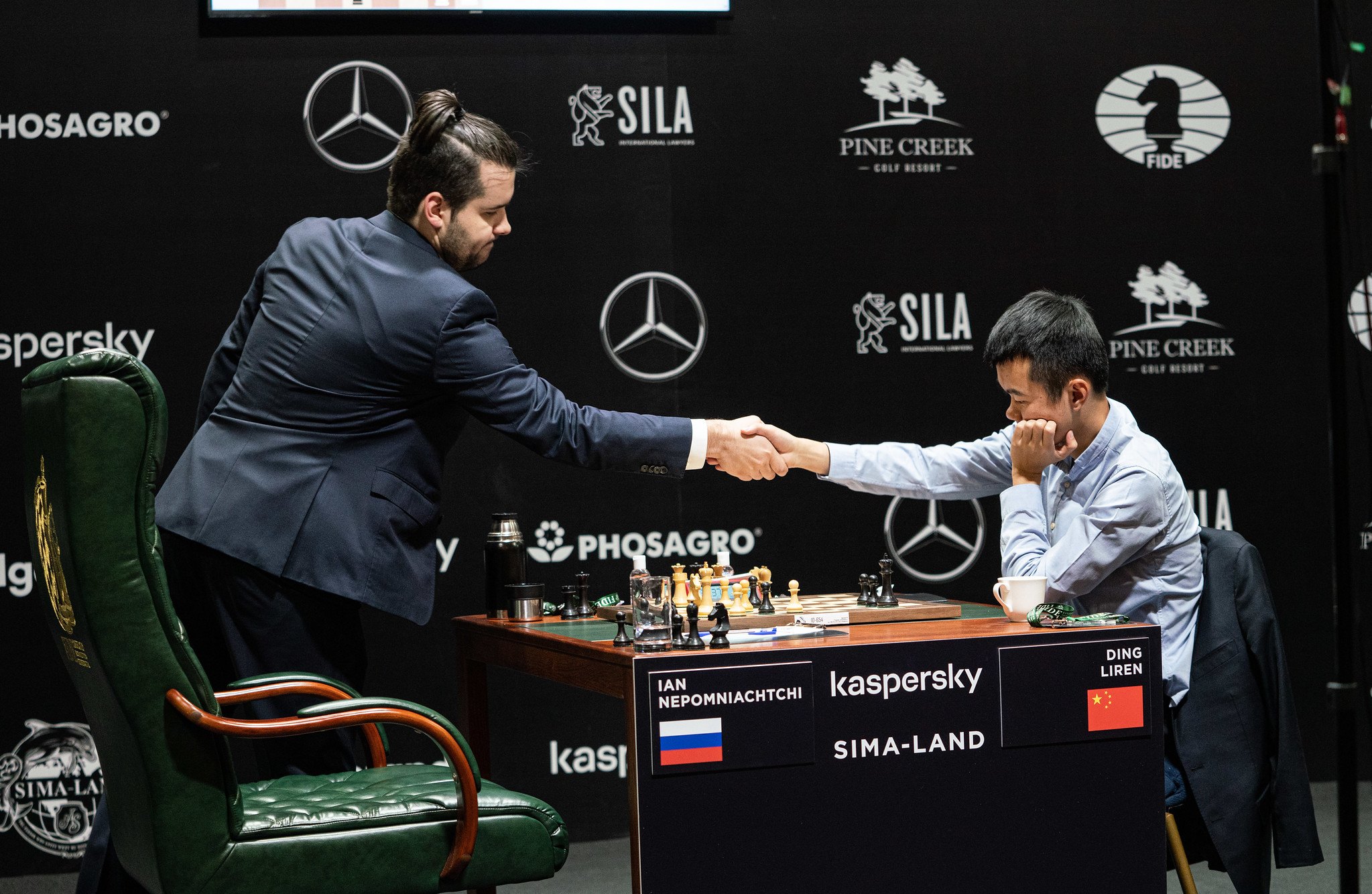 Nepomniachtchi defeated Ding Liren on Monday, handing the Chinese grandmaster his third loss of the tournament.
Nepomniachtchi Takes Over as Tournament Favorite
That was one of two decisive games in Round 6. In the second, Anish Giri earned his first victory of the Candidates Tournament, defeating Kirill Alekseenko in a seemingly drawn endgame to grab a win with the black pieces.
"To the end already I almost had a heart attack because I realized it's going to be my first ever win at the Candidates," Giri said after the game, via Chess.com. "I think I never had such a high heartbeat. Today I think we need a good doctor check after this game!"
---
Candidates Tournament Standings (After Round 6)
Ian Nepomniachtchi (4.5 points)
Maxime Vachier-Lagrave (3.5)
Fabiano Caruana (3.0)
Anish Giri (3.0)
Wang Hao (3.0)
Alexander Grischuk (3.0)
Ding Liren (2.0)
Kirill Alekseenko (2.0)
Players receive one point per win, 0.5 points per draw
---
Maxime Vachier-Lagrave – who took his spot in the Candidates Tournament after Teimour Radjabov dropped out due to concerns over the coronavirus pandemic – sits alone in second place with 3.5 points. Vachier-Lagrave drew his Round 6 game with Wang Hao on Monday.
Alexander Grischuk remains the only player in the eight-man field without at least one decisive game so far, holding American Fabiano Caruana to a draw on Monday. They both sit on three points, as do Giri and Wang. Ding and Alekseenko round out the field with two points apiece.
---
Candidates Tournament Odds
Nepomniachtchi: +125
Caruana: +250
Vachier-Lagrave: +400
Giri: +1000
Grischuk: +1200
Ding: +1400
Wang: +2500
Alekseenko: +100000
Odds via Bwin.com
---
While Caruana is still one of the favorites to win the Candidates Tournament and challenge Magnus Carlsen for the World Chess Championship, Nepomniachtchi's run has undoubtedly made him the player to beat. Bwin.com lists Nepomniachtchi as the +125 favorite to win the tournament, while Caruana is now being offered at +250.
While the action on the board has been a welcome distraction for chess fans around the world, a growing number of the players have been expressing their discomfort about playing during the COVID-19 pandemic.
Players Raising Concerns Over Competing During Pandemic
The chorus began on Sunday when Grischuk said he was no longer in favor of seeing the Candidates Tournament continue.
"In the beginning I did not have a clear opinion but now, from the last several days, I have a strong one, I think the tournament should be stopped," Grischuk said after his fifth round game. "It's no coincidence that everything else is stopped. We're the only major sport event in the world and I think it should be stopped and postponed. The whole atmosphere is very hostile, the security, everyone in masks. It's very difficult. I just don't want to play, don't want to be here."
Nepomniachtchi acknowledged that he wasn't feeling well during his postgame news conference on Monday. However, he told reporters that his two COVID-19 tests had both come back negative. Organizers had already planned to test the entire field again on Tuesday.
FIDE Director General Emil Sutovsky says that while there may have been a time to cancel the Candidates Tournament, that would be more difficult now.
"Canceling would have been the simplest thing to do from the beginning," Sutovsky told ESPN. "But it's not about FIDE, doing so would be a huge blow for chess. We have postponed a number of official championships where hundreds were supposed to participate at the same event. Here we are talking of a tournament with just eight players and we have taken all possible measures to protect their health."
Postponing or canceling the event now would also leave FIDE with a serious dilemma over what to do about Radjabov, who only dropped out due to his own worries about the pandemic. If COVID-19 concerns lead to a cancellation, Radjabov would have a compelling argument to rejoin the field for a rescheduled tournament.