On Friday, Bryson DeChambeau thought he had missed the cut at the Wells Fargo Championship. Now, after another top-10 finish, DeChambeau enters the AT&T Byron Nelson Championship as the favorite to win his third title this season.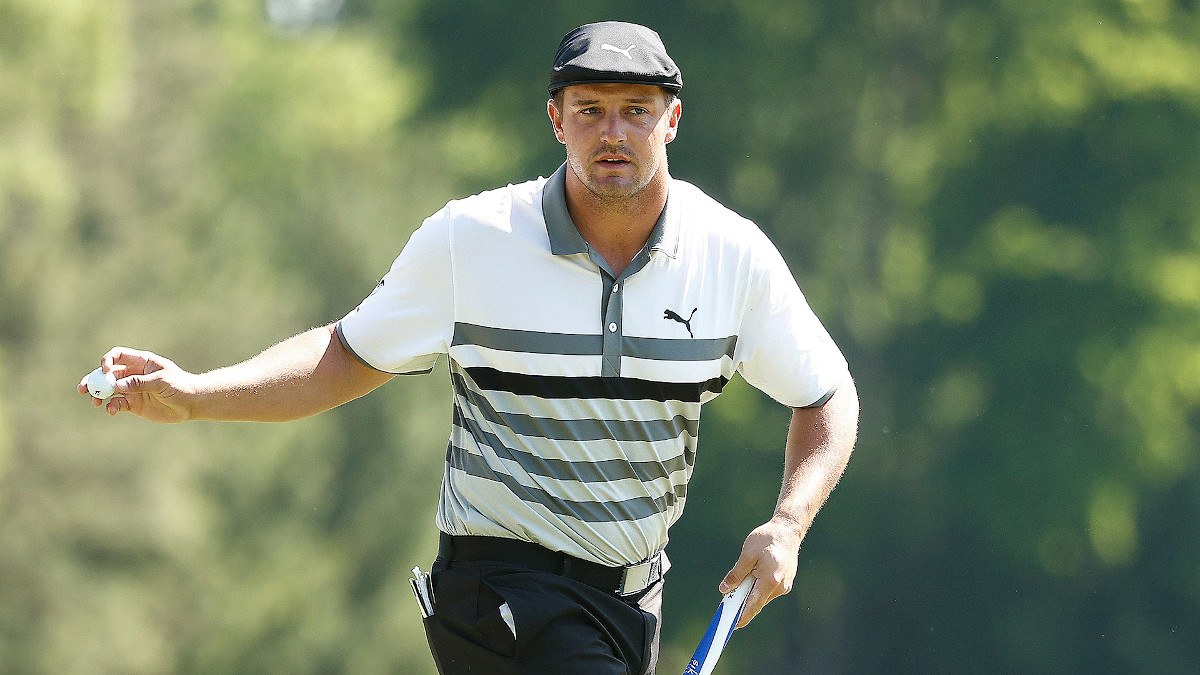 DeChambeau flew back to Charlotte from his home in Dallas after finding out that he had snuck into the weekend, then finished tied for ninth.
DeChambeau bounces back after (not) missing cut
That result was enough to move DeChambeau to first in the FedEx Cup standings and fourth in the Official World Golf Ranking.
"It was worth it," DeChambeau told reporters. "It no doubt was worth it. That's what I was hoping to do this weekend when I was on that plane at 2:45 am. Yeah, I wanted to make it worth it."
Now, DeChambeau comes into the Byron Nelson as the man to beat, not to mention one of the hottest golfers on the planet. He's entered only 11 tournaments this season, but has two wins – including the 2020 US Open in September, which counts as part of the current season – and six top-10 finishes. He also leads the PGA Tour in scoring average and driving distance, among other stats.
FanDuel Sportsbook lists DeChambeau as the +700 favorite at the Byron Nelson. That puts him ahead of Spanish star Jon Rahm, who comes in as the +850 second choice.
On Wednesday, Rahm talked to reporters not about the upcoming tournament, but about whether or not he would play for Spain in the upcoming Tokyo Olympics. Rahm says that he wants to play, but that the conditions aren't attractive for players.
"The Olympic Committee are not making it very easy for us to choose it," Rahm told reporters. "From what I've been told, there's at least a one- to two-hour drive to the golf course. That's a lot of time to be in the car going to and coming back from the Olympic Village … your family is not allowed. You're not allowed to go to my other events. There are just so many restrictions."
Spieth making return from COVID-19 at Byron Nelson
Jordan Spieth (+1000) enters the Byron Nelson as the third choice at FanDuel. Spieth will make his first start since the Masters after missing nearly a month due to a positive COVID-19 test.
"Nobody I was around ever got it," Spieth told reporters. "And then it was the Wednesday of New Orleans when I started my symptoms, and it was bad for a day and a half, and then it was just kind of annoying for the next five days. Kind of lost energy and sinus stuff."
---
Byron Nelson Odds (via FanDuel Sportsbook)
Bryson DeChambeau: +700
Jon Rahm: +850
Jordan Spieth: +1000
Daniel Berger: +1400
Brooks Koepka: +1600
Hideki Matsuyama: +1600
Scottie Scheffler: +1600
Matthew Fitzpatrick: +1800
Marc Leishman: +2600
Will Zalatoris: +2600
---
Spieth says he's back to full strength – and full energy – for the hometown Byron Nelson in Dallas.
"I wasn't planning on taking a month off in the spring," Spieth said. "So, at this point, it's get back to playing golf and try and get in the same rhythm I was in and just be patient with it."
Other top contenders in the Byron Nelson include Daniel Berger (+1400), Brooks Koepka (+1600), and Hideki Matsuyama (+1600).