Will Gronk be heading back home to play for the Buffalo Bills in his final season? The Gronkowski clan is from Western New York in the Buffalo suburbs, and their native son Rob aka Gronk would like to continue his NFL career with the Bills Mafia.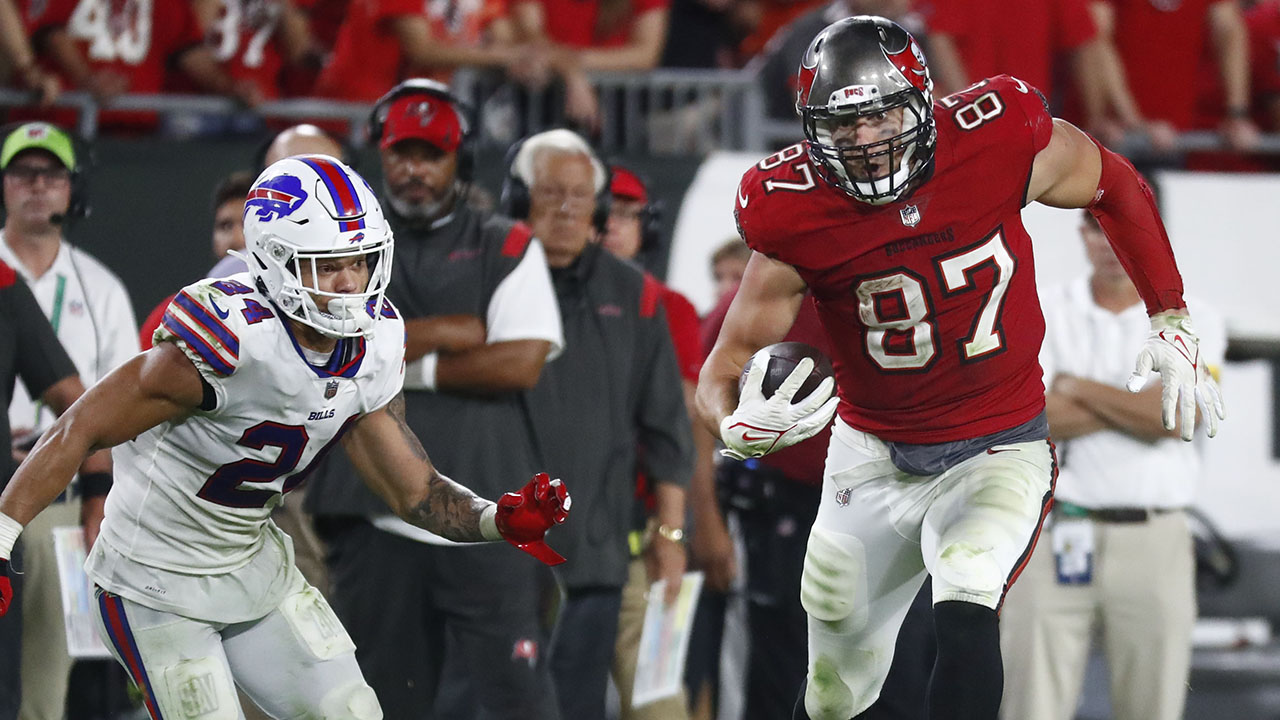 The Bills Mafia will go berserk if they add Gronk to their roster that is already stacked with numerous weapons in their offensive arsenal that is led by superstar Josh Allen.
According to the NFL futures board at DraftKings, the Bills are co-favorites to win Super Bowl 57 at +700 odds.
The Bills were on a mission to win Super Bowl 56, but their championship dreams were derailed when they suffered a devastating loss in overtime against the Kansas City Chiefs in the AFC Divisional Round. The Chiefs/Bills game was quickly dubbed the greatest playoff game in NFL history due to the back-and-forth scoring the fourth quarter, but the Bills never had a possession in overtime, which irked many fans who instantly called on the NFL to alter their unfair overtime rules.
TE Studs: Knox and Gronk
Gronk, who turns 33 in May, appeared in 12 games with the Tampa Bay Bucs last season. He caught 55 passes for 802 yards and seven touchdowns. In two postseason games, Gronk and Tom Brady hooked up for nine catches for 116 yards and one touchdown.
After Brady retired, Gronk is no longer tethered to the Bucs. Brady persuaded Gronk to come out of retirement to join him in Tampa in the 2020 season. The year off from the grind was a blessing for Gronk because he was able to heal numerous injuries after nine seasons with the New England Patriots.
If the Bills add Gronk to their roster, they'll get a four-time Super Bowl champion and a fun personality in the locker room. He will also be able to take Dawson Knox under his wing and show him a few tricks of the trade.
In his third season with the Bills, Knox emerged as a standout tight end and a popular target for Josh Allen. He caught nine touchdowns, which tied him for the NFL lead among tight ends along with Travis Kelce and Mark Andrews. Overall, Knox caught 49 passes for 587 yards in 15 games despite suffering a fractured hand in October.
"Gronk would pair nicely with Knox in a 'won't be asked to do too much' role, similar to what he experienced with Brady in Tampa Bay," said Michael Ginnitti from Spotrac.
Gronk missed five games at the end of last season with a ribs injury. During his 11-season tenure with the Patriots, Gronk sat out 34 games or approximately three games per season due to injuries.
Bad Blood with Gronk and Bills Mafia
While the majority of fervent Buffalo fans will embrace a magnanimous personality like Gronk, afew hardcore members of Bills Mafia will have to forgive Gronk for a dirty hit on one of their own that occurred in 2017.
When Gronk played for the New England Patriots, he incurred a one-game suspension for a late hit on cornerback Tre'Davious White during a Patriots/Bills game in December 2017. Gronk apologized to White and the two moved on, but some members of Bills Mafia will never forget that dirty play.
Perhaps Gronk can get on their good side of everyone in Buffalo and the Bills Mafia if he shotguns two beers and climbs on top of a party bus to jump on a burning table?