Kevin Holland sees himself as being one big win away from the big paydays at the top of the middleweight division, and says he can join that group with a victory over Derek Brunson on Saturday night in the main event of UFC on ESPN 21.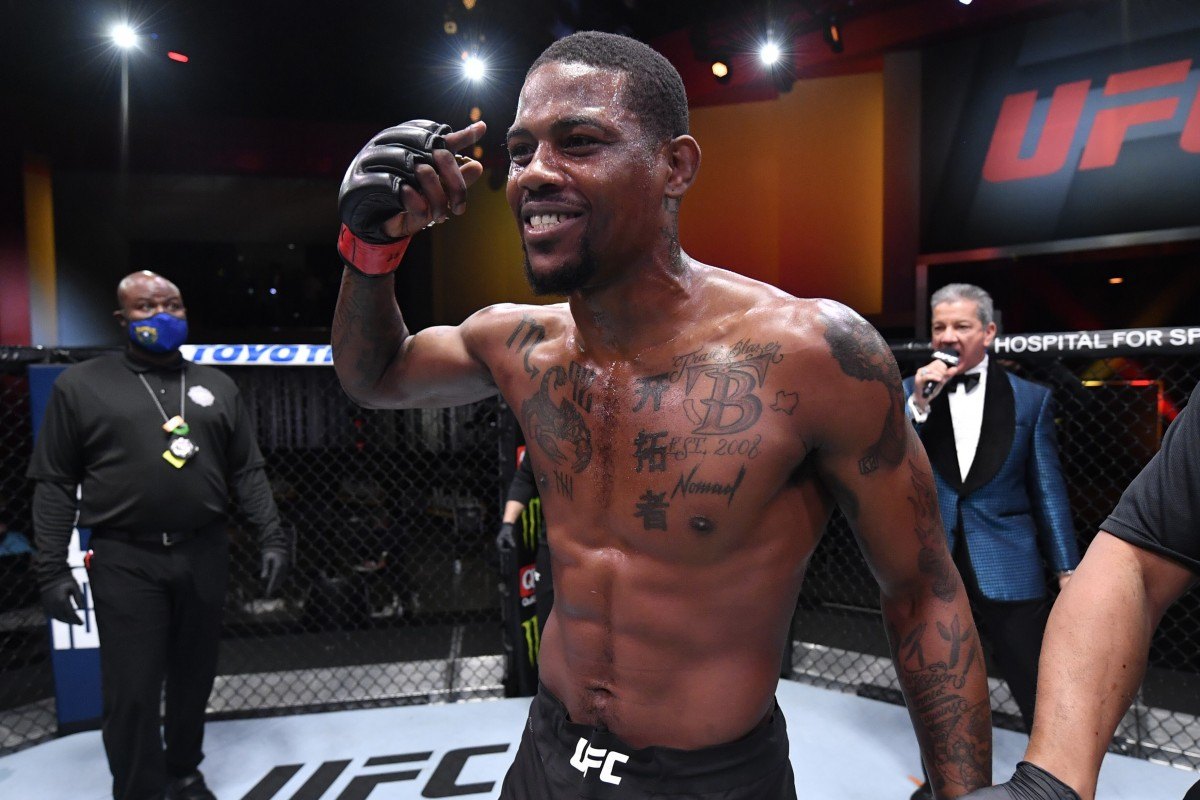 Holland (21-5) won his last five fights, and currently ranks as the No. 10 contender in the UFC middleweight division.
Holland pushes 'gatekeeper' narrative for Brunson
Now, Holland stands on the doorstep of becoming a true contender for the middleweight title. Many see Brunson, the man standing in his way on Sunday, as a true gatekeeper – someone the UFC uses as a test for up-and-coming fighters to see if they are truly ready to move up to the next level of competition.
That's not a term most fighters enjoy hearing about themselves. But Holland insists he doesn't use it as a pejorative, even if it keeps coming up suspiciously often in his prefight interviews.
"They test us with the gatekeeper, and there are several gatekeepers in the game," Holland told Yahoo Sports. "We need gatekeepers in every division and there's nothing wrong with being a gatekeeper. I understand Derek Brunson's coach used that to motivate him, but I think that's what the UFC does with Derek Brunson. They use him as a gatekeeper."
Brunson (21-7) has heard everything Holland is saying about him, but has vowed not to get into a war of words. The 37-year-old says he's still focused on his own title aspirations. As the No. 7 contender, and in the midst of a three-fight winning streak, Brunson remains tantalizingly close to making his first appearance in a UFC championship bout.
"I've been right there, but it's been twice where if I would've won those fights, I would've gotten these title shots, but I didn't do that," Brunson told reporters. "I didn't perform well. I was a little too aggressive. So yeah, take care of this fight and a big fight is right there. I wouldn't even be opposed to a title shot."
Fighters disagree on tactics ahead of bout
The 28-year-old Holland enters the fight as a -180 favorite over Brunson (+142), according to PointsBet Sportsbook. Brunson's wrestling could pose some problems for Holland, but the California native – who holds a black belt in Brazilian Jiu-Jitsu – says he's not worried.
"People say I have a problem with grapplers," Holland told MMA Fighting. "Derek Brunson may not be a blackbelt in jiu-jitsu, but he is a very, very good wrestler and if you translate the wrestling with the ability to grapple, you might as well say the guy's a high-level purple belt or a brown belt. It's interesting to go out there and to fight somebody with the capability to smash me."
---
UFC on ESPN: Brunson vs. Holland Odds (via PointsBet)
Derek Brunson: +142
Kevin Holland: -180
Gregor Gillespie: -250
Brad Riddell: +195
Cheyanne Buys: -375
Montserrat Ruiz: +280
Adrian Yanez: -225
Gustavo Lopez: +175
Song Kenan: +155
Max Griffin: -195
---
Holland went on to say that he expects Brunson to attempt to grind out a win against him, something he says won't work. Brunson claims he has a different plan in mind.
"I'm going to fight the way I fought my previous couple of fights," Brunson said. "I'm going to look to knock you out regardless, so like, I'm not going to be satisfied until I trap your arms and TKO you."