The Brewers will be without two key members of their pitching staff for the near future, as Milwaukee announced on Monday that both Freddy Peralta and Josh Hader will miss time.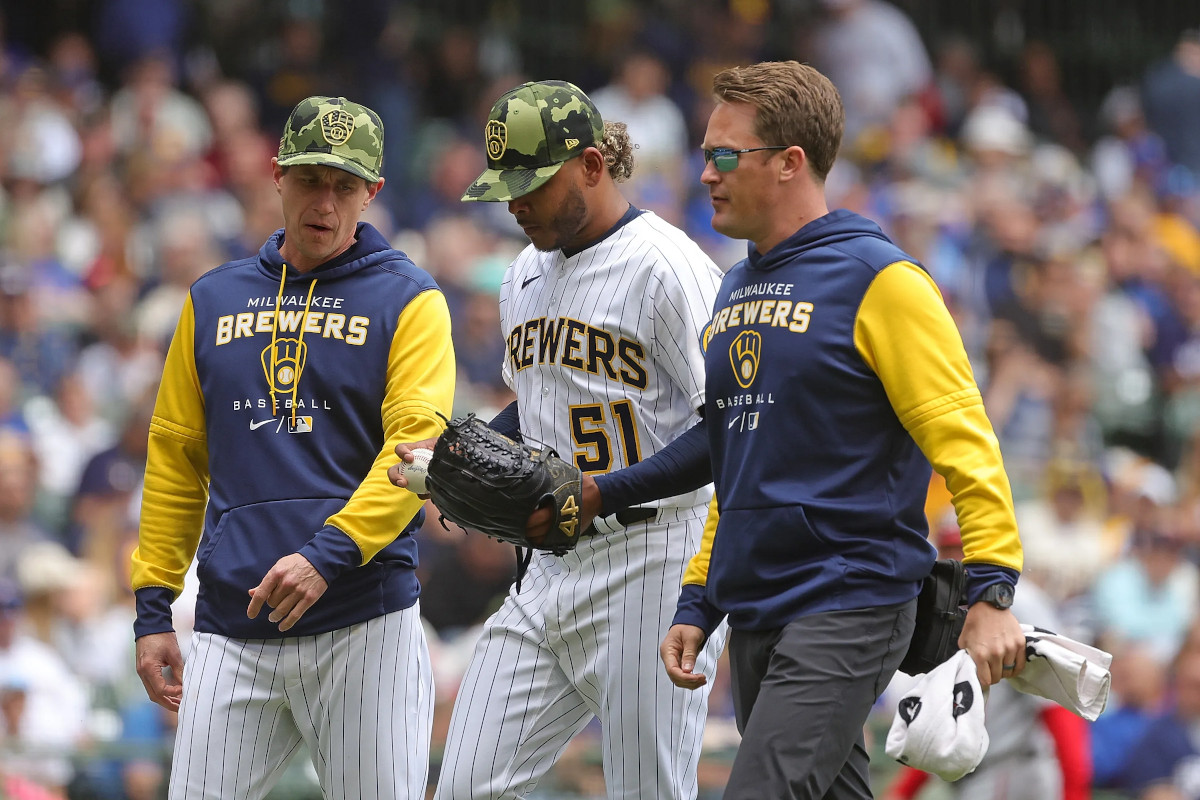 Peralta moved to the 15-day injured list after suffering a lat strain in his right shoulder on Sunday.
Brewers lose Peralta for 'significant amount of time'
The 25-year-old right-hander exited his start against the Washington Nationals after just three innings. He complained of tightness in his shoulder, and the extent of the injury wasn't apparent until after the game.
While Peralta may be on the 15-day IL, manager Craig Counsell expects him out for far longer.
"He is going to miss a significant amount of time," Counsell told reporters. "He will be back this season, but it's going to be a lengthy absence. We're confident that there's going to be no aftereffects to this thing, but it's going to take a while to heal and then build it back up."
Peralta has gone 3-2 with a 4.42 ERA so far in eight starts this season. He's coming off a 2021 campaign in which he went 10-5 with a 2.81 ERA and made his first All-Star appearance.
Lefty Aaron Ashby will likely pick up most of the slack in the starting rotation for Milwaukee during Peralta's absence.
"First of all, I hope Freddy's all right," Ashby told reporters. "There's definitely a spot to step up and help the team. Wherever I'm needed, I'm more than happy to do it."
Hader leaves team for pregnant wife
The Brewers will also be without closer Josh Hader for at least their upcoming three-game series in San Diego against the Padres. Hader is on the family emergency list while he's with his wife, Maria, who is pregnant with the couple's first child.
"Josh's wife has had complications with her pregnancy, and they are at a stage where Josh did not feel comfortable leaving," Counsell said on Monday. Counsell added that Hader will be day-to-day beyond the series in San Diego.
Hader had previously said that Maria was expecting to give birth to a baby boy in July.
A three-time All-Star, Hader has been nearly perfect for the Brewers this season. In 15 appearances, he's allowed no runs and just two hits over 13.2 innings while striking out 21 batters and collecting 15 saves.
The Brewers have called up right-handed pitchers Trevor Kelley and Miguel Sanchez from Triple-A Nashville to fill the two roster spots.
Milwaukee has started the year with a 26-16 record and has taken a two-game lead over the St. Louis Cardinals in the NL Central. FanDuel Sportsbook rates the Brewers as the -250 favorites in the NL Central race, and a +1100 pick to win the World Series this year.