For the first half of the 2021 season, Jacob deGrom put up historic numbers to become not only the overwhelming favorite to win the NL Cy Young Award, but also a potential MVP pick. But with the Mets ace missing significant time due to injury, the door has opened for other pitchers to win that honor instead, with Zack Wheeler leading the pack.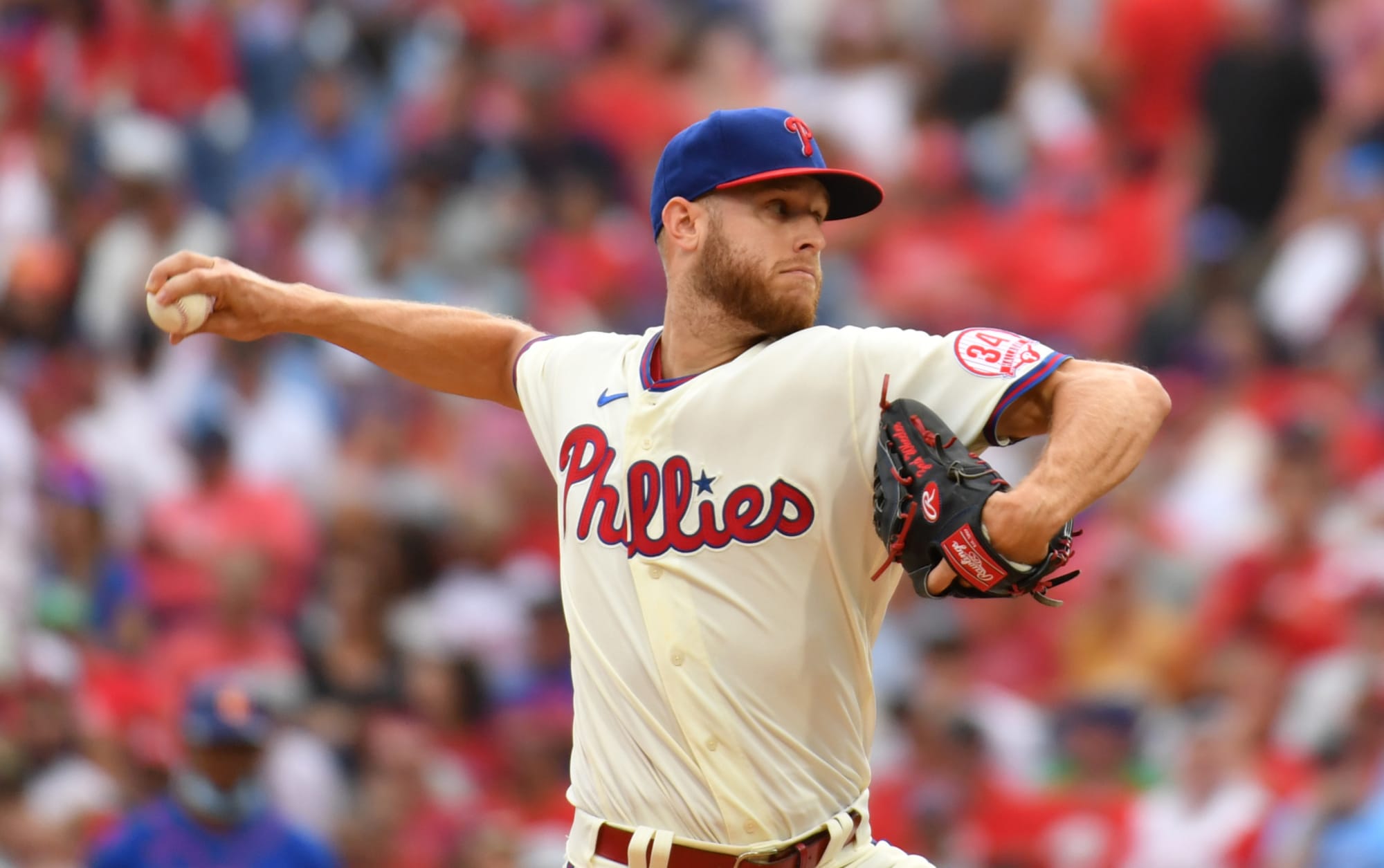 The Phillies starter has lived up to his potential this year, helping Philadelphia contend for the NL East title.
Wheeler shuts down Mets to cap Phillies sweep
Wheeler boasts a 10-6 record with a 2.42 ERA. He also leads the National League in innings pitched (156), strikeouts (181), complete games (3) and shutouts (2). On Sunday, he threw a two-hit shutout against his former team, the New York Mets, to cap a weekend sweep for the Phillies.
"I think I'll always have that little chip on my shoulder," Wheeler told reporters of facing the Mets. "We're all human. At the same time, you have to come here and concentrate, finish out the series with a win and get out of here with a sweep."
Wheeler now stands as the +165 favorite to win the NL Cy Young Award, according to FanDuel Sportsbook. But he's hardly a lock coming down the stretch, with a handful of other hurlers right in the mix.
Chief among those may be Corbin Burnes (+380). The Milwaukee Brewers righty is 7-4 with a 2.23 ERA. He improved his Cy Young case on Wednesday when he struck out 10 consecutive batters to tie the MLB record set by Tom Seaver in 1970. Burnes didn't realize what he had accomplished until afterwards.
🔟😤

Corbin Burnes ties an @MLB record with 10 consecutive strikeouts. #MakeItMajor pic.twitter.com/hkIoU1s7xF

— Milwaukee Brewers (@Brewers) August 12, 2021
"I had no idea," Burnes told reporters. "When I came in, [someone] said something and I was like 'What did I do? Why are we throwing the ball out of the game? What's going on?' I had no clue."
Buehler, Woodruff among top Cy Young contenders
Dodgers starter Walker Buehler also stands at +380 to win the NL Cy Young Award this year. He has compiled a 12-2 record and leads the league with a 2.13 ERA for the defending champions.
Buehler has shown a knack for getting out of jams this season, something he credits both to his development and his teammates.
"I think maybe [I'm] getting a little bit better at not trying to bully my way out of stuff," Buehler told reporters. "A combination of our catchers putting down the right fingers and defense playing well. It is what it is. I think I've gotten lucky at a lot of points, but I try to make good pitches when it counts."
---
NL Cy Young Odds (via FanDuel Sportsbook)
Zack Wheeler: +165
Corbin Burnes: +380
Walker Buehler: +380
Brandon Woodruff: +600
Kevin Gausman: +950
Max Scherzer: +1600
Jacob deGrom: +2500
Freddy Peralta: +2500
---
Brandon Woodruff (+600), Kevin Gausman (+950), and Max Scherzer (+1600) are also leading Cy Young contenders. But there's another name still on the board as well: deGrom himself, who sits at +2500.
Is it possible for deGrom to get himself back in the race? deGrom still expects to be pitching for the Mets again in September. A series of strong starts that led New York to the playoffs could earn him some consideration, but deGrom will probably compile too few innings for many voters to place him above starters like Wheeler – even if his rate numbers are out of this world.