After a nearly month-long "review process" on Bob Baffert's status, Breeders' Cup officials announced on Sunday that the Hall of Fame trainer can enter this year's Nov. 5-6 event at Del Mar, with certain conditions.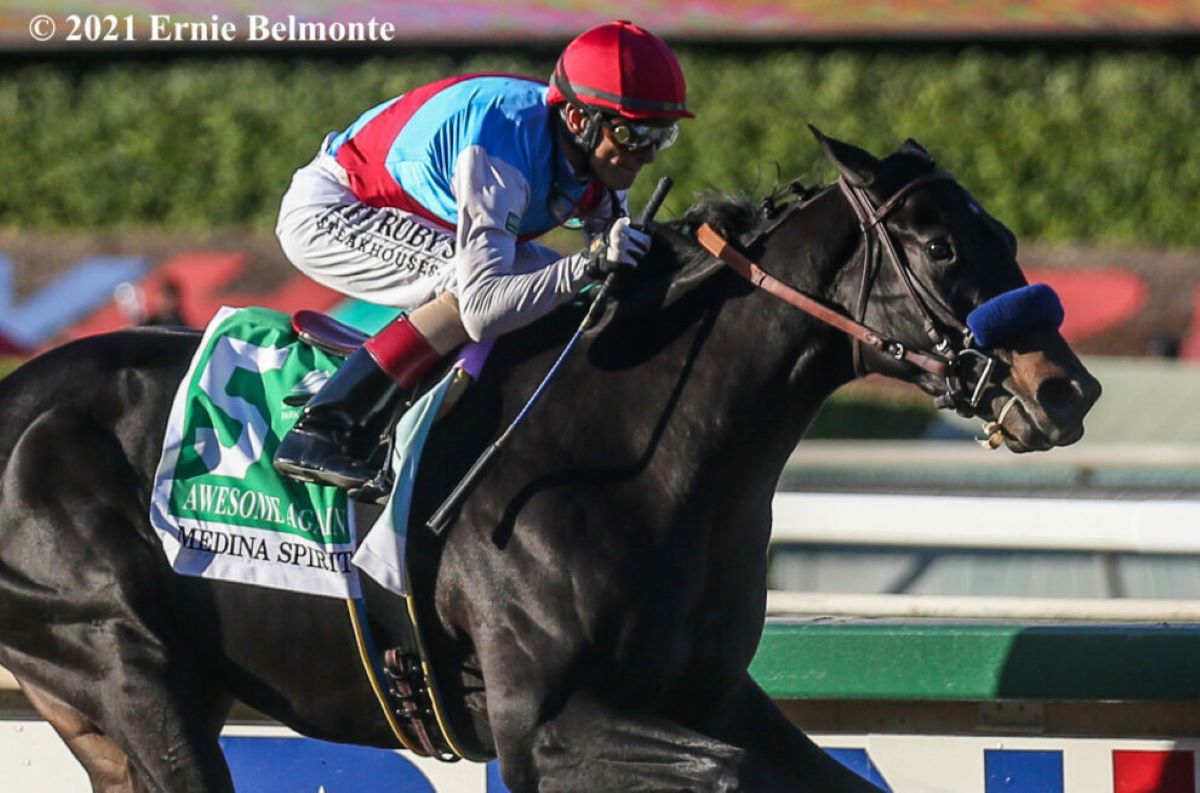 Those conditions include extra testing of his entries, which Baffert will pay for, along with extra security at his Del Mar barn. That extra security will patrol Baffert's barn 24 hours a day during the event.
Breeders' Cup officials said they will review Baffert's status for this year's championships. This, following the lead of several racing entities taking action against the seven-time (for now) Kentucky Derby winner. This came in the wake of Derby winner Medina Spirit's positive drug test for the banned-on-race-day anti-inflammatory betamethasone after he won this year's Derby.
Churchill Downs suspended Baffert from racing or stabling at all of its tracks for two years. That takes Baffert's usual deep barn out of the next two derbies. As it is, Baffert's two Breeders' Cup Juvenile contenders, American Pharoah winner Corniche and Del Mar Futurity winner Pinehurst, won't receive Derby qualifying points.
Churchill Downs implemented that points eligibility rule in September. Baffert is the only high-profile trainer currently suspended by the racing titan.
Baffert fighting court battles on multiple fronts
Meanwhile, Baffert and Medina Spirit's owner Amr Zedan are entangled in a legal battle with the Kentucky Horse Racing Commission over the testing of a sample of Medina Spirit's urine. They're trying to illustrate that the positive test was a result of ointment for a skin condition and not betamethasone injections intended as a PED.
The trainer is also embroiled in a legal fight with the New York Racing Association over that organization's attempt to ban him from its tracks.
Baffert's fights on all fronts all came after the Medina Spirit positive became Baffert's fifth drug positive in a one-year period. Racing entities found themselves having to take action against the face of the sport to illustrate a sense of accountability. In the wake of that, the Breeders' Cup found itself swept up in the fallout, needing to act for its own credibility.
Baffert pays the bill for his extra Breeders' Cup testing
Here is part of the Breeders' Cup statement:
"Breeders' Cup conducts thoroughbred racing at the highest levels of safety and integrity for the benefit of our horses, riders, participants, fans, and bettors. To this end, the Breeders' Cup Board of Directors convened a special review under legal counsel to evaluate the recent conduct of Mr. Bob Baffert in order to determine whether he should be permitted to participate in the 2021 World Championships. In the interest of fairness, Mr. Baffert was provided with advanced notice and an opportunity to take part in the process, and the Board appreciated his participation and cooperation in connection with its inquiries.
"Based on the totality of the circumstances, Breeders' Cup has decided to require all horses trained by Mr. Baffert to undergo enhanced out-of-competition, pre- and post-race testing and other security protocols, at his own expense, in order to participate in the 2021 Breeders' Cup World Championships at Del Mar … Working with horses and competing in the World Championships is a privilege, and medication restrictions and testing protocols are in place for a reason. The Breeders' Cup expects Mr. Baffert's complete cooperation in ensuring that every horse under his care is in full compliance with all medication restrictions and safety standards."
Baffert is the Breeders' Cup's all-time leading trainer in terms of earnings. Along with his two juvenile stars, Baffert will send Medina Spirit out in the flagship Classic, Private Mission in the Distaff, and Gamine back in the Filly & Mare Sprint. She won that race at Keeneland last year.