Last year at the Coke Zero Sugar 400 at Daytona Speedway, Brad Keselowski vowed he wouldn't be pushed around. At Thursday's practice for this year's edition, Keselowski was true to his word.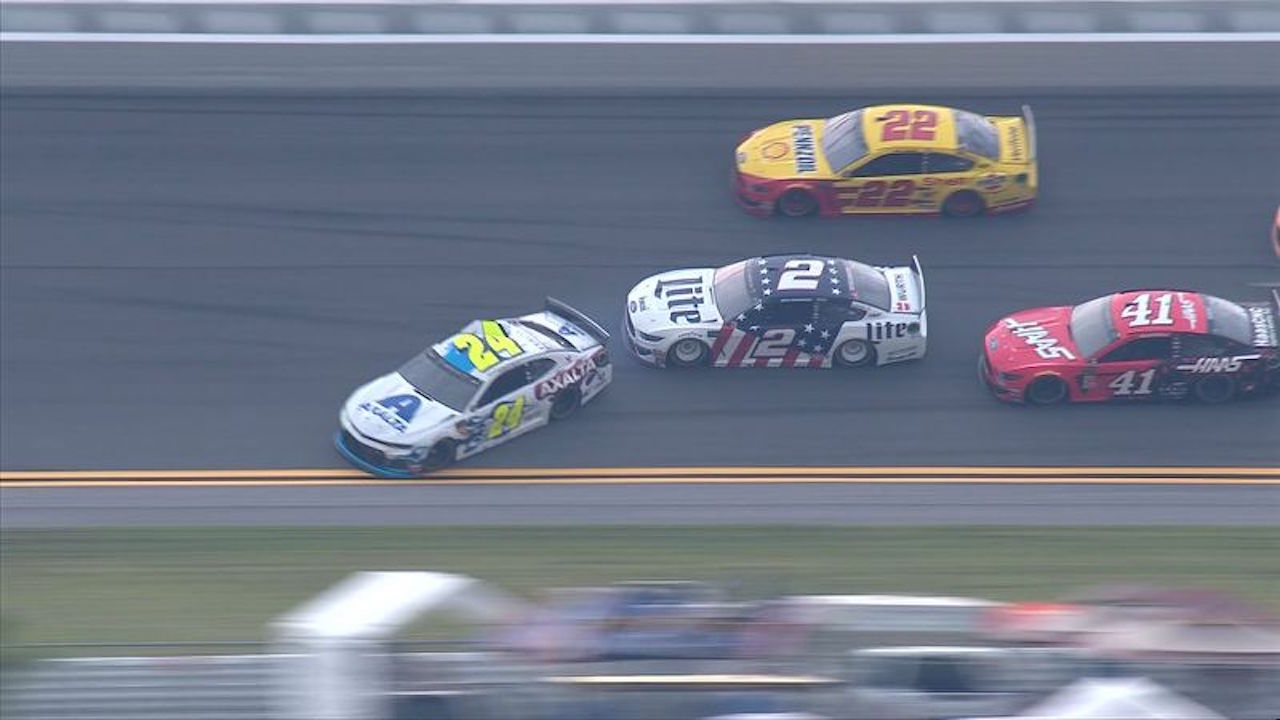 He got into an altercation with 21-year-old William Byron at the iconic racetrack. The two were on a run and Keselowski was attempting to pass Byron. Bryon prevented him, forcing Keselowski to go high, something the 35-year-old said he refuses to do.
"Just had a big run," Keselowski told reporters. "He put me in a position where I had to lift, and I keep telling these guys I'm not lifting. Just trying to send a message. I'm not lifting. I'm tired of getting wrecked at these tracks."
Keselowski, who won this race in 2016, is the co-favorite with Joey Logano at 8/1 for Saturday night's race. Denny Hamlin, who won here earlier in the year at the Daytona 500, and Kyle Busch are next at 10/1.
Keselowski Strikes Back
Just in case the other drivers thought Keselowski was bluffing, he decided to send a not so subtle message. He slammed into Bryon's car, and if not for some skillful driving, could have crashed. Byron did withstand some rear-end damage, and will be driving the back up car.
"It's practice," Byron said. " I don't think that was really necessary to turn us there. I was just kind of holding my lane, and he just used his run to drive into my left rear."
But Keselowski said it was a message that needed to be sent.
"Hate it for his team and they've got to work on their car and so do ours," Keselowski said. "Just trying to send a message. I'm not lifting. I'm tired of getting wrecked at the plate tracks. I've been wrecked out of four out of these last five races quite honestly because I've let people put moves like that on me. They're all watching. They know."
History Between Two
Thursday's confrontation could have dated back to last year's race when Keselowski and Bryon tangled. It could have provided the motivation.
Bryon made a move that seemed to cause Ricky Stenhouse Jr. to crash into Keselowski and knock him out of the race. Keselowski was visibly annoyed after the race.
"You got a list of drivers that are making moves that are unqualified to make, and it causes big wrecks," Keselowski said last year. "That was one of those. It was my fault because I lifted. I should have wrecked him and sent a message to the whole field."
Sweep for Hamlin
Denny Hamlin enters the race with an opportunity to win both races at Daytona. The last one to do that was Jimmie Johnson in 2013. Hamlin has never won this race, and said it is far different from the Daytona 500.
"We had a great race earlier this year in Daytona, but this weekend will be entirely different,'' Hamlin said. "Just like all the other teams, we have learned a lot about ourselves in the weeks since the Daytona 500 and we will be fighting for a repeat win, but we are ready and preparing for the challenge that is coming our way.''