The Milwaukee Bucks saw their quest to win back-to-back NBA championships come to a disappointing end when they lost Game 7 of the Eastern Conference semifinals against the Boston Celtics. The Celtics unleashed a barrage of 3-pointers — and set an NBA record with 22 treys in a Game 7 — while Grant Williams played the game of his life during a 109-81 victory against the Bucks.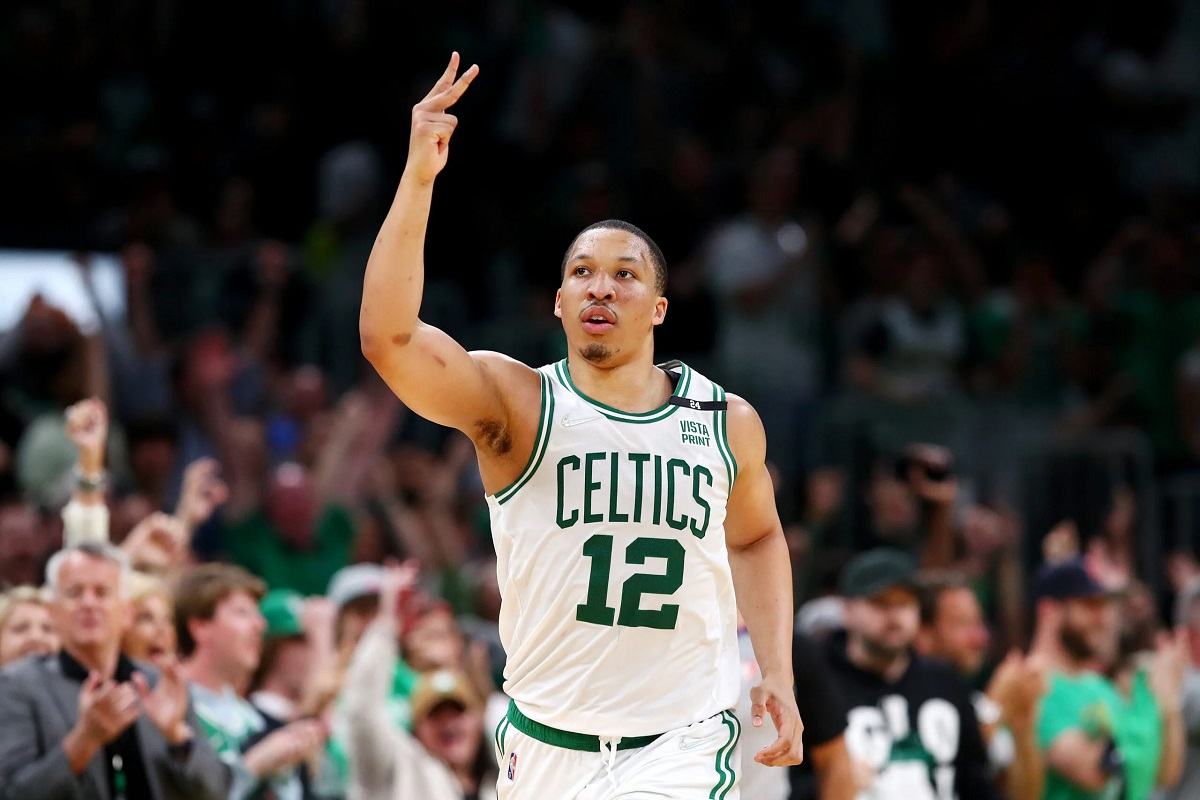 The Celtics were down 3-2 in this series, but avoided elimination on the road with a huge win in Game 6 in Milwaukee. They didn't finch on their home court either, putting up a 28-point series-clinching win in front of Beantown loyalists.
The #1 Miami Heat and #2 Boston Celtics will meet in the Eastern Conference finals, with Game 1 slated for Tuesday in Miami.
The Celtics are +180 odds to win the next round and knock out the Heat to reach the NBA Finals. DraftKings updated its NBA futures board, and the Celtics are +190 odds to win the 2022 NBA championship.
Grant Williams shines in Game 7
With big man Robert Williams III nursing a knee injury, Ime Udoka made a key decision to start Grant Williams once again. The strategy paid off when Williams scored a career-high 27 points and knocked down seven 3-pointers. Jayson Tatum scored only 23 points and didn't have to carry the entire offensive burden because Williams stepped up, and the rest of the team combined for 22 treys.
The Bucks' defenders zeroed in on Tatum, and the double teams left someone wide open on the perimeter. A well-spaced Williams leveraged the situation.
"For me it was like, they're encouraging it, I might as well take advantage," Williams said. "Each one as time got on got more comfortable."
The Celtics still had a salty taste in their mouths after blowing Game 5 at home in the closing minute.
"As much as it hurt to lose Game 5, I was looking forward to that challenge," said Tatum. "I believe in myself, I believe in this team. I expected to play the way I did and for us to respond the way we did."
The Celtics fell behind in the first quarter, but held the Bucks to only 17 points in the second to seize a five-point lead by halftime. The Celtics pulled away in the third quarter and led by 15 heading into the fourth. In the final frame, the Celtics slammed the door on the Bucks by holding them to just 17 points while cruising to a 28-point close-out victory at home at TD Garden.
"This is what we played for, why we played the season out, to have home-court advantage in a Game 7," said Udoka. "If you believe in the basketball gods, those things matter."
Bucks: crushed beyond the arc
In our preview for Game 7, we mentioned that the Bucks needed a quick solution to the huge discrepancy in points generated from 3-point shots. In short, the Celtics won the battle with long-range supremacy when they buried their treys, and the Bucks lost when they failed to convert enough 3-point shots.
During Game 7, the Bucks attempted 33 treys, but connected on just four for a horrendous 12.1% success rate. On the defensive end, the Bucks allowed the Celtics to jack up 55 3-pointers. The Celtics made 22 of them, which accounted for 66 of their 109 points — or 60% of their total offense. The Bucks were outgunned 66-12 from beyond the arc. Any time you give an opponent a 44-point advantage from deep, it's a recipe for disaster.
"Shots that I usually make wasn't going in," said Giannis "Greek Freak" Antetokounmpo.
Antetokounmpo missed a triple-double in Game 7 with 24 points, 20 rebounds, and nine assists. Jrue Holiday added 21 points, and Brooke Lopez added 15 points and 10 rebounds.
However, the guard play was atrocious. Mike Budenholzer opted for a three-guard starting lineup without Khris Middleton. Grayson Allen and Wes Matthews combined for four points on 0-for-7 from 3-point land. Backup Pat Connaughton also had a horrible game, shooting blanks with an 0-for-5 clip from downtown. Connaughton, Matthews, and Allen combined for 2-for-17 from the floor.
"That's basketball, that's sports," said Antetokounmpo, which sounded like a quote from the baseball movie "Bull Durham." "Sometimes you win. Sometimes you lose. There's a winner. There's a loser. You've just got to live with it."
Check out more coverage of the 2022 NBA playoffs.