Utah Jazz small forward Bojan Bogdanovic suffered a wrist injury and will undergo surgery to repair a ruptured scapholunate ligament on his right (shooting) hand. The Jazz's second-best scorer will miss the remainder of the season, whenever it eventually resumes.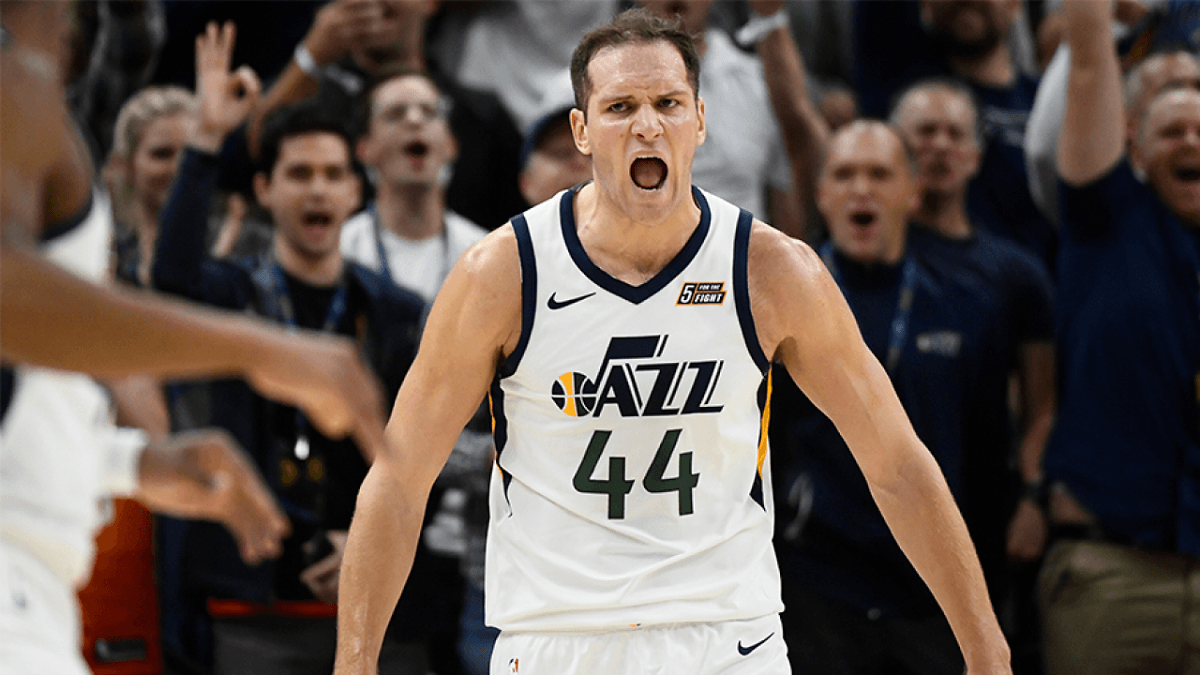 Bogdanovic, 31, joined the Jazz in the offseason in a move that the team hoped would improve its perimeter shooting. He signed a four-year deal worth $73 million.
Through 63 games, Bogdanovic averaged a career-high 20.2 points, 4.1 rebounds, and 2.1 assists per game. Bogdanovic became the Jazz's second-best scorer behind All-Star Donovan Mitchell (24.4 ppg, 4.4 rebounds, 4.2 assists). Mitchell and Bogdanovic emerged as the Jazz's one-two punch on the offensive side of the court. Bogdanovic knocked down nearly 42% of his trey's this season.
He spent the previous two seasons starting for the Indiana Pacers. He averaged a career-high 18.0 points last season (up from 14.3 ppg the season before). Coming into this season with the Jazz, Bogdanovic averaged 13.3 ppg in his career and connected on 39% of his 3-point shots.
Heading into the shutdown, the Jazz (41-23) held the #4 seed in the Western Conference playoffs. William Hill listed the Jazz at 30/1 odds to win the 2020 NBA Championship.
Utah's Bojan Bogdanovic has been one of two NBA players to average 20 points, shoot 40 percent on three-pointers and 90 percent on free throws this season, per @ESPNStatsInfo. Milwaukee's Khris Middleton is the other.

— Adrian Wojnarowski (@wojespn) May 18, 2020
BB Playing Through the Pain
On Monday, the Utah Jazz announced the news about Bogdanovic and his decision to pursue surgery. Apparently, Bogdanovic gutted out the pain and played through the injury. The Jazz were vague about when he injured his wrist.
"Salute to my brotha Bo for fighting through for us all year," tweeted teammate Donovan Mitchell. "One of the toughest dudes I know!! Get right and ready for next season."
It makes you wonder when exactly did Bogdanovic suffer the wrist injury? If it occurred early in the season, why did Bogdanovic not opt for surgery when the injury happened and hope to be back in time for the postseason?
Or why didn't Bogdanovic opt for surgery the moment the NBA shuttered the season? Instead, he waited for two months, which could have been optimal to rest up, heal, and rehab the wrist.
The Jazz also had their own problems at the onset of the pandemic. Once Rudy Gobert tested positive for coronavirus, the entire NBA shut down. The rest of the pro leagues followed suit, and the NCAA canceled March Madness. Gobert infected teammate Donovan Mitchell as well. Both players fully recovered, but it was definitely a weird and scary time in mid-March in Utah.