A college football season that continues to be the most physically and mentally challenging in a century just got stickier for the Big Ten. News leaked this weekend that conference athletic directors are willing to change eligibility rules to squeeze No. 4 Ohio State into the championship game.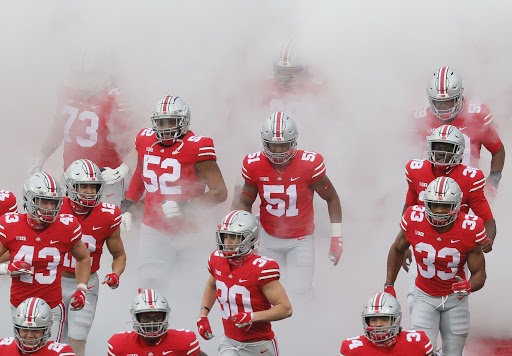 On Saturday, the Buckeyes defeated Michigan State 52–12 and now wait to see whether Michigan, whose program was put on pause this week due to COVID-19, will play in Columbus on Saturday. The earliest the Wolverines can resume team activities is Monday.
Ohio State isn't out of the pandemic woods either. Seventeen scholarship players were out during Saturday's matchup against the Spartans.
Northwestern Grabs Big Ten West Title While Idle
Should both schools be able to field a team for "The Game" this weekend — and Ohio State wins — at 6-0, they will be the undisputed Big Ten East champions and meet the minimum six-games played requirement.
The Buckeyes would face Northwestern in the conference championship game at noon ET on Saturday, Dec. 19 at Indianapolis' Lucas Oil Stadium. The Wildcats (5-1) earned a berth following Saturday's games, even though they were idle.
🏆 @NUFBFamily has clinched a berth in the #B1GFCG following today's early #B1GFootball games. 🏆

Congrats @NU_Sports on a great #B1G season!

📰 https://t.co/x1adCegHZ3 pic.twitter.com/mJvJtXE11F

— Big Ten Football (@B1Gfootball) December 5, 2020
If next week's Ohio State-Michigan game is canceled, the Buckeyes won't qualify for the Big Ten championship game under the current rules.
Brett McMurphy of the online sports network Stadium tweeted Saturday afternoon that athletic directors in the Big Ten will likely meet to change the title game requirements to allow Ohio State (5–0) in, even if they cannot play this weekend.
B1G ADs will likely change B1G title game requirements to allow 5-0 Ohio State in title game if it can't play 6th league game, sources told @Stadium. But it won't be an easy decision, source said. A win in B1G title game would all but guarantee Buckeyes a spot in @CFBPlayoff

— Brett McMurphy (@Brett_McMurphy) December 5, 2020
That's good news for the Buckeyes and bad news for Indiana and their near-perfect season. At 6-1, their lone loss came in the last minute against Ohio State on Nov. 21.
College Football Playoff Committee Likes the Idea of Ohio State
The rule change would be aimed at getting Ohio State into the College Football Playoff (CFP). Earlier this week, CFP selection chair Gary Barta said a shortened schedule wouldn't necessarily inform how the committee sees the Buckeyes.
"What I can tell you is there was discussion in the room about putting both Ohio State and Texas A&M in that fourth slot," Barta said. "The firepower and the explosiveness [Ohio State's] Justin Fields and Master Teague and Garrett Wilson, all those offensive weapons, the fact that they did beat the No. 12 team [Indiana] the last time they played. It was discussed that they played four, and Texas A&M has played seven. That certainly was discussed."
The current playoff picture, assuming all teams win out, would make for a balanced dance card. It would include two teams from the Southeast in No. 1 Alabama (8-0) and No. 3 Clemson (8-1), and two from the Midwest in No. 2 Notre Dame (9-0) and Ohio State.
Should the Buckeyes Bow Out, CFP Field Wide Open
If Ohio State isn't eligible or loses along the way, things could get very murky for the selection committee. A slew of one-loss teams (Florida, Texas A&M, Miami, Northwestern, and Indiana) would have an argument to be let in. Some non-Power 5 undefeateds like Cincinnati and Coastal Carolina have also run the table on full schedules. Then there's the all-but-forgotten Pac-12, which still has a pair of undefeateds in USC (3-0) and Colorado (4-0). Either could potentially put up a stink about being left out.