You can scratch one Triple Crown race winner from future 2022 races, after Belmont Stakes winner Mo Donegal suffered bone bruising coming out of that victory that will cost him a large chunk of the rest of 2022.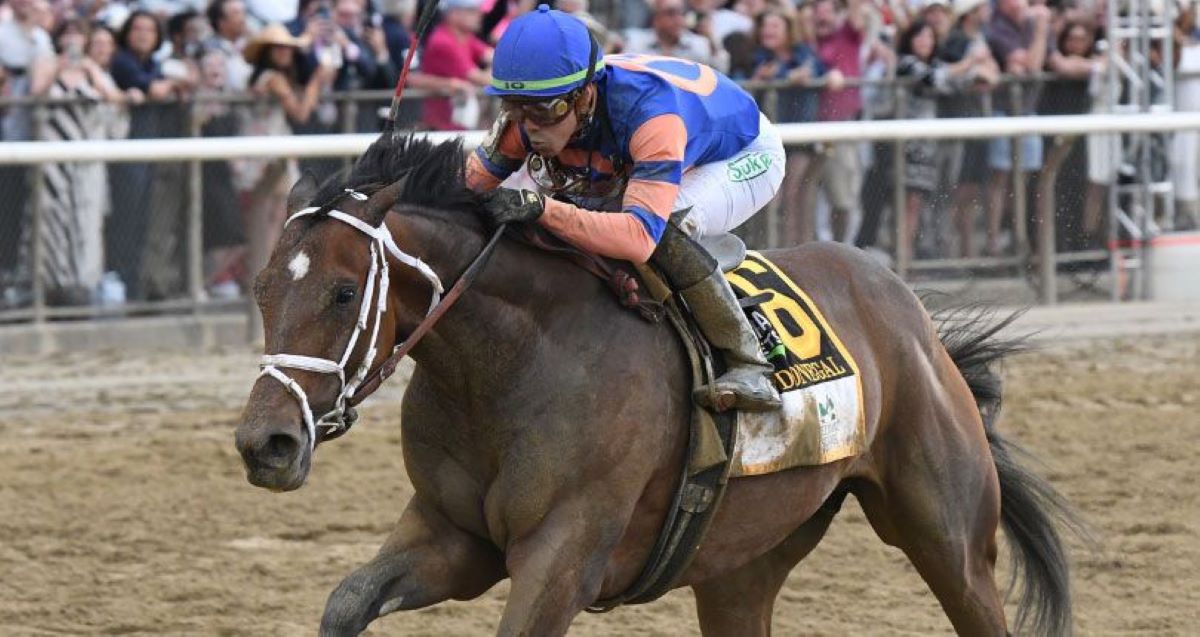 Mo Donegal came out of his three-length Belmont Stakes victory with the bone bruising, which will keep him out of training for the next 60 days. That scratches the Aug. 27 Grade 1 Travers Stakes off the schedule. Trainer Todd Pletcher earlier said that was Mo Donegal's likely next outing.
But it does more than that. Pletcher told Horse Racing Nation that will take the son of Uncle Mo out of the Breeders' Cup. With that Nov. 4-5 date at Keeneland no longer circled on the calendar, it's likely Mo Donegal's connections shut him down for the rest of the year.
"It's bone bruising, which is pretty common. It looks like 60 days," Pletcher told HRN. "We just need some time to regroup now. With 60 days off, you need 120 to get them ready sometimes."
Mo Donegal hasn't run or worked since the Belmont
Pletcher told HRN Mo Donegal wasn't himself coming out of the Belmont, so they sent him for an examination that revealed the bruising.
Mo Donegal hasn't worked since exiting the Belmont Park winner's circle after his second victory in four 2022 races. That came in impressive fashion as the 2.60/1 favorite. Mo Donegal used his tactical closing speed to perfection, coming in from sixth in the eight-horse Belmont Stakes field after the first quarter mile to first by the stretch.
He came into that June 11 Belmont Stakes off a troubled, but respectable fifth in the Kentucky Derby. Saddled with the dreaded rail, Mo Donegal finished less than four lengths behind winner Rich Strike and a quarter-length behind fourth-place Simplification. At the three-quarters pole, Mo Donegal sat in 17th place. By the wire, he made up 12 places and nearly eight lengths.
He is a consistent money horse
Mo Donegal's first 2022 victory came at the Grade 2 Wood Memorial April 9. That was his second Triple Crown trail victory, bookended by his Grade 2 Remsen Stakes score last December. In between, the colt finished third in the Grade 3 Holy Bull at Gulfstream Park.
A $250,000 purchase at the 2020 Keeneland September Yearling Sale, Mo Donegal is 4-0-2 in seven races with $1,511,800 banked. That fifth in the Derby marks the only time he failed to hit the board.
— Donegal Racing (@DonegalRacing) July 2, 2022
Mo Donegal is the No. 1-ranked 3-year-old in the most recent National Thoroughbred Racing Association's 3-year-old poll. Jerry Crawford, the CEO of Donegal Racing, and co-owner Mike Repole said in a release they would share his progress as the colt continues to be evaluated.