Three seasons ago, Baylor had just one win. This season, the team is playing in the Big 12 Championship against Oklahoma Saturday at AT&T Stadium in Arlington, Texas. If the 11-1 Bears upset the Sooners, they have an outside chance to get into the College Football Playoff.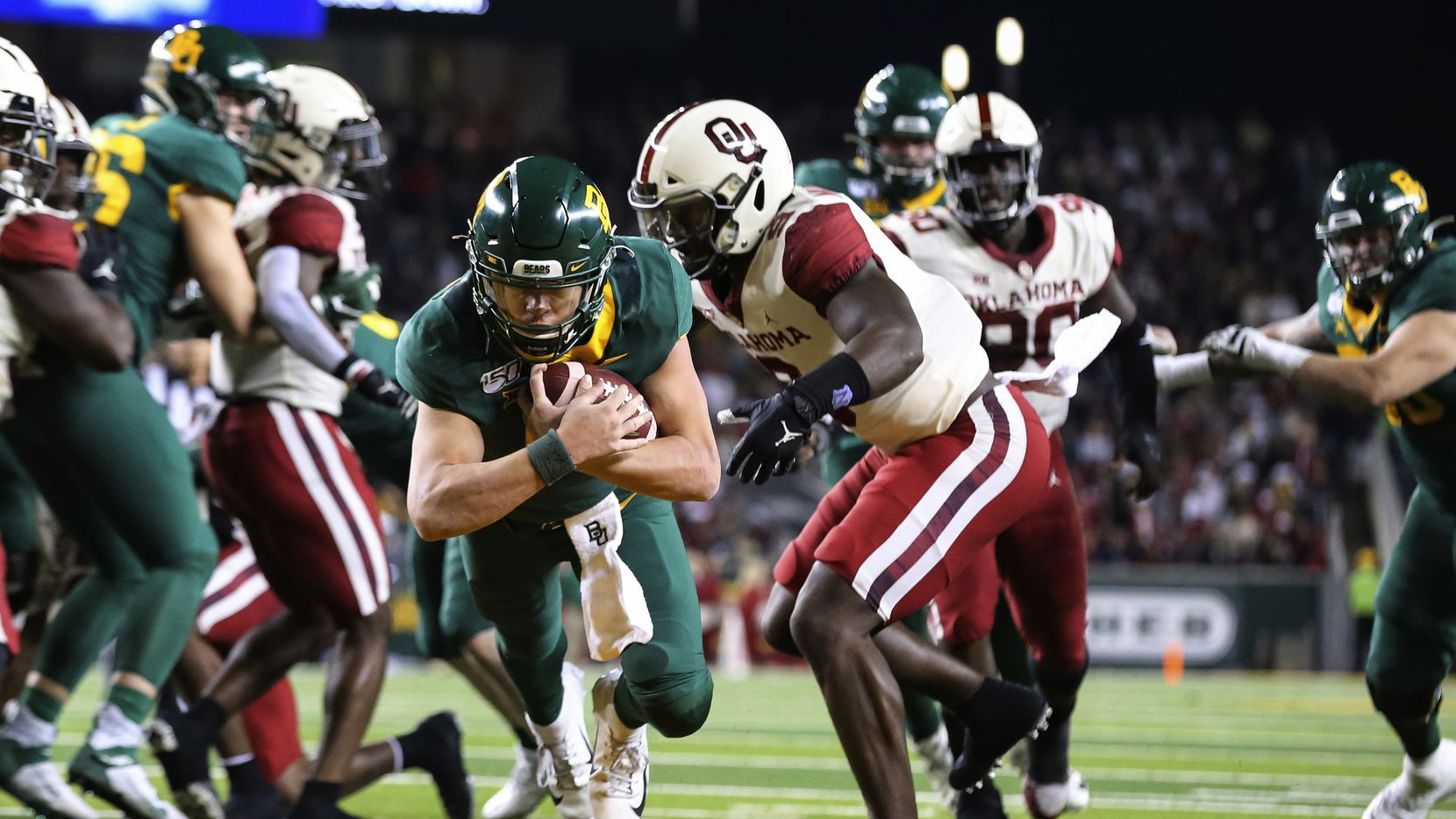 Saturday's game is a testament to what Baylor coach Matt Rhule has accomplished in just three seasons. After finishing his first year at 1-11, Rhule bounced back with a 7-6 record in 2018. That got Baylor an invitation to the Texas Bowl, where they defeated Vanderbilt, 45-38. The 2019 season looked promising with several key players, including junior quarterback Charlie Brewer, returning.
Rhule, who was named Big 12 Coach of the Year on Tuesday, told reporters this week that winning the team's bowl game last season made him believe that he has a special group of players.
"We thought we were going to have a good team because we knew we had good players," Rhule said. "We thought they bought in and were learning and improving,"
For his part, Brewer said that Rhule made it easy to believe the team could contend and reach the Big 12 Championship game.
"I think that everyone just bought in because he's a straight-up guy, and he's really loyal and real relatable," Brewer said. "When players see how much he cares about us, that he's there for us no matter what, I think that just goes a long way in the relationships that he's built with everyone on our team to where it's more than football. Whenever that happens, it kind of creates one big family and people just have each other's backs."
Baylor Wants Revenge in Big 12 Championship
The only blemish on Baylor's record is a loss to Oklahoma at home on Nov. 16. The Bears were 10.5-point underdogs, and had the Sooners down 28-3 before Oklahoma came back and won, 34-31.
It was a stinging defeat, especially when Baylor was so close to the upset. Senior linebacker/long snapper Ross Matiscik told the Dallas Morning News the game showed the team what they are capable of accomplishing.
"I think that game kind of woke us up a little bit that, 'Hey we're for real,'" Matiscik said. "I think a lot of older guys knew that. But for the younger guys, it opened their eyes that we can actually make a run this year."
Instead of seeing the Big 12 Championship as a reward for the season, the players view it more as a step towards something bigger.
"It changed us in a way," senior linebacker Jordan Williams said. "The fact is we know what we can do. Call it a silver linings playbook."
Rhule certainly saw the defeat as a teachable moment.
"That game can do nothing but help us as long as we make sure that we learn from it, which I think we have."
Oklahoma Wants CFP Spot
The Sooners have been in the College Football Playoff conversation for most of the year. Oklahoma is currently No. 6 in the CFP Rankings, and if No. 4 Georgia, and No. 5 Utah both lose, there's a possibility the 13-member committee could vote Oklahoma into the fourth spot.
Coach Lincoln Riley doesn't want his team to speculate on what might be. He told reporters on Monday this game is vastly different from the first one the Sooners won.
"This is a different game," Riley said. "Everything is different about this game. It's not a road game for us, it's not a home game for them. Championship games are different. They just feel different. Everything about them is different."
Baylor certainly hopes so.