The 2020 Major League Baseball season begins March 26. Teams have already reported to spring training, and exhibition games have begun. Over the next month until opening day, we'll be sizing up all 30 squads with a breakdown of the rosters, and projections as to how they'll fare this season. Today, this exclusive series continues with a look at the National League East's Miami Marlins.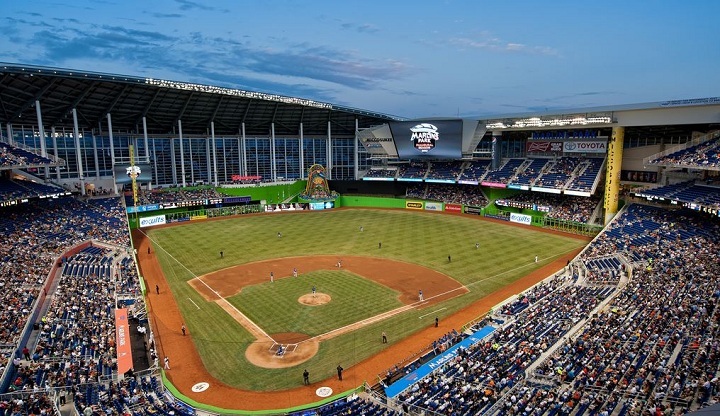 The Marlins are expected to be one of Major League Baseball's worst teams. Their projected win total for the upcoming season is 63.5. This ranks as the lowest projected win total in the entire National League. Miami also has the third-lowest projected win total of any team in the majors. Only Baltimore and Detroit, both in the American League, rank lower. Here's OG's bold forecast for the Marlins, along with our prediction as to how they'll fare in 2020.
Since the Marlins' magical 2003 World Series championship … Florida/Miami has missed the postseason for 16 consecutive seasons. This dubious streak should extend to 17 seasons, after 2020.
Miami Marlins at a Glance
Regular Season Projected Win Total: O/U 63.5
Odds to Win National League East: +5000 (50/1)
Odds to Win National League Pennant: +12500 (125/1)
Odds to Win 2020 World Series: +25000 (250/1)
2019 Regular Season Projected Win Total: 65.5
2019 Final Record/Standings/Results: 57-105 (5th place), finished last, 40 games back
Key Additions
There are a couple of acquired names who could produce breakout seasons. Here's a closer look at what happened in the offseason:
+ Jesus Aguilar (1B) — Coming off a subpar '19 season, but a career average hitter and producer, which is an improvement for this roster.
+ Jonathan Villar (2B) — Signed from a horrible Orioles squad and joins another bad team; decent production in '19 with .274 BA, 24 HRs, and 73 RBIs; he should contribute
+ Francisco Cervelli (C) — Dismal career numbers, hard to see how he might factor
+ Corey Dickerson (OF) — Solid free-agent acquisition with what could turn out to be a team-high batting average (around .300 in each of the last two seasons) with modest power, as an added bonus
+ Matt Kemp (OF) — Impressive lifetime numbers since 2006, but now age 36 and coming off injury-plagued season; likely on the downslope of his career
+ Yimi Garcia (P) — Mostly a minor-league prospect who hasn't found a comfortable roster spot in the majors through six forgetful seasons
Key Subtractions
Is it possible to "subtract" from a team that lost 105 games last season? Perhaps not, but here are the team's notable losses:
– Neil Walker (1B)
– Martin Prado (2B)
– Starlin Castro (2B)
– Curtis Granderson (OF)
– Wei-Yin Chin (P)
Reasons for Optimism
Well … umm … there's … okay — nothing. Nada.
It's hard to find much to be optimistic about with a club that remains at the foundation of a lengthy and, perhaps, never-ending rebuilding stage. Nonetheless, let's examine this scrappy roster in closer detail.
Pitching
The miserable Marlins burned through 26 pitchers last season, the most of any roster in the majors. Things got so bad in September, they appeared close to signing starters off Craigs List. The upcoming 2020 season should be just as erratic, though there are a few spots in the rotation worth watching.
Miami's best prospect for a winning record among starters appears to be Sandy Alcantara (6-14 with a 3.88 ERA last season). Alcantara throws hard and fast, but will need to develop more consistency and get some run support if he expects to become the ace on this putrid staff. He can be a workhorse, which will be needed on this staff filled with serious holes.
The remaining four starters in the rotation include a grab bag of one-dimensional pitchers who have floundered around the majors for years, including starters with injury concerns, in addition to untested talent. Caleb Smith has never posted an ERA anywhere under 4.00. Jose Urena and Jordan Yamamoto are injury-prone. The fifth projected starter in the rotation, Pablo Lopez, was 5-8 with an ERA over 5.00 last season.
This rotation is pure junk.
Relievers are remarkably better and, arguably, one of the few strengths of this team, though they will see lots of innings and could throw a record number of pitches this season based on the glaring weaknesses of the starting five.
Hitting
Miami ranked 29th in hitting last season out of 30 teams, posting a miserable .241 team batting average which was ahead of only Detroit. The Marlins were also 29th in runs scored and dead last in homers. This means there's only room for improvement.
Jorge Alfaro (C) is one of the few above-average talents in this starting lineup. In a weak N.L. flock of catchers, a solid three-month opener could make Alfaro the Marlins' lone All-Star. His .262 batting average with 18 HRs and 57 RBIs from '19 will need to improve, but Alfaro locks up a rare solid roster spot.
Garrett Cooper (2B) looks to be the only other bright spot on a starting lineup packed with below-average hitters and journeymen plagued with injuries. Cooper's bat (.281 average with 15 HRs and 51 RBIs) would be considered average on most other clubs. But among the Marlins, he's one of the team leaders in most offensive categories. That's how pathetically weak this punchless lineup is coming into 2020.
Intangibles
Don Mattingly is now in his fifth season as the team manager. Each season has been worse than the last. Mattingly's Marlins have posted 79, 77, 63, and 57 wins respectively since 2016, which leaves him little room for hitting the floor in 2020. One expects this will be the ex-superstar player's last shot at turning around this dreadful franchise.
Derek Jeter has only a small claim in the ownership stake of the team (reportedly 4%) and was expected to get more involved in player personnel decisions. However, it appears that the ex-Yankee great sees the futility of sticking out his neck and being blamed for the persistent dysfunction in Miami.
The team will have serious problems filling seats in the upcoming season. With only 818,000 paid fans last season, the Marlins ranked dead last in average attendance per game.
Reasons for Pessimism
The Marlins are coming off their second-worst record in franchise history.
The Marlins need to use the 2020 campaign to craft some young up-and-coming talent, build a little enthusiasm, and create a culture where exciting players and free agents will want to come and play. Certainly, Miami could be (and should be) an attractive magnet for so many Latino superstars originally from the nearby Caribbean. Unfortunately, there are few signs the Marlins are doing any of these things to cultivate and keep players.
What really hurts Miami's prospects is playing in a brutal division where all four of their rivals could finish around .500 or higher. Both Atlanta and Washington should be 90-plus win teams. New York and Philadelphia are projected somewhere in the mid-80s in regular-season wins. So, where will the grossly overmatched Marlins get their victories? That's 76 divisional games (19 division games times four teams) where the Marlins are prohibitive underdogs in talent.
There are 20 interleague games, which also put the Marlins at a disadvantage. The slate could be especially treacherous since it includes games versus the Astros and Angels. Since 2018, the Marlins have posted a 19-36 W-L record when playing outside their own time zone. The other A.L. squad on the Marlins' schedule is the Tampa Rays, expected to be a contender in 2020. This all amounts to a murderous schedule — and many defeats.
Miami Marlins Betting Advice
This is a horrible team, with bad ownership, tainted by a culture of losing. Since the Marlins' magical 2003 World Series victory over the heavily-favored New York Yankees, followed by the complete selloff and dismemberment of the entire roster, Florida/Miami has missed the postseason for 16 consecutive seasons. That dubious streak should extend to 17 seasons, after 2020.
Contrarians might be tempted to fade the public pessimism on this team and wager the Marlins over the total. But caution is advised. That temptation seems way too risky.
Admittedly, Miami probably won't suffer as bad a season as they did in 2019. However, to eclipse this year's projected O/U wins, they must scratch out an additional seven victories above and beyond the 2019 campaign with a roster that doesn't appear to be much improved.
This might be a good opportunity to go with the flow and bet Miami under the total, especially if you can find a rogue number at 64.5, which is available at some outlier sportsbooks. A bad team with little improvement playing in a tough division looks to be a solid under wager, even with a low total.
Previous Reports/Coming Soon:
New York Mets
Philadelphia Phillies
Washington Nationals