The 2020 Major League Baseball season starts March 26th. Teams have already reported to spring training and exhibition games have begun. Over the next month, we'll be sizing up all 30 squads with a breakdown of the rosters, and projections as to how they'll fare this season. Today, this exclusive series begins with a look at the National League East's Atlanta Braves.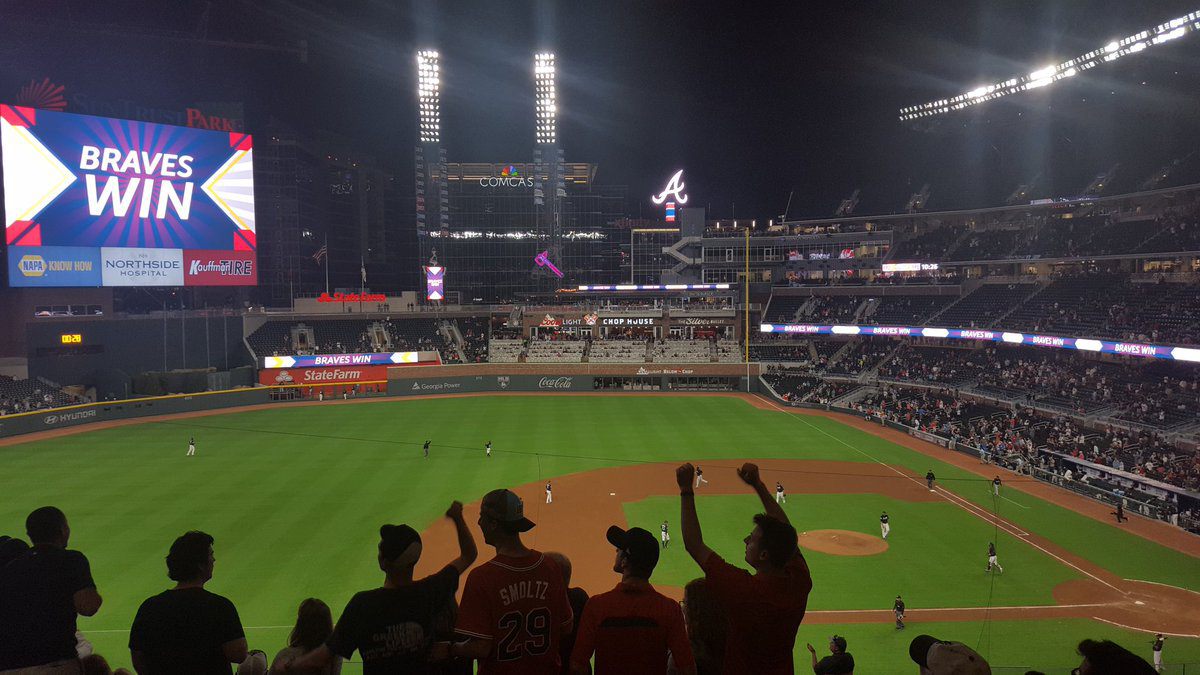 The Braves are expected to be one of Major League Baseball's best teams. Their season-win total for the upcoming season is 91.5. This ranks as the second-highest projected win total in the National League. Atlanta also has the fourth-highest projected win total of any team overall. Here's OG's bold forecast for the Braves, along with our prediction as to how they'll fare in 2020.
Atlanta spent $150 million on team payroll, their biggest in history by more than $25 million over the previous high. The message is loud and clear — this team expects to win, right now.
Atlanta Braves
Regular Season Projected Win Total: O/U 91.5
Odds to Win the National League East: +200 (2-1)
Odds to Win the National League Pennant: +1000 (10-1)
Odds to Win the 2020 World Series: +1400 (14-1)
2019 Regular Season Projected Win Total: 84
2019 Final Record/Standings/Results: 97-65 (1st place) lost division series to St. Louis Cardinals
Key Additions
+ Cole Hamels (starting pitcher) — Signed as free-agent; entering 15th season; coming off an injury; mediocre stats last three years
+ Will Smith (relief pitcher) — Signed as free-agent; coming off 34-save season; sub-3.00 ERA in each of last three seasons
+ Marcell Ozuna (outfielder) — Signed as free-agent; above-average hitter, good power
+ Travis d'Arnaud (catcher) — Signed as free-agent; career .246 hitter with below-average power and run production
Key Subtractions
– Francisco Cervelli (C)
– Charlie Culbertson (OF)
– Josh Donaldson (3B)
– Bill Hamilton (OF)
– Adelny Hechavarria (2B)
– Matt Joyce (OF)
– Dallas Keuchel (P)
– Brian McCann (C)
– Anthony Swarzak (P)
– Julio Teheran (P)
– Josh Tomlin (P)
Reasons For Optimism
Pitching
Atlanta will be aiming for their third-straight division title and a third consecutive 90+ win season. This club has the talent in place to achieve all that, and more.
Ace starter Mike Soroka (13-4 with a 2.68 ERA) is only 21 and looks to be the brightest star in the Braves' future. Their 2020 season could be determined by his right arm, which is a rocket that struck out 142 batters while yielding only 41 walks last year. Soroka also surrendered the second-fewest homers of any qualifying starting pitcher in baseball, an indication of all-around excellence. His 1.111 WHIP last season ranked just outside the top-10 in the N.L.
Beyond Soroko, the remaining four projected starters all have question marks. However, each has shown indications of consistency in the past — from 36-year-old Cole Hamel's glory days with the Phillies and Rangers to Mike Foltynewicz now entering his sixth season with the Braves to Max Fried coming off a stellar 17-win season to Sean Newcomb coming off his best year (3.16 ERA), although he saw limited action. Newcomb, in particular, is the wildcard in this rotation. If he can avoid a disappointing early 2019 when he was sent down to the minors and re-establish himself as a starter, this staff should be fine.
The Atlanta bullpen should be fine with at least two solid arms, both proven closers. The addition of Will Smith (1.247 WHIP) from the Giants is a huge boost to a staff that already includes Mark Melancon (1.126 WHIP).
Hitting
The Braves ranked third in the N.L. last season when combined among several batting categories. The nucleus of a productive hitting lineup returns healthy, with six starters who made the 2019 All-Star team.
Leading the way will be first-baseman Freddie Freeman (295 with 38 HRs and 121 RBIs). He's complemented by second-baseman Ozzie Albies (295 with 24 HRs and 86 RBIs). Outfielder Ronald Acuna (.280 with 41 HRs and 101 RBIs) rounds out one of the most productive hitting top-of-the-lineups in baseball. The remaining Braves' lineup appears to be quite average.
The acquisition of outfielder Marcell Ozuna (.243 with 29 HRs and 89 RBIs) from the Cardinals should also be noted. The .243 batting average was the worst of Ozuna's career, but considering his .272 career average, the Braves expect him to revert back to a decent production level. Nonetheless, that still some serious power added to the lineup.
Intangibles
The Braves are a solid organization led by manager Brian Snitker who took over the team in 2016 and has coached them back into contention after two terrible seasons in 2016 and 2017. Since then, Atlanta has surpassed all expectations. However, they are now projected as a favorite. It remains to be seen if they've peaked or can gain additional traction in the postseason and challenge for the National League pennant.
Reasons For Pessimism
Atlanta is top-heavy in talent, with four bona fide superstars in the lineup. However, beyond ace hurler Soroka (and possibly Fried) in the pitching rotation, the three other projected starters each have question marks. Hamels, listed as potentially the #3 starter in the rotation, looks like a huge gamble based on age and sub-par performance in recent years. Other pitchers bring uncertainty, as well.
The Braves do boast a power-trio of hitters which includes Freeman, Albies, and Acuna. However, looking deeper into the lineup doesn't locate any standouts. Atlanta suffered some off-season losses due to free-agency (third-baseman Josh Donaldson being the costliest). Some average hitters and unproven talent will need to fill that void.
This organization does have a strong history of grooming young talent, and we should expect some additional breakout performances. That needs to occur if this team is to meet and surpass the high hopes of fans and baseball aficionados.
Our Prediction
Weighing Pros and Cons
The Braves are certainly talented in all phases of their roster — including pitching, relievers, hitters, and defense. They rightly deserve to be listed among baseball's favorites to win a title this year. The team payroll, a record, is also some induction of ownership/management's commitment to winning.
The trouble is, Atlanta plays in a very competitive division, which includes the defending world champions (Washington), and two up-and-coming clubs (NY Mets and Philadelphia), both of which are projected to have winning seasons.
Many things went right for the Braves in 2019, so much so that they obliterated their projected win total by 13 games and, unexpectedly, won the division after being expected to linger somewhere around the .500 mark. Assuming the stars can produce similar numbers again in 2020, and a couple of hitters and another pitcher or two can step up in class and contribute, this team can win what would be a third-straight division title and make deep a run in October.
Recommended Wager
Optimism aside, let's be a bit more realistic. At 91.5, the Braves win total looks to be exactly where it should be. Hence, no wager is recommended on the team total. However, if this team does come anywhere close to their 2019 stats, then watch out.
Another year under the belt of this explosive lineup, combined with some proven experience, could make the Braves a very dangerous team that's capable of winning it all.
Coming Soon:
Miami Marlins
Philadelphia Phillies
New York Mets
Washington Nationals