FC Barcelona boss Joan Laporta said he wanted Lionel Messi to stay at the club beyond the past summer by agreeing to play without being paid.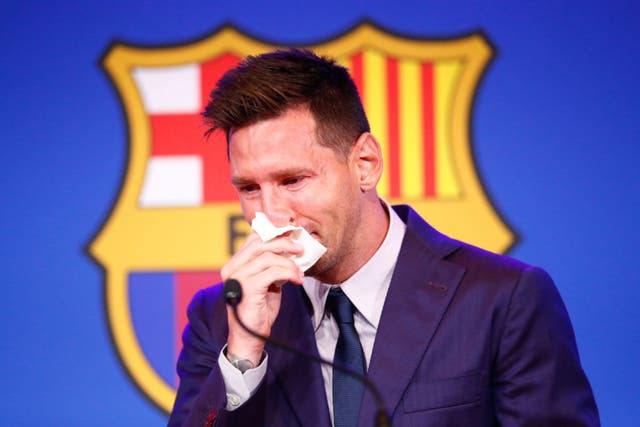 Messi had accepted Barcelona's terms for a renewal, but the club couldn't register his contract on time so the deal fell off. Messi, 34, who is one of the biggest stars in football's history, spent his entire career at Barcelona. In August, he signed as a free agent for Paris Saint-Germain in the French Ligue 1.
During an interview with Catalonian radio station RAC1, Laporta opened up on Messi's situation. Barcelona's boss made interesting comments regarding Messi, saying the Argentine superstar 'knew that he'd go to PSG' if he opted not to stay at Camp Nou.
"I love him too much to be angry," the official said. "But there comes a time when you see that things just cannot happen, and there was disappointment on both sides. There was a desire for him to stay, but also there was pressure because of the offer he had. He knew that he'd go to PSG if he didn't stay," Laporta revealed.

"He'll go down as the best player in the history of Barcelona and I want that to be preserved. Everything indicates that he had the PSG offer before leaving Barcelona. We knew he had a big offer," Laporta added.
Barcelona's president then dropped the bomb:
"What I did hope was that he would have a change of heart, that he'd say: 'I'll play for free'. My understanding is that La Liga would have accepted it, but we couldn't ask a player of Messi's stature to do that."
Barcelona recorded a loss of $557 million in the last financial year. They have debts and future liabilities worth $1.56 billion. Ferran Reverter, Barcelona's CEO, said on Wednesday that the club went "technically bankrupt" earlier this year.
Things are not going well for Barcelona on the pitch either. They are only ninth in the La Liga table and started their Champions League campaign with horror 3-0 defeats to Bayern Munich and Benfica.
🔊 @JoanLaportaFCB: "Vaig tenir l'esperança que a última hora Messi es quedés a jugar gratis"

➡️Més detalls:https://t.co/EpIgwYVmIa pic.twitter.com/Zd3eKTFH82

— El món a RAC1 (@elmonarac1) October 8, 2021
Laporta: 'We tried to sign Neymar, but PSG convinced him to stay'
Despite Barcelona's financial crisis, Laporta plotted for Neymar's return. The Brazilian left in 2017 for a world-record fee of $257 million.
"We tried to sign Neymar, but PSG convinced him to stay," Laporta divulged.

"In the summer we understood that we had a margin, and we made an attempt for Neymar. They told us that he wanted to leave, that he would not continue," Barcelona's president explained.
Barcelona signed Memphis Depay, Sergio Aguero, and Eric Garcia this summer, all at cost zero. Brazilian defender Emerson Royal was bought from Betis, then sold for profit to Tottenham Hotspur.
On transfer deadline day, Barca added the loans of Luuk de Jong from Sevilla and Yusuf Demir from Rapid Vienna to their transfer activity. Several star players, including Gerard Pique, Sergio Busquets, and Jordi Alba accepted wage cuts so Barca could register new players. Apart from Messi, another big name in the team left. Antoine Griezmann joined Atletico Madrid on an initial loan with the obligation to buy in 2022.