The Ball brothers are apparently done in Lithuania. LaVar Ball, the controversial father of LiAngelo and LaMelo Ball has pulled his sons from the professional team they were on with two games remaining in the season.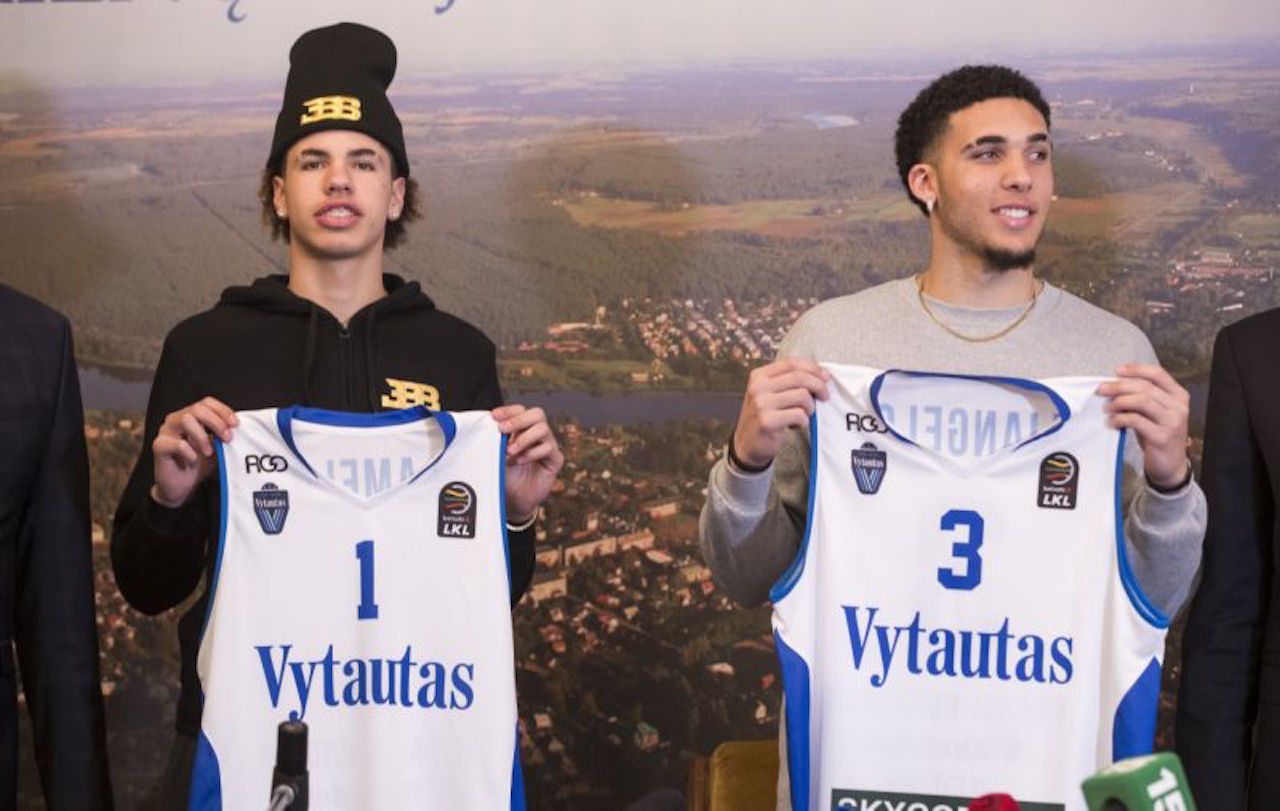 Initially officials for the BC Vytautas team said the two were missing an April 25th game because of injuries. When noted Lithuanian basketball journalist Donatas Urbonas saw LaVar later that day he was informed he was taking his sons back to Los Angeles.
"We're not going to waste our time no more," LaVar Ball said.
LaMelo averaged 6.5 points and 2.4 assists in eight league games, while LiAngelo averaged 12.6 points and 2.9 rebounds in 14 appearances.
Future Cloudy
The timing is peculiar since the brothers now have no place to play. LiAngelo, who is 19, is preparing for the NBA Draft in June, but his odds of getting picked by a team are slim. Bovada set the line in March of him getting selected at -1000 for no and +2500 for yes. They have adjusted the odds to yes at +750 and no at -2000.
Before going overseas LiAngelo was enrolled at UCLA. He was following older brother Lonzo, who was a Bruin and drafted by the Los Angeles Lakers. LiAngelo, however, didn't play one minute for the university. He, along with two other teammates, were caught shoplifting during a road trip in China. He was suspended from the team and his father then pulled him from UCLA.
What LaMelo does next is not certain. He was a junior in high school when he left to be home-schooled by his father. He, along with LiAngelo, turned professional and hired an agent. That move made the 18 year old ineligible to play college basketball.
Father Has History of Conflict
It seems that no matter where LaVar Ball goes, or who he deals with, controversy and confrontation are going to follow. He has had conflicts with just about every coach his three sons have played for in their short basketball careers.
It started when Lonzo was at Chino Hills High School. LaVar chirped at Steve Balk, despite the team winning a title and his son being named All-USA Player of the Year. Balk ended up resigning and taking another high school coaching job.
Balk's replacement didn't escape LaVar's ire. Stephan Galling left after LaMelo's sophomore season in 2017 and attributed the father's meddling as part of the reason for his departure. He also criticized the next Chino Hills coach and pulls his son from the school.
When Lonzo was at UCLA his father directed his venom at Bruins Coach Steve Alford. The first incident was when Lonzo was there and then again after LiAngelo was arrested for shoplifting.
Lakers Coach Luke Walton also got an earful from LaVar regarding his son. He accused Walton of not knowing how to coach Lonzo and then in January said that he didn't know how to coach any player on the team.
"You can see they're not playing for Luke no more," Ball said. "Luke doesn't have control of the team no more. They don't want to play for him."