The subject of trade rumors for the past couple of weeks, the Indiana Pacers' Myles Turner is now out indefinitely after the NBA's top shot blocker suffered a left foot injury last week.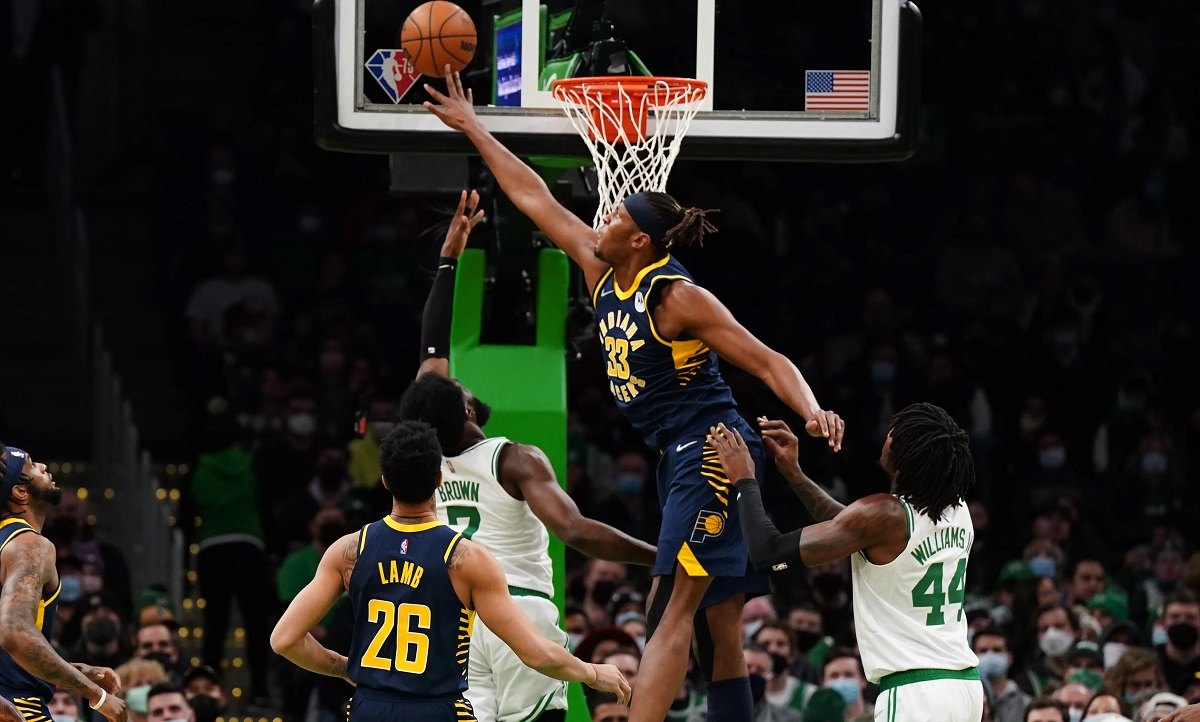 After getting another look and a second opinion about his sore left foot, Turner was diagnosed with a stress fracture. The Pacers will have him re-evaluated during the All-Star Break in late February. For NBA players, stress fractures typically take a minimum of a month to heal.
Turner averages 12.9 points, 7.1 rebounds, and 2.8 blocks per game for the Pacers this season. Turner is one of the NBA's elite defenders and rim protectors. He currently leads the league in blocks this season with 2.8 per game. He led the NBA in blocks for two out of the past three seasons, including 3.4 blocks per game in 2020-21.
Myles ahead: Turner trade rumors
The Pacers expect Turner will be sidelined with the foot injury until after the trade deadline on Feb. 10. The foot injury isn't serious enough to turn away potential buyers from Turner and the Pacers.
The Pacers (15-29) are ranked #13 in the Eastern Conference, but should be a playoff squad considering they have a talented roster. The team has a better shot at landing a lottery pick than winning an NBA championship. They're among the worst teams in the league, and sit at the bottom of the NBA futures board at +10000 odds to win the 2022 championship.
It makes sense to break up the Pacers and rebuild from scratch. Turner won't be a part of that process after spending seven seasons in Indianapolis.
Turner is one of many members of the Pacers who are the subject of trade discussions. Domantas Sabonis, Caris LeVert, Malcolm Brogdon, and Turner are all available for a trade to the highest bidder.
The New York Knicks, Los Angeles Lakers, Dallas Mavericks, and Charlotte Hornets are on the shortlist to acquire Turner in a trade. The Lakers and Hornets seem far-fetched, but the Knicks and Mavs have desirable and tradable assets. Any Knicks deal would likely involve center Mitchell Robinson, who is in the last year of his original rookie contract.
There is also talk of a multi-team trade involving the Pacers, Minnesota Timberwolves, and Philadelphia 76ers. Turner would be a part of a blockbuster deal that involves disgruntled point guard Ben Simmons.
Turner has one more season remaining on a four-year deal worth $80 million with $70 million guaranteed, which he signed in 2019. He's slated to earn $18 million next season.
Big man, big sacrifice
Two seasons ago, the Pacers asked Turner to focus on defense and to let Domantas Sabonis become the focal point of the offense. Always the team player, Turner agreed to accept a diminished role in the offense.
In his second season in 2016-17, Turner averaged 14.5 points per game. Since then, he didn't score more than 13 ppg more than once. Over seven NBA seasons, he averages 12.7 ppg.
"I hate that in year seven, you're labeled as a finished product, and I want to show that I'm not a finished product," said Turner. "I'm just scratching the surface, and I want to show that I'm ready to take the next step. To turn that into a more intricate and prominent role on a nightly basis."
With the Pacers, Turner is the fourth scoring option. He believes he has the skills to be a secondary option. If given the chance, he also believes he could be a primary scorer with 20-plus every night. Turner gave the world a glimpse of his scoring prowess when he exploded for a career-high 40 points against the Washington Wizards in the second game of the season. Of course, that was an anomaly. He scored a combined 38 points over the next five games.
Turner wants to remain in Indianapolis to pursue a championship, but he understands that a trade will give him a chance to flourish and become a legitimate offensive threat instead of the guy who blocks a lot of shots.