This is the time of year when NFL head coaches who are trying to save their jobs begin to panic, and bench their quarterback as a last-ditch measure to stay employed. Chicago's Mitch Trubisky was the first QB to lose his starting job this season. BetOnline has put out a prop bet to see which starter will be the next to ride the pine.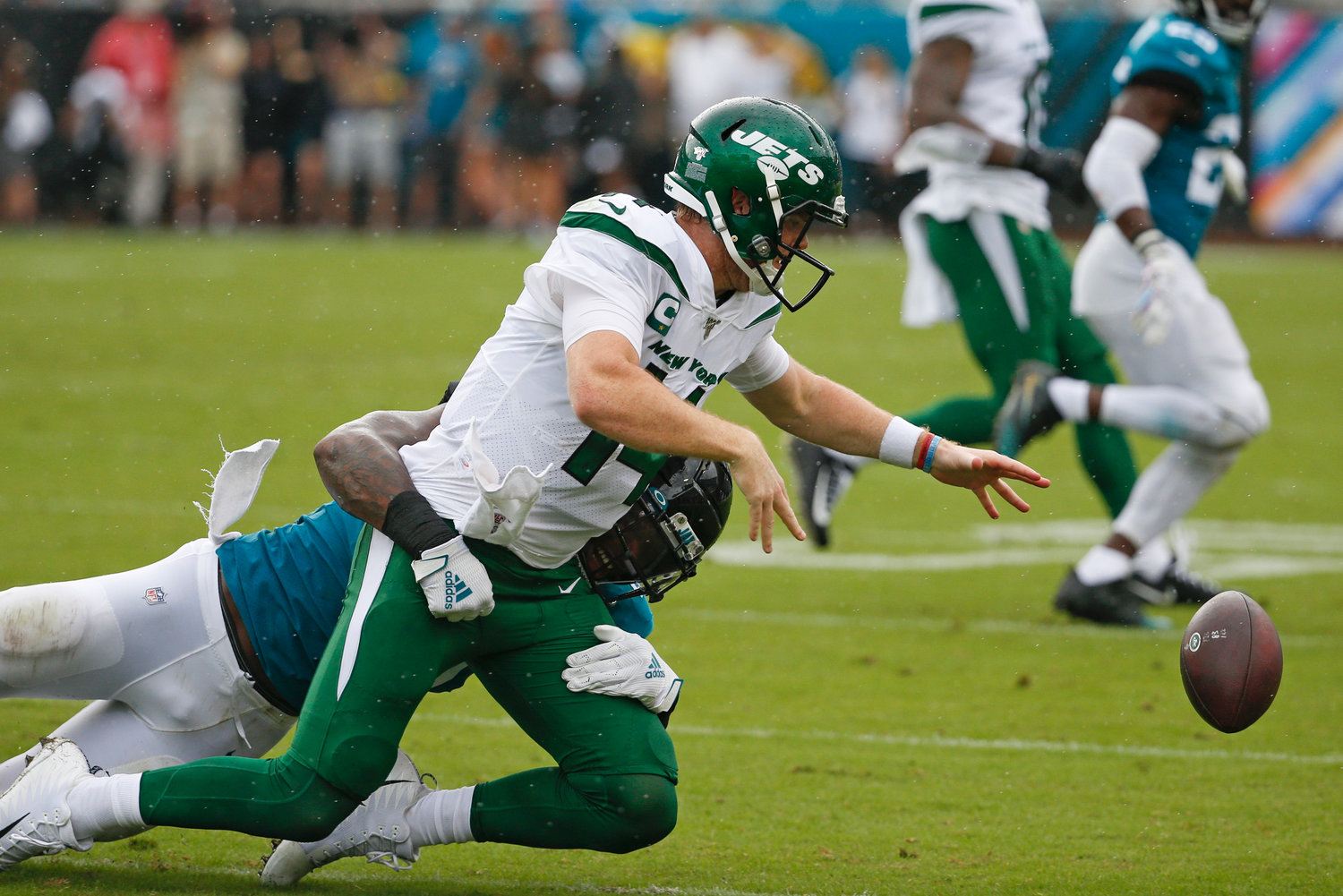 New York Jets starter Sam Darnold is the favorite to be the next quarterback benched, but the problems in the Meadowlands don't rest solely with him
Washington's Dwayne Haskins has the tepid support of head coach Ron Rivera, but with a solid back up who used to be the starter, his time running the offense may soon end
Ryan Fitzpatrick currently leads Miami, but with rookie Tua Tagavailoa as the heir apparent, the Dolphins' future could be now if Fitzpatrick struggles
Darnold seems a dicey choice at +325. It's true he's been struggling, but so has the whole team. With the team's top three wide receivers and it's primary running back all out of action, Darnold may find some short-term reprieve, as he's working with a very thin supporting cast.
---
Odds Next NFL QB Benched
| | |
| --- | --- |
| Sam Darnold, NY Jets | +325 |
| Ryan Fitzpatrick, Miami | +400 |
| Justin Herbert, LA Chargers | +500 |
| Dwayne Haskins, Washington | +550 |
| Daniel Jones, NY Giants | +600 |
| Gardner Minshew, Jacksonville | +800 |
| Kirk Cousins, Minnesota | +1000 |
| Nick Foles, Chicago | +1200 |
| Teddy Bridgewater, Carolina | +1200 |
| Baker Mayfield, Cleveland | +1400 |
| Philip Rivers, Indianapolis | +1600 |
| Cam Newton, New England | +3300 |
Source: BetOnline
---
Darnold's coach, Adam Gase, gave him a vote of confidence on Monday, reiterating that Darnold isn't in any immediate jeopardy.
"He just needs to keep playing," Gase said Monday. "He needs to keep playing and keep fixing the mistakes that are made, and really emphasize the things he's doing really well, and just keep building on those."
🚧 RHODES ARE STILL CLOSED 🚧

📺 CBS | #NYJvsIND pic.twitter.com/bLR53pzKs3

— Indianapolis Colts (@Colts) September 27, 2020
Even if Gase wants to make a change, he doesn't have a lot of options. The Jets' backup quarterback, former Baltimore starter Joe Flacco, has been inactive the last three games. The 35-year-old had neck surgery in April and is still not 100%. That leaves Mike White, who has no NFL experience.
Haskins On Double-Secret Probation
The Washington Football Team's second-year quarterback has a new coach and, so far, Ron Rivera has been playing good cop/bad cop with his signal-caller. After Haskins threw three interceptions in the team's 34-20 loss to Cleveland, Haskins was somewhat supportive when he talked to The Athletic.
"'Look,'" Rivera said he told Haskins, "'I told you, I am behind you, and I am going to stick with you, so you go out there and play football.'"
But when Rivera talked to the rest of the media he didn't seem quite as supportive.
"There is a cut-off point for me," Rivera said. "There were a lot of guys that put their heart out on the field and, truthfully, they deserve better."
Haskins hasn't completed 60% of his passes in the three games this season. He has 625 yards and four touchdowns, and a QB rating of 75.7.
Backup Alex Smith seems ready to go, and he might get that chance if Haskins has a poor outing this Sunday against Baltimore. As 13-point underdogs, things don't look too promising for Haskins right now.
Will "FitzMagic" Disappear in Miami?
Veteran quarterback Ryan Fitzpatrick has done a capable job of leading the Dolphins, but that might not be enough to avoid finding the bench. Rookie Tua Tagavailoa was drafted in April as the franchise's future quarterback, and he might prove to be too irresistible to keep on the bench.
Through three games, Fitzpatrick has given head coach Brian Flores no reason to ponder replacing him. He just led the Dolphins to an upset over Jacksonville last week. How he performs at home this Sunday against Seattle might decide his fate, however.